Our articles may contain affiliate links. For more information, view our policies.
Also called the nectar of Aphrodite, honey is one of the most seductive foods in the world, not to mention one of the world's best-known aphrodisiac foods. Sticky, viscous, deliciously sweet, it is as much a sensual experience as it is a delicious indulgence. So if you're wondering is honey aphrodisiac? The answer should be clear.
Honey is a sexy food
Even in manufacturing, honey's lore is pure romance. Culled by honeybees, it is created from the nectar of flowers, the ultimate emblem of sexual ripeness.
And true, honey's sweetness and sticky, sensual texture are compelling, honey experts will tell you that this liquid gold's finest property is variety.
What do I mean? Well, you see there are styles of this viscous sweetener to suit every mood. In fact, experts say that there are as many variations of honey as there are styles of wine. (Here's an interactive map with honeys by type.)
In flavor and body, kinds of honey run from bold and thick as molasses to soft and creamy as butter. Some jars of honey are as rich as maple syrup and perfect for pancakes. While others are as aromatic as a bouquet of spring wildflowers.
RELATED: Honey lovers should try this mead
Honey aphrodisiac around the world
And there are almost as many legends about honey's aphrodisiac powers as there are varieties of this sweet syrup. It's been considered a potent aphrodisiac by cultures around the world.
The origin of the word honeymoon
It is traditionally offered at Indian weddings to symbolize the sweetness of life. In addition, the word honeymoon stems from a wish for a sweet marriage. Furthermore, this viscous liquid gold was used by many cultures as a symbol of fertility.
And it often symbolized more than fertility. In some cultures, it was straight up linked with sex.
The early use of honey for improved sexual performance
To the ancient Greeks, was honey aphrodisiac? As a matter of fact, Hippocrates, the famed Greek physician, prescribed it for sexual vigor. He was also fond of recommending a drink of milk and aphrodisiac honey to induce sexual ecstasy.
And although Hippocrates couldn't have known it, today it does appear that honey benefits for men are potentially greater than the aphrodisiac benefits to women. (More on this later…)
Health benefits of honey
Honey, an aphrodisiac that it is, provides the body with a quick shot of natural sugar. It primarily offers fructose but also contains sucrose and glucose. (Incidentally, did you know that honey is about 17% water?)
But beyond its ability to provide fast energy, honey contains some interesting nutrients.
Does honey make you horny?
Honey has a reputation for increasing sexual desire. And although most people don't realize it, this is probably because it contains about two percent of the vitamins and minerals essential to sexual health. That may not sound like much but much of honey's nutrition includes some key nutrition for libido.
One of those key components is boron, a nutrient believed to regulate hormones. Some nutritional authorities believe that boron may be able to treat erectile dysfunction.
In fact, one 2015 study showed that just a week of boron supplementation can result in increasing free testosterone levels by 25%. And it appeared to reduce indicators of inflammation by half. (Inflammation is the enemy of libido and can prevent both men and women from achieving sexual arousal and climax.)
Just because some experts link increased boron consumption with treating erectile dysfunction, don't think that boron is only for men. Scientific evidence links boron to regulating sexual hormone levels in both men and women.
But keep in mind that honey is not among the best sources of boron. It offers about .5 mg per 100 grams of liquid sweetener.
If you're looking to increase your boron intake for a potential libido boost, better sources might be things like raisins, almonds or peanut butter. Believe it or not, even red wine is considered a source of boron, offering more than one and a half times the boron in honey.
Consult a physician before making any drastic dietary changes in order to increase your boron intake.
TO TRY: Aphrodisiac yogurt parfait with quinoa and honey
A honey benefit for men
Although boron is a nutrient found in honey that can add to honey's aphrodisiac appeal for both men and women, there is a benefit of honey specifically for men.
As I alluded to earlier, for those like the ancient Greek physician Hippocrates, who believe honey is linked to sexual vigor, it just so happens that honey increases nitric oxide.
Why is this significant for men?
It won't necessarily increase sex drive, but nitric oxide is released in the bloodstream during arousal. This means that, potentially, honey has a benefit to men who suffer from erectile dysfunction. (However, as with boron, honey is not among the foods most highly regarded for boosting nitric oxide.) But maybe just the suggestion that it could be working to improve blood flow is enough to make honey a food of sexual fantasies.
More aphrodisiac honey benefits for men and women
Honey is a source of antioxidants including flavonoids.
According to the USDA's FoodData Central, honey is also a source of potassium, a nutrient considered essential to sexual health. Honey is also a source of iron, zinc and folate.
Additional health benefits of honey for sexual health and overall health
Unlike many health products, honey doesn't really have potential unhealthy side effects, (other than the risks associated with any kind of sugar and some dangers specific to individuals allergic to bees). But eating honey to improve your romantic life may give you some additional benefits.
Surprising heart benefits that may also be sexual benefits
The antioxidants in honey show some promise in reducing blood pressure. In addition, honey may help improve cholesterol levels. And don't forget that whatever is good for blood flow will not only benefit your heart health but also your sexual performance.
Honey's link with weight loss
And it appears that a mixture of honey and lemon water may promote weight loss. That's right, a combination of hot water with lemon and honey may help you lose weight. The data I found on the subject made it unclear whether it was the extra hydration that was effective or if there's something about the combination of water and honey that promotes healthy weight.
Can honey treat a cough?
Lastly, honey appears to be an effective an all-natural treatment for coughs and dry or sore throats. Natural and inexpensive, not to mention tasty, licking a spoonful of honey is without question a great alternative to an over-the-counter cough suppressant.
All in all, the benefits of aphrodisiac honey make it one of the best choices of natural aphrodisiacs. Whether you want to splurge for the added benefits of Manuka honey is up to you but keeping honey in your pantry is a must for anyone looking for an ingredient with health benefits.
What kind of honey should you buy?
There are a lot of choices when it comes to buying honey. If you want to reap the most health benefits from eating honey, you probably want to choose raw honey. Or you might consider Manuka honey.
Organic and raw honey
Raw organic honey benefits are basically the same as any raw honey not certified organic. However purchasing organic honey helps to ensure you're not getting pesticides along with your shot of sweet, golden bliss. Now raw honey benefits versus pasteurized honey, that's a different story.
Pasteurization appears to reduce some of the most popular health benefits of honey including honey's antioxidant and anti-inflammatory properties. Heating honey also diminishes or destroys some of this sweetener's amino acids and enzymes. However, it is unclear exactly what degree pasteurization alters honey. 

Manuka honey
Many of those who believe in honey for health prefer Manuka honey. From an aphrodisiac standpoint, all honey offers seductive benefits. But if you're eating honey for health, you may be interested in the benefits of Manuka honey.
RELATED: Discover why we all owe a big "thank you" to honey bees
This honey is made by bees who pollinate the flowers of the Manuka bush, native to New Zealand. In addition to offering all the benefits of raw honey, Manuka honey promotes oral health by inhibiting the growth of oral bacteria. (And if you're thinking about aphrodisiac honey, who doesn't love a product that gives you a clean and healthy mouth?)
RELATED: Did you know that cheese can improve oral health?
In addition, Manuka honey may work as an acne treatment. Although there isn't a whole lot of data available on the benefits of honey on skin, one initial trial showed some promising results.
Cooking and recipes
You don't need to do much with honey to make it seem sexy. Sticky, golden and sweet, honey just naturally is sexy. But if you want to cook with honey, there are many ways to use this natural sweetener in aphrodisiac recipes. One of my favorites is the hot honey nuts recipe from my first cookbook, Fork Me, Spoon Me.
But we also have several aphrodisiac recipes with honey here on Eat Something Sexy for you to enjoy:
Aphrodisiac Honey Thyme Gin Fizz
Almond Cake with Honey Balsamic Strawberries
Pomegranate Cider-Glazed Smoked Salmon
Massaged Kale Salad with Cranberries and Persimmons
Discover more of the world's greatest aphrodisiac foods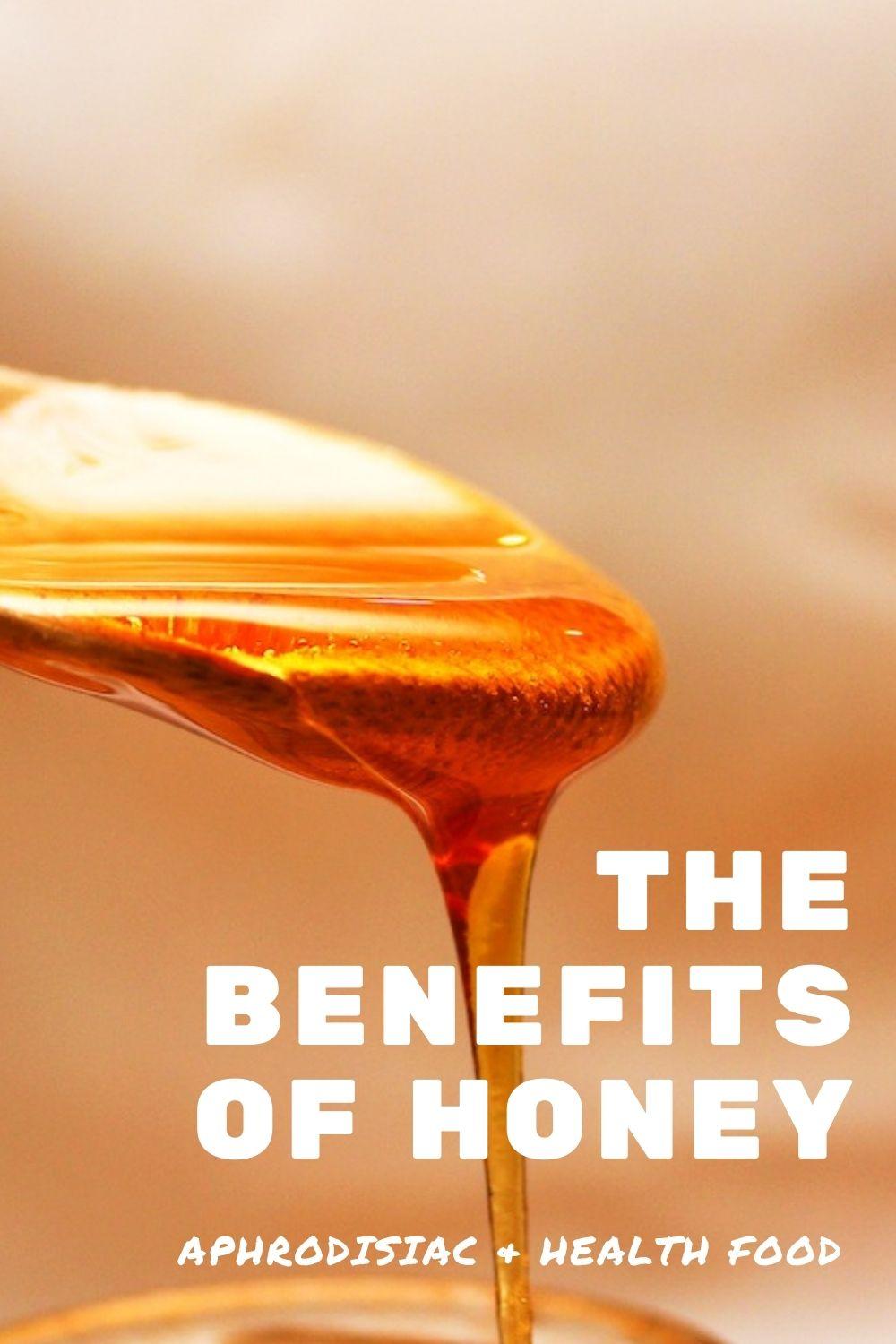 This article was written in 2010 and most recently updated in July 2021.
FREE APHRODISIAC NEWSLETTER
Subscribe to our free aphrodisiac newsletter