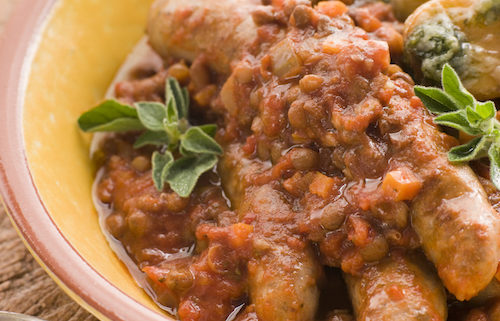 Recipe for Hot Sausage Stew with Red Wine
Sausage Stew gets sexy
This sausage stew recipe is reprinted from my fourth cookbook, Romancing the Stove: the unabridged guide to aphrodisiac foods. I'm asked all the time how to transform normal, weeknight food into a romantic meal. This recipe is my answer. At least, it's my choice for turning a winter weeknight into date night. Best of all, it doesn't use any expensive or exotic ingredients. Yet it has an incredible depth of flavor. How? I use a dry, red wine as the liquid for the stew. It's one of my favorite simple ways to cook with wine. (More on that later.) 
A recipe layered with aphrodisiac ingredient
This stew recipe combines the unmistakable char of grilled, Italian sausages with several aphrodisiac ingredients. For starters, there's fennel. You might be surprised to learn that this bulb, common in Mediterranean cuisines, is an aphrodisiac. It's actually considered an herb and it definitely does the job of imparting its mildly licorice flavor into any dish. But fennel is also surprisingly nutritious and contains several nutrients that are particularly beneficial to women's health. Learn more about the aphrodisiac benefits of fennel.
But fennel isn't the only aphrodisiac in my version of sausage stew. This recipe boasts several other ingredients associated with romance. These include basil, cheese, honey and even garlic. Lastly, there's the red wine. As I mentioned, one of my favorite things about this recipe is that it demonstrates the ease of using wine in cooking.
Tips on Cooking with Wine
However, what's harder than using wine in this recipe is figuring out what wine you're going to use. Please banish the stuff sold as "cooking wine" in the grocery store from your kitchen. It is of a poor quality. And rather than enhancing your dish with the seduction of a balanced red wine, it has the potential of ruining your cooking with a bitter or overtly acidic flavor. Yuck!
My rule of thumb for any dish, not just this sausage stew, is to use a wine you would enjoy drinking. It doesn't have to be an expensive wine. But it does need to be a wine you could happily serve with the finished dish. If you need some recommendations, take a look through my monthly Woman on Wine column as well as Annette Tomei's Wine of the Week for great suggestions of affordable wines to delight and challenge your palate.
Hot Sausage Stew
This hot sausage stew recipe from Fork Me, Spoon Me, is layered with aphrodisiacs in a red wine base.
Diet and Health:
healthy-ish, low carb
Seasonal:
autumn, Holiday season, winter
Ingredients
olive oil for brushing grill

4

Italian-style chicken or turkey sausages

1

red onion

thinly sliced into rounds

1

red bell pepper

cored and thinly sliced

1

yellow bell pepper

cored and thinly sliced

1

small fennel bulb

trimmed and thinly sliced (like the onion)

1

tsp

paprika

1/2

tsp

ground coriander

1/4

tsp

salt

1/4

tsp

black pepper

2

cloves

garlic

finely minced

1 1/2

cup

dry red wine

2

tbsp

Dijon mustard

1

tsp

honey

4

tsp

grated Pecorino cheese

4

tsp

fresh basil

finely chopped

crusty

whole grain bread for mopping up sauce
Instructions
Brush grill with olive oil and heat to medium. Grill sausages, turning occasionally until all sides are done, about 12 minutes in total. (Cooking times may vary depending on the sausages.) Remove from heat and set aside.

Spray a large, nonstick pan with cooking spray and heat to medium-high. Sauté onion until soft, about 3 minutes.

Add the peppers and fennel to the pan and sauté, stirring occasionally, until peppers begin to soften, about 10 minutes.

Whisk together the paprika, coriander, salt, pepper, garlic, wine, mustard and honey. Add liquid mixture to the pan and simmer, covered, for 10 minutes.

Add grilled sausages to the stew and simmer, uncovered for an additional 5 minutes.

Season to taste with salt and pepper--but bear in mind that the cheese will give the dish additional saltiness.

To serve, arrange a sausage and 1/4 of the pepper mixture to each plate, making sure to scoop up the liquid. Sprinkle each serving with 1 tsp of the cheese and basil and serve with the crusty, whole grain bread.
For more of my aphrodisiac recipes, get the award-winning cookbook, Romancing the Stove: the unabridged guide to aphrodisiac foods.
Pin this Sausage Stew recipe: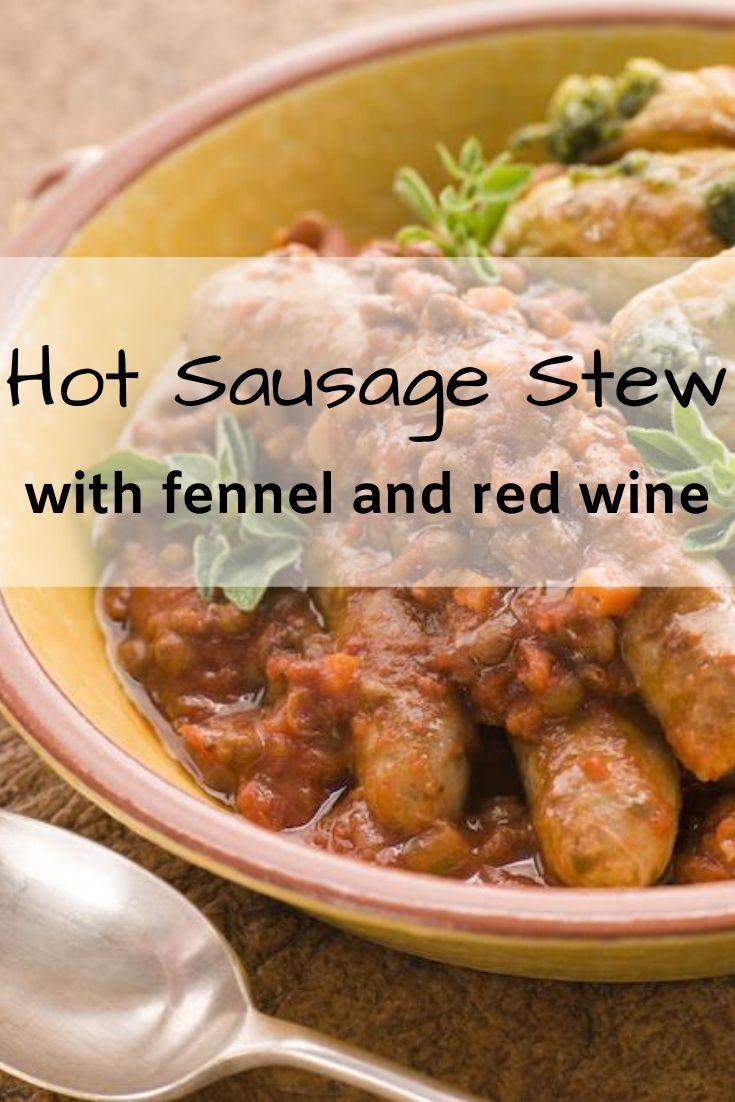 FREE APHRODISIAC NEWSLETTER
Subscribe to our free aphrodisiac newsletter