Our articles may contain affiliate links. For more information, view our policies.
Wrinkled little fruits, goji berries are frequently recommended by holistic health practitioners, but why? And more importantly, is the goji berry an aphrodisiac? And what can it do for your sexual health?
What are goji berries?
Goji berries are the small, orange-red berries of a plant native to China. You might also know them as Chinese wolfberries or just wolfberries. Goji actually refers to two different, very closely related shrub species, Lycium barbarum and Lycium chinense. Although those who work with the berries regularly say they can differentiate, all fruit that falls under the "goji" umbrella gets labeled as a goji berry.
In China, where this fruit is called "happy berry," goji berry benefits are legendary. It is not surprising that these fruits play a role in traditional Chinese medicine.
Today, the berries are still primarily grown in China and Tibet and are often dried before transport as the ripe berries don't ship well overseas. But dried goji berries are sold worldwide and can be found at health food and gourmet retailers. You can also order dried goji berry from Amazon.com.
What do goji berries taste like?
Dried goji berry taste is sour with just a hint of sweet, like a cross between a cranberry and sour cherry. They are also pressed into goji berry juice for sale overseas. I've never tasted goji juice, but I'm told it's like a cross between tomato and cranberry juice, if you can imagine that.
Goji berries benefits sexually
The Chinese were really the first to explore the benefits of goji berry, specifically goji berry and sex. They were the first to give this powerfully nutritious fruit a reputation as an aphrodisiac. In traditional Chinese applications, the fruit is administered to strengthen the adrenal system, which is believed to be a center of sexual energy.
RELATED: How to be Sexier by the Hour
So highly regarded was this wolfberry benefit in early Chinese medicine that it even found its way into an ancient, Chinese proverb. It warns men who travel away from their lovers: "He who travels one thousand kilometers from home should not eat goji."
Goji berries benefits for male sexual health
Today, we know that goji is a source of several nutrients beneficial to sexual health, including iron and vitamin C. These are, of course, goji berry benefits for women as well as men.
But there are many benefits that are believed excellent specifically for men's sexual health.
Goji berry for male enhancement?
For starters, goji is a source of l-arginine, an amino acid that turns into nitric oxide in your body. Nitric oxide is noted as beneficial to heart health but it is also known to improve the sexual performance of men suffering from erectile dysfunction.
There is even some research to suggest that goji for erectile dysfunction could replace prescription medications for some men.
Another interesting goji berry libido benefit, there is research to suggest that using goji berry for male sexual health could be beneficial to all men. In fact, one study on the benefits of goji berries for men showed that intake improved:
sperm count
sperm mobility
testosterone levels
sexual ability
Bear in mind that this promising study on the effects of goji berries for men was conducted with rats as the test subjects. But the implication is that goji berries might be helpful in treating male infertility.
Further studies would need to follow human subjects to better understand the effectiveness of goji/wolfberries when it relates to men's sperm and testosterone levels. However, the initial findings are incredibly promising that goji can improve sexual health for men.
RELATED: The 10 Best Foods for Men's Sexual Health
Additional goji berries nutrition
We now have a greater understanding of what the ancient Chinese believed to be true about goji berry nutrients. In addition to the nutrients mentioned linked with improving sexual health, goji is rich in many nutrients to support overall health. It is safe to say that this fruit's reputation as a superfood has incredible merit.
Goji berries weight loss
One of the most talked-about health benefits of goji berries is that they are relatively low-calorie for the amount of nutrition they offer. Nutrition experts estimate the calories of goji berries at about 70 per quarter-cup serving.
Another goji benefit is that these berries are low on the glycemic index. The theory is that a low-index, nutrition-rich food like this one will help you feel full longer and curb cravings.
And with goji berry calories at under 100 per one-ounce serving, you're getting the nutrition benefits of protein, fiber, copper, selenium, vitamin A, vitamin B2 and zinc. And along with all these nutrients comes the promise of some powerful wolfberry benefits, not just to sexual health but possibly to your skin, hair, energy, immunity and even your heart.
Goji berry and heart health
There is some evidence that the beta-sitosterol in goji berries help lower bad cholesterol.
High cholesterol can lead to heart disease. This is not only valuable to overall health but it could be another important consideration for men when it comes to erectile dysfunction. After all, you need a healthy heart and good blood flow to achieve sexual climax.
RELATED: Did you know that garlic can also support heart health?
Goji berry skin benefits
In addition, the goji berry's nutritional claims include one of the highest contents of beta carotene of all fruits. As such, goji berries are recommended by health food practitioners to help you look and feel young. In fact, the skin benefits of goji berries are largely what have made this unusual fruit so popular.
And beta carotene is not this "superfruit's" only nutrient beneficial to skin health. Recognized as a food rich in antioxidants, some other nutrients in goji berries that promote anti-aging include vitamin C, quercetin, carotenoids and polysaccharides. Because of this powerful nutritional makeup, wolfberry is credited with everything from fighting free radicals to boosting collagen production.
In fact, some proponents call wolfberries a culinary version of the fountain of youth. Most specifically, they recommend goji berry benefits for skin to protect against many of the common signs of aging.
Some skincare companies tout the benefits of goji berries on skin applied topically rather than eaten. The recommendation makes sense. However, I cannot find any clinical studies to support the claim that the benefits of goji berries can be used topically to improve skin health.
RELATED: DIY Yogurt & Turmeric Face Mask Recipe
Possible goji berry side effects
Before making any drastic changes to your diet, always check with a medical professional. In the case of goji berries, you want to make sure you won't experience any drug interactions.
According to RXlist, wolfberry can cause a drop in blood pressure for those taking blood pressure medication. Anyone taking medication to control diabetes should be aware that goji can cause a drop in blood sugar.
In addition, those with food allergies could experience an allergic reaction from this fruit, which is a member of the nightshade family. (If you have a tomato allergy, be careful about possible reactions to the wolfberry fruit.) And pregnant and breastfeeding women should check with a doctor before eating goji berries or drinking goji juice.
But for most individuals, enjoying fresh or dried goji berries in moderation makes a tasty way to add nutrition to your diet.
How to serve goji berries
As I explained earlier, the berries are typically sold dried in most parts of the world. But it may be possible one day, since cultivation has begun around the world, to buy fresh goji berries locally. I've heard that fresh goji berries are delicious.
But dried goji are definitely enjoyable and are great for cooking. Wolfberry has a sweet/sour taste that makes it inviting to use in both sweet and savory recipes.
RELATED: Try adding goji berries to this Chocolate Spa Bark recipe.
You can find goji berry recipes that use the fruit in a way that is similar to a dried cranberry. Try tossing dry goji berries into salads or making a goji berry trail mix. In China, the dried fruit is cooked into savory chicken or pork stew and is also steeped as an herbal tonic.
The Chinese even make wine from what they consider to be one of the most powerfully nutritious foods. (I even found a recipe for a goji berry wine online. However, this goji recipe is probably one I wouldn't ever try myself!)
And if you want to use it in a smoothie, I recommend buying goji berry juice.
TO TRY: A Great Vegan Spinach Smoothie Recipe
Where to buy goji berries
If you want to try out the benefits of goji berries for yourself, you can find the dried fruit for sale in many health food and natural foods stores. Goji berry extract is also sold online and in the vitamin department of many big pharmacies. (This extract is sold both as goji berry supplement capsules and goji berry powder.)
Click here to shop for goji berry extract
Goji berry tea shows up frequently when I search for goji berries online. I've not tried a tea made from goji berry leaves myself, so I can't attest to the taste. But I do know that in ancient herbal medicine, goji berry leaf was ranked among the most powerful herbs. So drinking wolfberry tea certainly shows promise as a healthy drink.
You can find goji leaf teas online. Just be sure to specify goji leaf tea if you're looking for goji tea benefits, otherwise what you'll get is a green or black tea tossed with dried goji berries.
Keep in mind that all bodies are different. Please check with your primary care physician before making dietary changes to impact sexual health. 
Discover more of the world's greatest aphrodisiac foods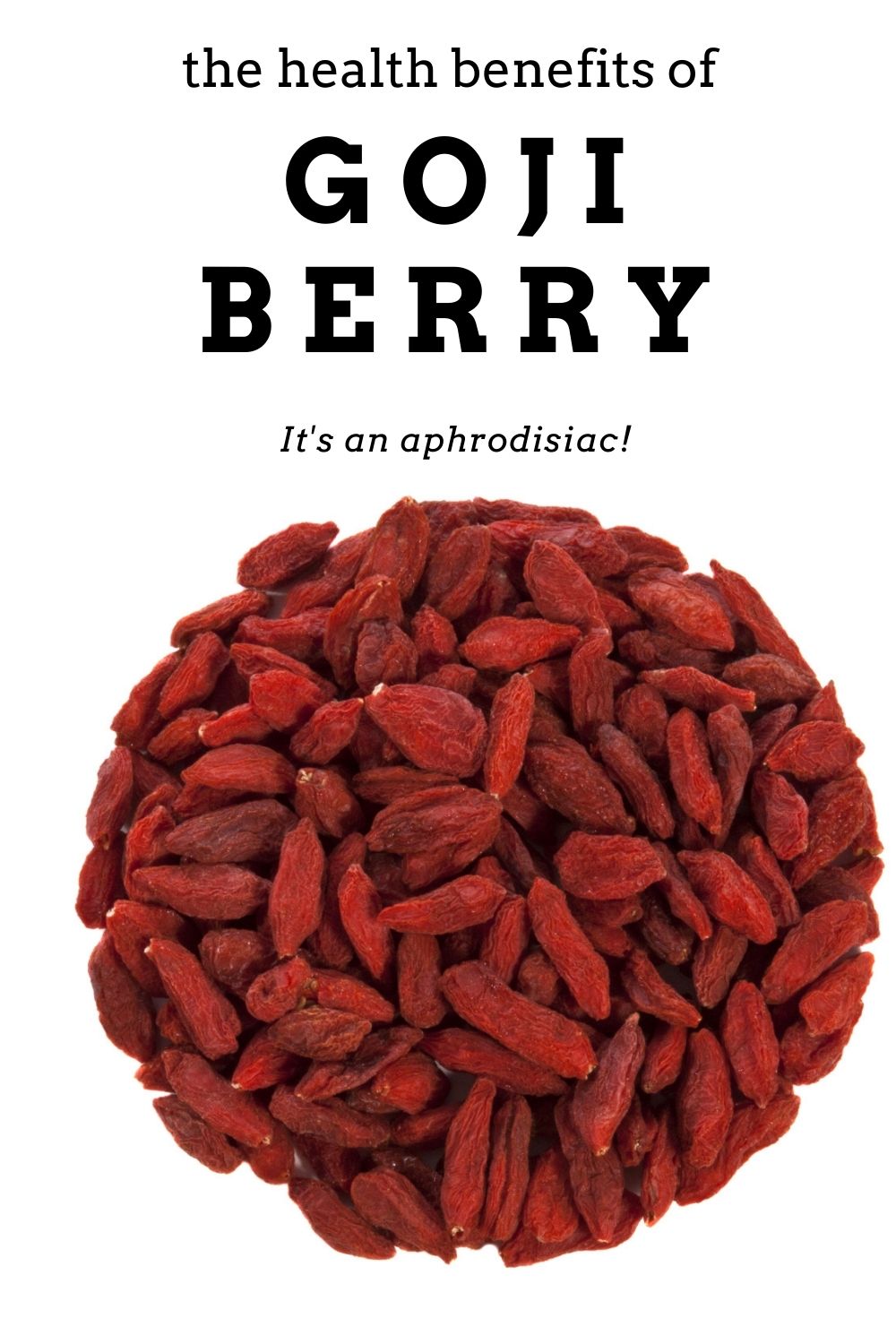 This article was written in 2010 and most recently updated in September 2021. 
Latest posts by Amy Reiley
(see all)
Get on our mailing list
Subscribe and get our exclusive list of Six Great Sex-Boosting Snack Foods for FREE! Unsubscribe at any time.