Our articles may contain affiliate links. For more information, view our policies.
All seafood is historically considered an aphrodisiac. Knowing this, it's easy to understand why salmon is frequently associated with romance. Among all fish, it stands out because its flesh is the color of a valentine. But that's not why early cultures categorized this seafood as an important aphrodisiac.
Salmon aphrodisiac? It all starts with spawning
These fish live to spawn. Although I've never read a clear-cut explanation of how various cultures first arrived at the conclusion that this pink-fleshed fish is an aphrodisiac, my guess is that it all began with the fish's innate desire to spawn. What could be a more perfect aphrodisiac than an animal that lives to reproduce?
Are salmon eggs an aphrodisiac?
In addition, salmon eggs, sometimes called salmon roe or caviar, are also considered aphrodisiacs. If you'd like more information on what makes these tiny orange-colored pearls of the sea, along with other types of eggs, such compelling foods of romance, check out my article on eggs as an aphrodisiac food.
Traditionally, the Scotch will serve salmon rolled with caviar to create a dish of great luxury. The Celts viewed the fish as a symbol of wisdom. A nineteenth-century, American cookbook entitled How To Keep a Husband encouraged serving it baked in parchment. Smoked salmon, ribbons of soft, pink flesh with aromas and flavors that hint of sea and sweetness, take the fish's aphrodisiac allures to a whole other realm.
The outstanding sexual benefits of salmon
Like most seafood, salmon enjoys a rich history as a natural aphrodisiac. But it is only in recent times that we've pinpointed this fish as a sexual powerhouse. An excellent source of protein – essential for stamina – it is also loaded with omega-3 fatty acids. These essential fats are proven to elevate serotonin levels in the brain and thereby enhance mood.
In addition, this fish is vitamin-rich. It gives a great dose of A, D, B and calcium; which are all associated with sexual health and libido. Although salmon offers beneficial nutrients for both women and men, this fish is potentially one of the best foods a man can eat, as far as sex drive and fertility are concerned. This is why we named it to our list of the 10 best foods for men's sexual health.
Farmed vs wild salmon
Wild salmon, deeper in color and more abundant in flavor than farmed fish, still garners high prices and an air of indulgence. A deliciously rosy color, the very appearance of salmon steak is symbolic of love. The deepest colored and most flavorful of the fish include Pacific silver and sockeye.
King salmon, a true king of fish, can appear either deep red or entirely white-fleshed. The farm-raised Atlantic variety lacks the flavor and bright coloring of wild fish. A growing contingent of the health community also raises concerns about toxins found in the flesh of farmed fish in far higher quantities than that of wild-caught.
Cooking & recipes
Because salmon is one of the fattier fish, it is fairly easy to cook. (You don't have to worry as much about drying it out as you do with some other fish.) And it's a fish that takes well to many styles of cooking from poaching to baking to smoking to barbecue. (It's also an incredibly popular raw fish. Who can resist a poke bowl?)
Here are a few of my favorite recipes for salmon:
Wild Salmon with Rosé Wine Sauce
Poached Atlantic Salmon with Iris Butter Sauce
Pomegranate Cider-Glazed, Smoked Salmon
Salmon Cakes with White Truffle Mayonnaise
Smoked Salmon Pasta with Light "Cream"
Pan-Seared Salmon with Juniper Gin Sauce
Discover more of the world's greatest aphrodisiacs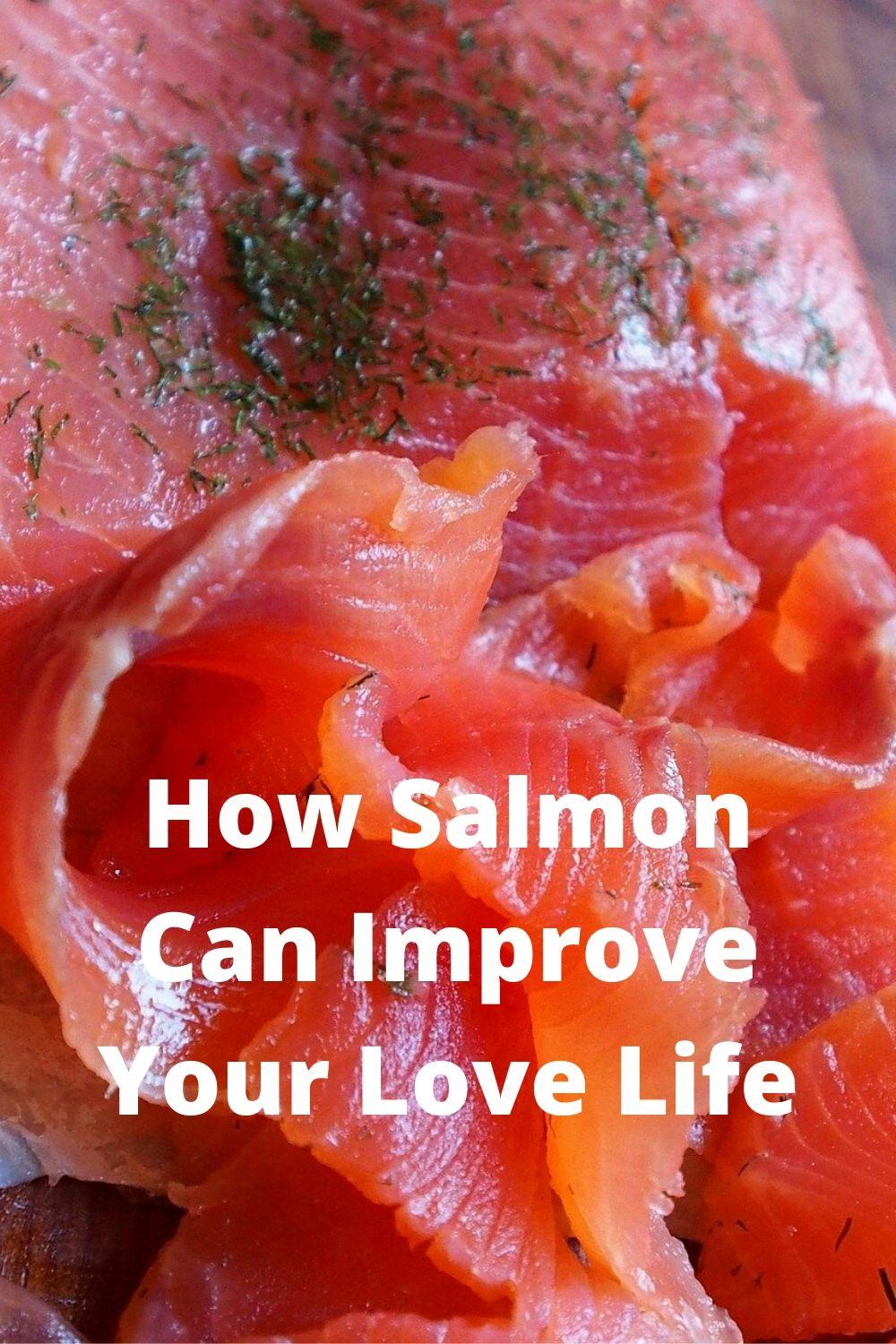 This article was written in 2010 and most recently updated in January 2022.
Latest posts by Amy Reiley
(see all)
Get on our mailing list
Subscribe and get our exclusive list of Six Great Sex-Boosting Snack Foods for FREE! Unsubscribe at any time - privacy policy