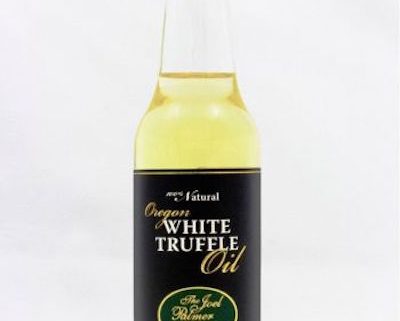 The aroma of white truffle oil is a gateway to romance
Some say truffles are the ultimate aphrodisiac for women. Not only are they delicious little nuggets of luxury, the scent of truffles replicates that of a male pheromone. That's why we're featuring this one-of-a-kind product. Oregon White Truffle Oil was the first all-natural truffle oil produced in the United States. And it's the tastiest truffle oils we've ever tried.
The oil was created by Chef Jack Czarnecki, a leading American expert on mushrooms and truffles Czarnecki and his son Stephan hunt for many of the truffles used in the oil themselves. They also manufacture an oil made from Oregon black truffles.
The flavor of Oregon White Truffle oil is mellow, earthy and irresistible. (It's far more subtle, smooth and round than most truffle oils, which are made of synthetic truffle.) It's designed to be used as a finishing oil. Czarnecki recommends a variety of uses for his oil, including blending with butter to make a truffle-scented spread. Drizzle it over triple cream cheeses, or to finish risottos or carpaccio. We also love it blended into cream sauces and mayonnaise or tossed with hot popcorn. One other suggestion? If you really love truffles, just drizzle it over your lover's curves.
For more information, visit the Oregon Truffle Oil website.
FREE APHRODISIAC NEWSLETTER
Subscribe to our free aphrodisiac newsletter
https://www.eatsomethingsexy.com/wp-content/uploads/2015/11/Oregon_white_truffle_oil.jpg
539
400
admin
https://www.eatsomethingsexy.com/wp-content/uploads/2017/01/Amy-Reileys.png
admin
2017-01-25 07:00:41
2017-01-26 11:31:03
The Aphrodisiac of All-Natural White Truffle Oil | Eat Something Sexy