Charcuterie for Two: Expert tips to build a date night charcuterie board
Our articles may contain affiliate links. For more information, view our policies.
Looking for a romantic treat that will please all your senses, including your sense of adventure? Build a date night charcuterie board! Charcuterie for two can be fun to prepare – unleash your artistic side – and it can make an interactive treat to share with your lover. With my simple guide, you can create a beautiful charcuterie for two that will suit any taste and style. I've even included instructions for a vegan board, (of course, so would the pop of a cork from a bottle of bubbles to go with it!).
RELATED: What is Prosecco and When Should You Drink It?
What is charcuterie?
Charcuterie is, by definition, preserved meat (especially pork): salted, smoked, cured, confit-ed. But within the realm of charcuterie meats, there is an incredible variety. It ranges from hams and sausages to duck confit, rillettes and pâté. A traditional charcuterie board has a selection of these preserved meats varied by texture, flavor, and intensity, accompanied by assorted condiments for contrast and added zing.
RELATED: Why we can't resist black truffle mustard
How to pronounce charcuterie
Charcuterie is a French word. And although it may look intimidating, it is actually easy to pronounce. [shar-kew-tuh-ree]
Where did the charcuterie board originate?
The charcuterie board is originally French. The concept of charcuterie meats was invented in the 15th century as a way to use every part of an animal, not just the most choice cuts. Originally, charcuterie was made only from pork. But today charcuterie has evolved to include a variety of preserved meats and poultry. As a classically trained chef who loves innovation, I'm very excited to bring the joys of this delicious French snack to you.
Traditional, artisan-made charcuterie can be found just about anywhere you find old-school European cultures or new-school hipster butchers. Find that second group and you may also find some serious experimentation with traditional recipes introducing exciting new flavors and techniques. Take, for example, the leak ash porcini salami at Gwen in Los Angeles, or the clove-rubbed pork shoulder from Creminelli in Salt Lake City, Utah.
RELATED: The 5 Best Romantic Picnic Recipes
Can charcuterie be vegan?
Can the growing population of those who eschew meat enjoy a charcuterie tray? Must they stick with cashew cheese? Since the world of charcuterie seems to be all about reinterpreting traditions, why not stretch the limits a little more and expand the charcuterie table to accommodate everyone including vegetarians and vegans? You could even create healthy charcuterie.
All it takes to make a vegetarian charcuterie board is a little imagination. The same goes for making charcuterie vegan with irresistible vegan charcuterie recipes like mushroom pâtés and vegetable terrines. (I include links to inspiring recipes in my list of vegan charcuterie ideas.)
TO TRY: Olive Salad with Celery
Start by selecting the right board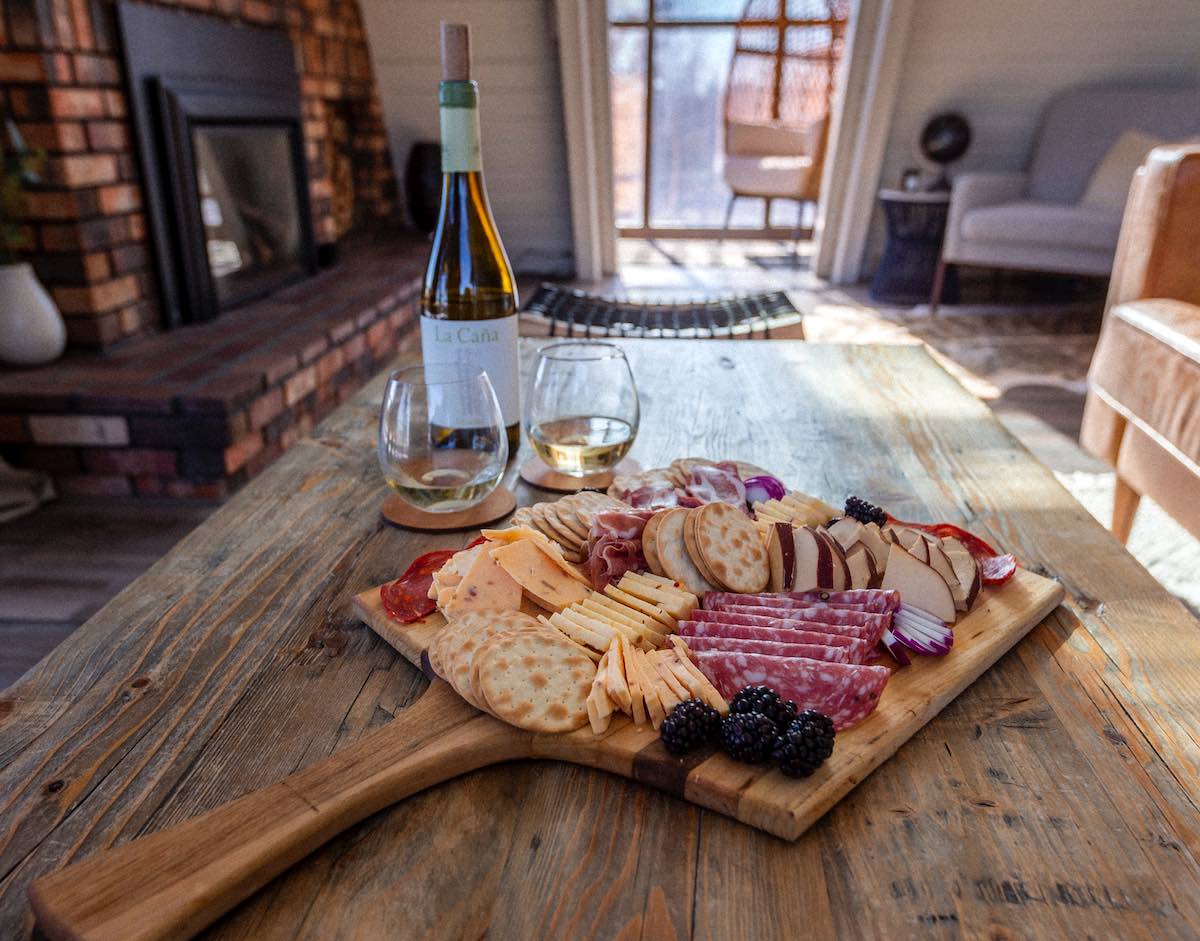 Before you start thinking about what goes on a charcuterie board, you'll want to make sure you have a good-looking board to lend to your charcuterie presentation. Consider gifting your lover a special board or platter you can use over and over again for intimate evenings with a well-planned charcuterie assortment.
Here are some beautiful charcuterie board ideas in a variety of price ranges

Consider the 5 elements that go into the best DIY charcuterie boards
1. Get personal with your theme
Put a little thought into your selection. Having a theme in mind helps narrow the focus and makes it easier to choose. And there are a lot of choices to make! Consider featuring a place, a season, a flavor profile, or even a color. Or get really personal by creating a board highlighting your special someone's favorite things.
2. Select the featured items first
When composing any type of board, I rely on the rule of 3s to anchor the presentation. With cheeses, I may select cheese by type of milk (cow, sheep, goat). Try composing your charcuterie board by region, (Italian, French, and Spanish), or feature one item three ways (like with the seafood lovers board in the examples). What about that vegan board? Consider these trios: grains, vegetables, and legumes; or wild mushrooms three ways.
3. Add creative condiments
Mustards, flavorful pickles, and olives are classic accompaniments for traditional charcuterie. But sweeter flavors are also welcome. Try Italian mostarda (sweet, spicy preserved fruits), jams and preserves, fresh or dried fruits, and nuts. All these flavorful bits are also welcome on any vegetarian charcuterie platter. Bread and crackers are also nice to have for building the perfect bite.
4. Consider where you're serving charcuterie
Nothing says "impromptu picnic" like a decadent cheese and meat platter. Make sure yours is up for the adventure. Most preserved meats and cheeses lend themselves well to picnic baskets or backpacks. Condiments, grains, and softer vegetable items may prove slightly more challenging. If there's something squishy or runny, make sure it's packed in a sturdy container. Spice jars make great vessels for most condiments (just make sure liquids are well-sealed). Wrap them all up in colorful tea towels that can double as napkins and tablecloths in a pinch.
Here's how to choose the best wine for a romantic picnic
When you set out to seduce, it's important to be prepared. Besides, thinking ahead and having the necessities is sexy! Utensils, including a good picnic knife, are a must. Choose one with its own sheath over the blade for safety. This is my favorite picnic knife. Small cutting boards are great for prep AND for presentation. (These are the ones I use.) Pre-chilled beverages should also be on your checklist. And, of course, a trash bag or container to pack out the remains.
If you still need to buy a charcuterie board, here is an array of great options in every price range.
5. Consider how your charcuterie ingredients look together
You may have all the right moves and all the right foods, but don't underestimate the seductive power of creative presentation. It starts in the kitchen when selecting ingredients for a charcuterie board: pick a variety of colors and shapes. Really shine by adding some chopped herbs or edible flowers for garnish.
Lastly, see above for functional tips: colorful tea towels, a cutting board and a knife, add light-weight colorful (and reusable) plates and utensils if you're taking your charcuterie to an outdoor location, and something delicious, perhaps sparkling wine, to sip along with your tasty treats. Champagne and charcuterie are among my favorite food and wine pairing experiences.
RELATED: Unlocking Food Pairing Secrets
How to build an aphrodisiac charcuterie board for two
I've linked to recommended charcuterie board recipes and products within these lists. But if you don't have a good, local source for meat and cheese for a charcuterie board, I highly recommend D'Artagnan. They make an outstanding source for anything that goes on a charcuterie plate.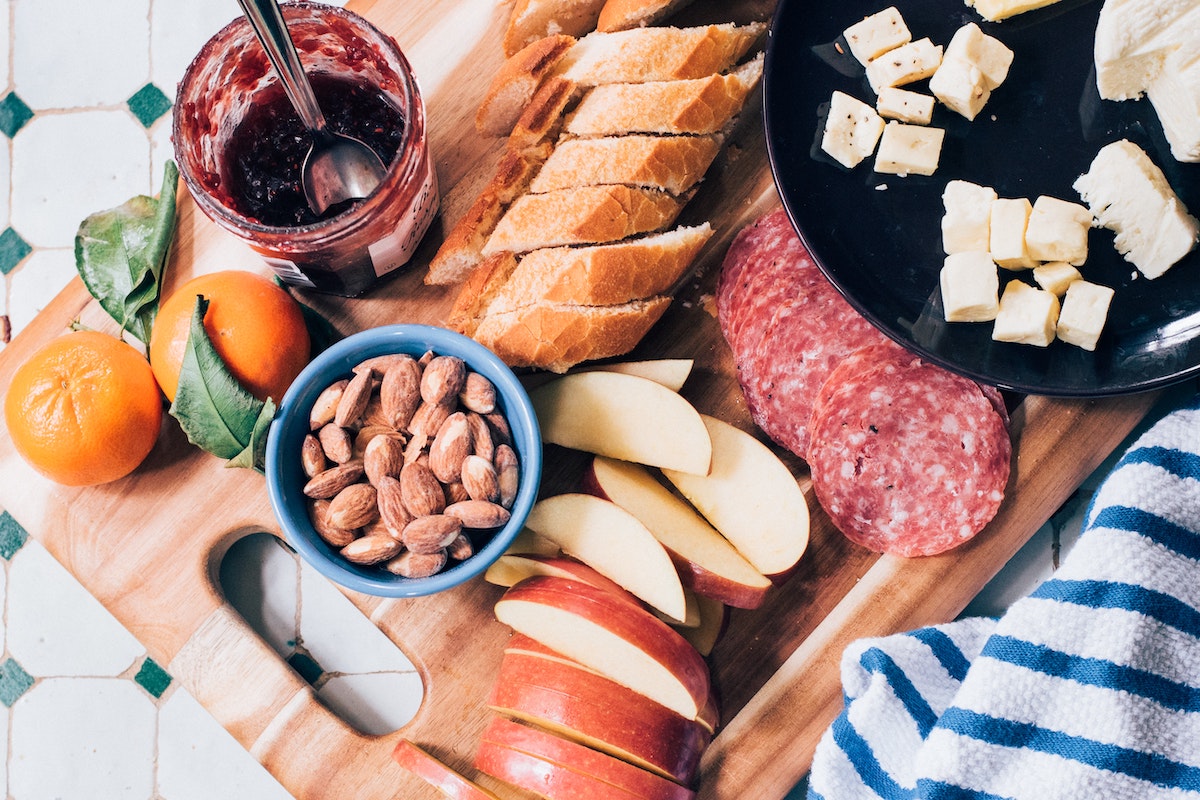 A simple board with classic French ingredients
Sliced smoked duck breast
Pâté de Campagne
Saucisson sec
Dijon mustard
Cornichons & pickled onions
Wild blueberry preserves
Baguette
Cheese straws
Seafood board
Excellent quality tinned smoked mussels, oysters, and octopus
Pickled shrimp
Hot and cold smoked salmon
Dill mustard
Romesco sauce
Peppadew peppers
Lemon wedges
Citrus cured olives
Cracked pepper table water crackers
Sourdough bread
Charcuterie board for vegans
David Lebovitz Faux Gras (modified with vegan butter and vegan brown sugar)
Harrisa-Roasted Carrot and Bean Dip
Mediterranean Olive and Vegetable Rillettes (from the classic book Charcuterie by Michael Ruhlman & Brian Polcyn)
Carrot Top Pesto
Balsamic crema
Assorted olives
Giardiniera (Italian-style pickled vegetables)
Multi-grain baguette
Sea salt flatbreads
How much charcuterie per person?
If you're making charcuterie for a romantic evening, or afternoon, you want to plan on 2-3 ounces of charcuterie meat per person, or 5 if you are serving the charcuterie in place of a meal. Just keep in mind that most charcuterie meats are very rich, so you'll want to serve it with lots of different breads and/or crackers, pickles and other garnishes. (For vegan charcuterie boards, make sure to have 2-3 ounces of proteins and rich items like a vegetable terrine or 5 ounces for a meal.)
RELATED: Menus for Romantic Dinners for Two
If you want to take these DIY charcuterie board ideas and use them for entertaining a crowd, plan on a good variety of 2-3 ounce appetizer portions and extra in reserve in case your easy charcuterie board is the hit of the party.
Featured image by Alex Guillaume
Latest posts by Annette Tomei
(see all)
Get on our mailing list
Subscribe and get our exclusive list of Six Great Sex-Boosting Snack Foods for FREE! Unsubscribe at any time.