Easy Vegan Carrot Top Pesto Recipe
Our articles may contain affiliate links. For more information, view our policies.
This simple carrot top pesto recipe was originally published in my cookbook, Romancing the Stove: the unabridged guide to aphrodisiac foods. It's probably one of my favorites in the book because of its versatility and the fact that it is eco-friendly, not to mention practical. That's because this pesto recipe features an ingredient most people just throw away. I'm talking about carrot greens.
What are carrot greens?
Carrot greens are the tops of carrots, the part that grows out of the ground. (Don't forget that carrot is a root vegetable.) And yes, carrot leaves are edible! In fact, this is one of many carrot top recipes in my arsenal.
Carrot tops are often chopped off before the carrots are sold. But if you buy your carrots with the tops on, do not throw them in the trash, or compost.) There are so many carrot top recipes to help you use these tasty and nutritious greens. I encourage you to start cooking with them rather than simply discarding your carrot tops. It is not only a great way to change up the flavors of your recipes but it diminishes food waste.
TO TRY: Discover This Great Vegan Alternative to Bone Broth
The health benefits of carrot tops
Carrot leaves are as nutritious as many other greens and have a unique, herbal flavor. The flavor is a touch bitter, in the same way parsley is bitter. But some, myself included, find it to be a refreshing flavor.
Can you EAT carrot greens?
Have you ever heard that you can't eat carrots tops? The bitterness of carrot leaves once earned carrot greens a reputation as poisonous. Don't worry! Carrot greens are edible. And once you try a great carrot leaves recipe like this one, you'll be sold on this often ignored vegetable.
Carrot leaves are healthy
In fact, carrot stems make a good source of potassium, which is vital to sexual health. Carrot leaves also happen to contain both calcium and vitamin K, which are linked with bone health. I've taken to cooking with them, not just in my carrot pesto.
More ideas for cooking with carrot greens
If you're wondering what to do with carrot tops, there's so much! I have many uses for carrot leaves. Here are a few ideas for using these nutritious greens in carrot top recipes instead of letting them go to waste:
Add them to soups as you would spinach or as a garnish like parsley.
Sauté carrot greens in stir-fries.
Blend carrot tops into fruit and or vegetable smoothies.
TO TRY: Chicken & Coconut Stew with Carrot Greens
Choose organic carrot leaves
I do recommend buying organic carrots if you plan on using the greens. Since most farmers don't expect customers to eat the greens, conventionally grown carrot tops can come with a lot of unwanted pesticides.
Try getting carrot leaves straight from a farmer
But here's a tip for those of you ready to start cooking with carrot tops – and you should be! These are fantastic greens, not to mention that using carrot greens is a great way to reduce food waste. If you find an organic carrot farmer at your farmers' market, ask them if they have any extra carrot greens. Many customers will ask for the tops to be removed when they buy a bunch of carrots. The farmer may give you those extra greens for free.
TO TRY: Pasta with Sweet Corn and Carrot Greens
How to use Carrot Greens Pesto
If you use a good blender or food processor, you can whip up a batch of this vegan carrot leaf pesto in a flash. I make it in my Vitamix, which I consider the most indispensable tool in my kitchen.
Compare prices of Vitamix machines
Vegan and non-vegan uses for this homemade pesto recipe
Although I recommend it as a topping for your favorite pasta as a tasty bowl of carrot top pesto pasta,  this vegan pesto sauce also makes a nice dip for vegetables and chips and a flavorful sandwich spread. You can also use this simple carrot top pesto recipe to make a pesto pizza. (It's a great topping for a fun version of a vegan pizza!)
And although this is a vegan pesto recipe, I like using this simple pesto sauce with white meats and fish. It is great with chicken and a blend of cheeses for a homemade pesto chicken pizza. Or use this carrot leaves recipe to make a pesto chicken salad or a flavorful topping for grilled vegetables. You can even use it to make green eggs and ham, which is a favorite in my house.
Notes on my vegan pesto ingredients
You might be surprised by some of the other ingredients in this pesto recipe. Most pesto recipes call for extra virgin olive oil. Extra virgin olive oil tends to have a beautiful, somewhat delicate flavor. You can use extra virgin olive oil in this recipe. But because the other ingredients, in particular the carrot greens, have such bold flavor, it isn't necessary to use an expensive oil. Taste the olive oil before you begin and if you like the flavor, it should work in this recipe.
You can also make this carrot green pesto with avocado oil – one of my favorite, healthy oils, which has some interesting health benefits of its own.
RELATED: The Benefits of Avocado Oil and Why You're Going to Want to Cook With It
A walnut pesto
This recipe calls for walnuts, not the European pine nuts used in traditional pesto. You can use pine nuts if you prefer them to walnuts. However, you might want to stay away from Chinese pine nuts, which can cause a condition called, "pine mouth."
RELATED: Check out all of our vegan recipes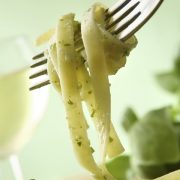 Easy Vegan Carrot Top Pesto
Print Recipe
This simple pesto recipe features an ingredient typically discarded by most home cooks. To be on the safe side, use the greens from organic carrots in this recipe. 
Ingredients
1/4

cup

unsalted walnuts

1

tbsp

+ 1/4 c olive oil

1

tbsp

sweet onion

roughly chopped

1

clove

garlic

roughly chopped

1

bunch carrot tops

thoroughly washed and roughly chopped*

smoked salt to taste

black pepper

optional

1

lb

whole wheat linguine
Instructions
Toast walnuts in pan or oven until golden. Set aside.

Heat 1 tbsp olive oil over medium heat. Saute the onions in the pan until soft. Add garlic and saute an additional minute before stirring in the carrot tops and a pinch of smoked salt. Cook until carrot tops wilt, about 1 minute.

Transfer carrot top mixture to a blender, adding toasted walnuts and 1 tbsp water. Blend, adding olive oil in a slow stream until mixture becomes a coarse paste (the texture of pesto). You may not need all the olive oil or you may need additional.

Season with additional smoked salt to taste. If you like a little heat, try adding in a touch of freshly ground black pepper. Set aside while you prepare the pasta.

Make pasta according to package instructions, cooking to al dente.

Drain pasta and toss with the pesto. Serve immediately. Alternatively, serve the pesto at room temperature as a dipping sauce or refrigerate and use as a salad dressing.
Notes
Carrots are generally sold with their tops still attached at farmers' markets and produce stands. Although many grocery stores remove the tops and seal the carrots in plastic bags before sale, Whole Foods and other natural foods grocers often sell the root vegetables in their natural glory.
Love the recipe? Get my cookbook, Romancing the Stove: the unabridged guide to aphrodisiac foods

Pin this easy carrot leaves recipe:
Latest posts by Amy Reiley
(see all)
Get on our mailing list
Subscribe and get our exclusive list of Six Great Sex-Boosting Snack Foods for FREE! Unsubscribe at any time.