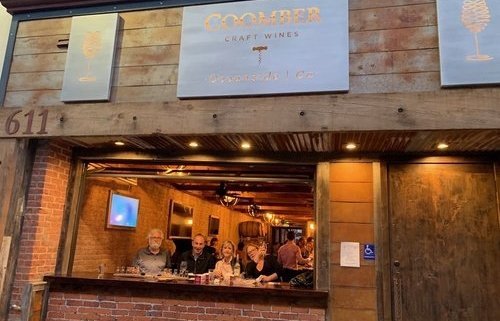 Wine Tasting Oceanside – how to plan your trip
Our articles may contain affiliate links. For more information, view our policies.
Looking for a romantic getaway to the wine country? Have you considered Oceanside, California?
Why your next romantic getaway should be wine tasting San Diego style
A delightful, beach-y community in northern San Diego County, Oceanside is more than just surf and sand. The town is home to several wineries producing wines from nearby vineyards. That's why we're recommending you plan a trip for some wine tasting Oceanside style.
Unique San Diego wine tasting activities
What we like about this beachside wine country is that there is wine-related fun to be had beyond the local tasting rooms.
For starters, there's also the Oceanside Adventures Harbor Wine Cruise. Offered the first Saturday of each month, it's a  romantic sunset ride with wine. In fact, the 90-minute catamaran cruise includes appetizers and a selection of three wines from Oceanside's Beach House Winery. What better way to get acquainted with the local wines than while exploring the local coves with the one you love?
Temecula wine tasting tour from Oceanside
Or, for those with an even more adventurous spirit, there's a new offering from Waverider Helicopter Tours. This adventure takes guests on a 20-minute flight to Temecula's Thorton Winery for lunch and wine tasting.
Oceanside downtown wine tasting
Of course, Oceanside California also offers its share of conventional wine experiences.
And as of this summer, three tasting rooms in the heart of Oceanside welcome visitors. One of the newest wineries, Coomber Craft Wines, is worth adding to your itinerary. And this is not just a tasting room. This is a true, working urban winery. And it's right in the heart of this beach community.
But just down the street from Coomber Craft is what's probably Oceanside's best-known winery, Orfila Vineyards and Winery. Their tasting room features over 20 varieties. And the winery also offers small plate appetizers to pair with your tasting.
Try a great Oceanside wine bar
For a more global wine tasting experience, Oceanside also has a wine bar with the kind of wine program you might expect to find in one of America's most sophisticated cities.
The Privateer Marketplace and Wine Bar is the kind of place where you can taste wines from around the world. The wine bar offers flights as well as a nice selection of wines by the glass and bottle. You can also dine in on farm-to-table cuisine or stock up on provisions for a private dinner for two at your Air B&B or inn.
Another California wine tasting experience just a short drive away
Of course, if these aren't enough wineries to whet your wine-tasting appetite, there are plenty of opportunities for tasting in nearby Escondido. (This northern San Diego wine-growing region is about a half-hour from downtown Oceanside.)
Escondido boasts 20 winery tasting rooms. However, unlike the hip, beach vibe of Oceanside, this wine country feels more traditional, more like a wine tasting trip to northern California's Napa Valley.
Where to stay in Oceanside
The choices for romantic places to stay in Oceanside are almost endless. In fact, you may never want to leave! Visit Oceanside has great suggestions for places to stay.
The list includes hotels, vacation rentals and even camping options. The only trouble you'll have is choosing. But no matter what you decide, your romantic wine country escape to Oceanside California is sure to be a trip to remember.
A favorite Oceanside hotel
If you're looking for a little pampering in walking distance of all the wine tasting action, you may want to check out the Mission Pacific Hotel. A 161 room resort on the water, this hotel offers oceanfront views and direct access to a classic, Southern California beach. The hotel also boasts a rooftop pool with private cabanas, in-room dining and a beach butler service.
Get more Oceanside accommodation options
For additional hotel options as well as self-catering accommodations, be sure to check out the full list of places to stay in Oceanside. And here's where to compare prices and book a room right now.
Need a wine country getaway but don't have the time to leave town? Here's how to host a Sonoma wine salon at home.
And if you're looking to do a classic Napa getaway, we have suggestions for that, too. Don't miss The Francis House in Calistoga.
Latest posts by Amy Reiley
(see all)
Get on our mailing list
Subscribe and get our exclusive list of Six Great Sex-Boosting Snack Foods for FREE! Unsubscribe at any time.