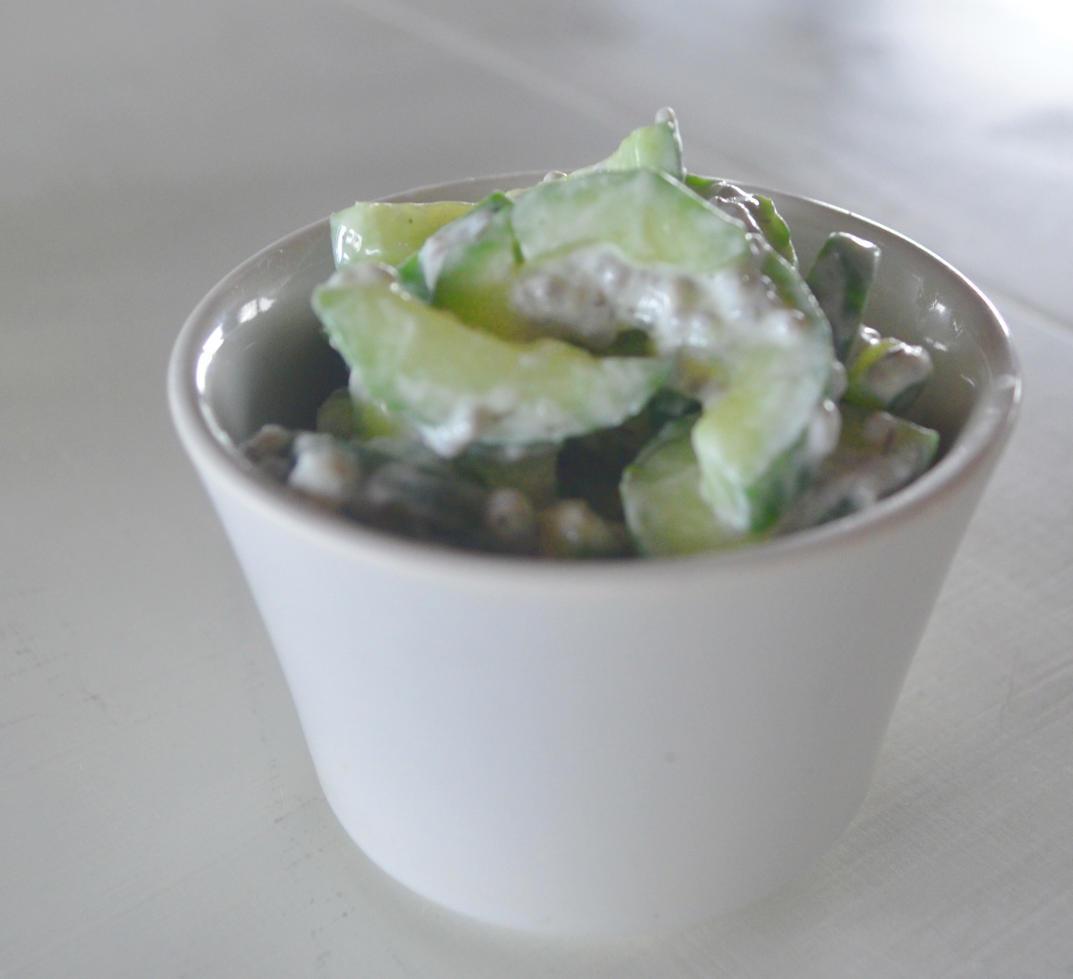 Chia Seed and Cucumber Salad Recipe
Our articles may contain affiliate links. For more information, view our policies.
One day I was staring at a package of chia seeds trying to think of something to do with them beyond the ubiquitous chia pudding. I wondered what would happen if I added them to my mother's cucumber salad recipe.
It's true that a comforting recipe from childhood doesn't bring the mind back around to planning a successful date night. But I think that I could argue that my updated cucumber salad is just what the love doctor ordered!
A symphony of salad textures
I've long promoted the sensory pleasures of texture. And this dish has exactly that magic combination of sensuality us pleasure sensors seek. The cold, tangy, creamy dressing caresses the crunchy texture of Persian cucumber.
But the crowning glory of this, once humble side dish? That's the chia, now plumped and slippery, sliding across the tongue like tiny pearls.
Check out this Strawberry Chia Pudding with Acai Fruit
A side dish with some surprising health benefits
Many veggie lovers are surprised to learn that cucumber is actually a fruit. True, it is green. But it is the part of the plant that develops from the flower and contains the seeds. That makes it a fruit!
But what's even more surprising to most people is that cucumber is an aphrodisiac. Most people are inclined to dismiss that reputation as coming simply from cucumbers' appearance.
True, the cucumber grows in a shaft-like shape. But cucumber has some nutrients that really help with sexual health.
For starters, cucumber is a source of manganese, a nutrient vital to maintaining sexual health. In addition, the scent of cucumber shows some promise of being a turn-on. Want to know more? Take a deep dive into what makes cucumber an aphrodisiac.
And as you probably know by now, chia seeds are considered among the superfoods of our time. Low in calories and high in fiber, they're rich in antioxidants. According to the Nutrition Data website, they're also a good source of manganese as well as a source of zinc, a nutrient essential for blood flow and, therefore, climax.
And so, you may not have viewed a cucumber salad recipe as food for seduction at the outset of this story, I think there's one thing you cannot deny. And that's the simple truth that a great cucumber salad recipe is something that can be appreciated by all.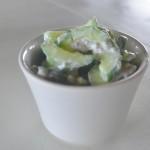 Chia Seed and Cucumber Salad
Print Recipe
A unique play on a refreshing, cucumber salad, this version adds chia seeds along with crisp cucumber in a creamy dressing. 
Ingredients
4

Persian cucumbers

trimmed, halved lengthwise and seeded

3-4

tbsp

Greek yogurt

1

tbsp

apple cider vinegar

2

tbsp

chia seeds

1/4

tsp

granulated sugar

1/4

tsp

salt + additional to taste

1

tbsp

red onion

finely chopped (optional)
Instructions
Slice the cucumbers into 1/8 or 1/4 inch thick half moons. (I like to use a mandolin to keep the slices uniform--I prefer my slices thin but you may choose to cut them thicker for more crunch.)

Add 3 tbsp yogurt, apple cider vinegar, chia seeds, sugar, salt and (optional) red onion. Stir until thoroughly combine, making sure all the chia seeds are incorporated.

Chill in the refrigerator for at least 4 hours. The recipe can be prepped a day in advance.

Season with additional salt to taste before serving. If the salad seems thicker than you'd like, add the last tbsp yogurt.
Pin this Chia Seed and Cucumber Salad recipe:
FREE APHRODISIAC NEWSLETTER
Subscribe to our free aphrodisiac newsletter