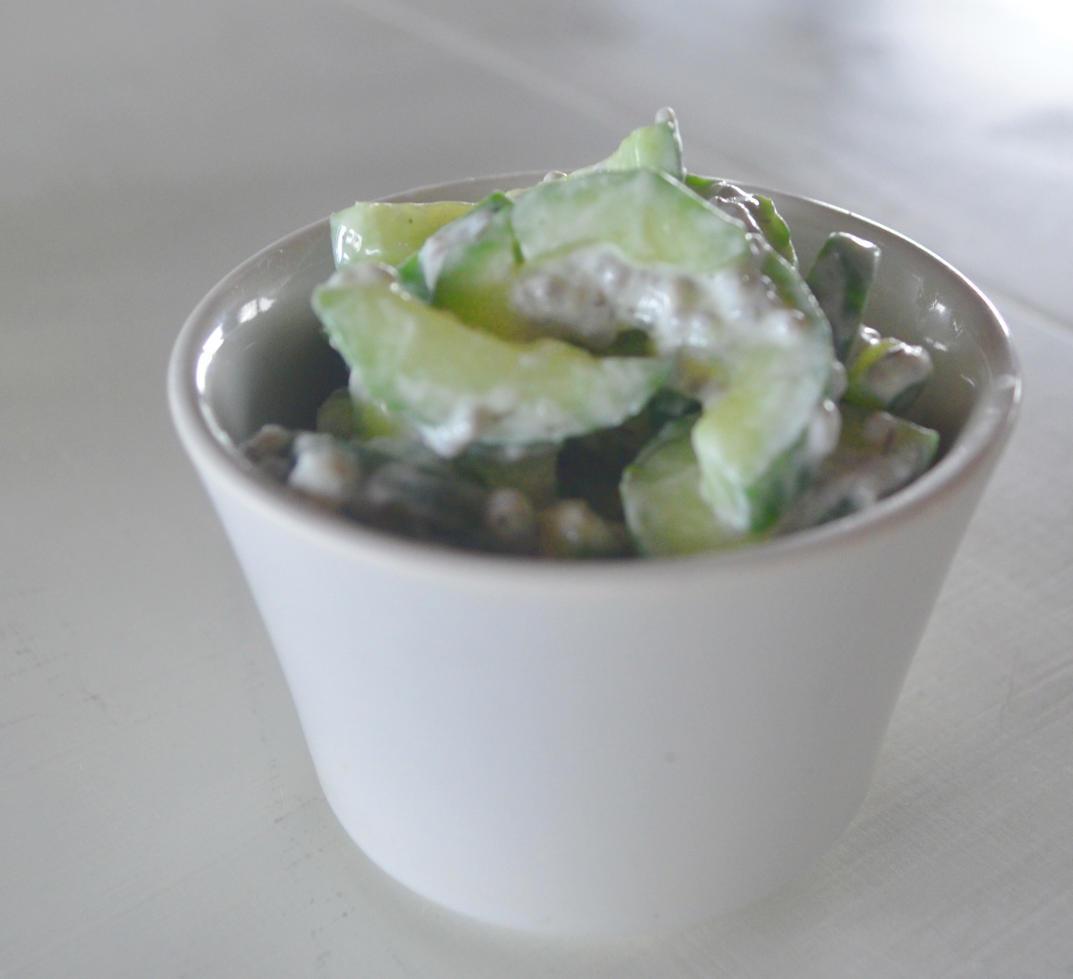 Cucumber Salad Recipe with Chia Seeds & Greek Yogurt Dressing
Our articles may contain affiliate links. For more information, view our policies.
Chia seeds are among the most popular seeds to use in recipes right now. That's because these unusual little seeds are not only packed with nutrition but they add interesting texture to drinks and desserts.
But chia isn't used all that often in savory recipes. It's a shame since this seed brings the same nutrient-rich qualities and incredible texture to any dish it meets. That's why I started adding chia seeds to my easy cucumber salad recipe. The salad is light and easy to make, not to mention healthy. And with the addition of chia seeds, it is an unexpected side dish for a hot, summer day.
Once you get used to cooking with chia, I think you'll fall in love with using chia seeds in salad. This cucumber and chia salad is my favorite. But I encourage you to start thinking about how you can use chia in a variety of refreshing salads.
Ingredients for the best cucumber salad recipe
This creamy, cold cucumber chia salad recipe calls for just seven ingredients. It is inexpensive and easy to make, it might be the perfect summer salad. But it does call for one unusual ingredient, chia seed.
What are chia seeds?
Chia seeds are the edible seeds of a flowering plant in the mint family. Although they've only come into fashion in recent years, chia seeds were an important food in Aztec and Mayan diets. That's because these tiny, bluish-grey seeds are packed with nutrients.
Chia seeds are a source of several minerals as well as omega-3 fatty acids, fiber and antioxidants. That's a lot of nutrition for a tiny seed. But the best part about chia seeds is the texture.
These tiny, hard seeds resemble poppy seeds right out of the package. But when they're introduced to liquid, they swell and develop a gel-like texture with just a hint of crunch at the center.
These soaked seeds work brilliantly as a thickener and a nutritious one at that! That's why they're frequently used in desserts and baked goods. (Check out my Strawberry Chia Pudding and Chia Seed Coconut Pancake recipes for some ideas on baking with chia.)
The flavor of chia is extremely mild and faintly nutty. Much more than flavor, what they bring to a dish is the incredible texture of tiny, gel-filled pearls.
For this creamed cucumber recipe, rather than toss the chia seeds on salad, I combine chia seeds into the creamy, Greek yogurt dressing. The result is a fantastic blend of creamy and slippery textures to contrast the crunch of fresh cucumber.
(Incidentally, chia seeds work very well in turning many styles of dressing into chia seed dressing. Try adding some to poppy seed dressing or even Caesar.)
Detailed ingredient list
Hopefully, I've sold you on the idea of adding chia seeds to this classic cucumber salad. So let's take a closer look at everything you need to make this easy cucumber and chia seeds salad:
Persian cucumber – This is a small, tender cucumber with very few seeds that easily slices into bite-sized pieces.
Plain Greek yogurt – I prefer the weight and thickness of Greek yogurt to traditional yogurt when using it as a dressing for cucumber.
Apple cider vinegar
Chia seeds – Many grocery stores now sell chia seeds. Check the rice aisle, baking aisle or, if your store has one, the health food section. Alternatively, you can order chia online.
Granulated sugar – You can use less-refined cane sugar if you prefer.
Finely ground sea salt – Do not use large salt flakes to make the dressing, however, you can finish the salad with them if you choose.
Thinly sliced red onion (optional)
Tips and recipe notes
If you can't find Persian cucumbers, you can use English cucumbers but you must remove the seeds before slicing. (The easiest way to remove cucumber seeds is to take a melon baller and lightly scoop them out.) Cucumber seeds in the salad can make the yogurt dressing runny.
I prefer to use Greek yogurt for this cucumber salad with chia seeds but you can substitute with sour cream. To make a vegan version, use plain coconut yogurt.
If you are making a vegan cucumber chia seed salad, be sure to use vegan sugar. (Note that not all sugar is vegan.)
This cucumber salad can be made up to 24 hours in advance. You can save leftovers in the refrigerator for up to 5 days.
The red onion flavor will intensify as the salad rests. So if you do not enjoy that creamy cucumber onion salad flavor, skip the onions.
What to serve with this healthy cucumber and chia seed salad
This refreshing and tasty version of a creamy cucumber salad is a great summer side dish for lunch or dinner. It also makes a light and delicious picnic food. Here are a few ideas for dishes you can pair with this simple and healthy cucumber salad:
Spicy Sweet Potato Veggie Burgers
Bacon, Tomato and Avocado Picnic Sandwiches
Why this creamy cucumber recipe is a good choice for a romantic dinner
I've long promoted the sensory pleasures of texture. And this sliced cucumber salad has exactly that magic combination of sensuality we pleasure sensors seek. The cold, tangy, creamy dressing caresses the crunchy texture of Persian cucumber.
But the crowning glory of this easy cucumber side dish? That's the chia, now plumped and slippery, sliding across the tongue like tiny pearls. If you never thought salad could have a sexy quality, you need to try this sensual salad.
Many veggie lovers are surprised to learn that cucumber is actually a fruit. True, it is green. But it is the part of the plant that develops from the flower and contains the seeds. That makes it a fruit!
But what's even more surprising to most people is that cucumber is an aphrodisiac. Most people are inclined to dismiss that reputation as coming simply from cucumbers' appearance.
True, the cucumber grows in a shaft-like shape. But cucumber has some nutrients that really help with sexual health.
Cucumber is a source of manganese, a nutrient vital to maintaining sexual health. In addition, the scent of cucumber shows some promise of being a turn-on. Want to know more? Take a deep dive into what makes cucumber an aphrodisiac.
And as you probably know by now, chia seeds are considered among the superfoods of our time. Low in calories and high in fiber, they're rich in antioxidants. According to the Self Nutrition Data website, they're also a good source of manganese as well as a source of zinc, a nutrient essential for blood flow and, therefore, climax.
And so, you may not have viewed cucumber salad recipes as food for seduction before you read this post but now that you know, you know!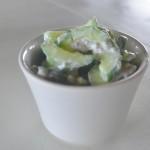 Chia Seed and Cucumber Salad with Greek Yogurt Dressing
Print Recipe
A unique play on a refreshing, cucumber salad, this version adds chia seeds along with crisp cucumber in a creamy dressing. 
Ingredients
4

Persian cucumbers

trimmed, halved lengthwise and seeded

3-4

tbsp

plain Greek yogurt*

1

tbsp

apple cider vinegar

2

tbsp

chia seeds

1/4

tsp

granulated sugar*

1/4

tsp

salt + additional to taste

1

tbsp

red onion

finely chopped (optional)
Instructions
Slice the cucumbers into 1/8 or 1/4 inch thick half moons. (I like to use a mandolin to keep the slices uniform--I prefer my slices thin but you may choose to cut them thicker for more crunch.)

Add 3 tbsp yogurt, apple cider vinegar, chia seeds, sugar, salt and (optional) red onion. Stir until thoroughly combined, making sure all the chia seeds are incorporated.

Chill in the refrigerator for at least 4 hours. The recipe can be prepped a day in advance.

Season with additional salt to taste before serving. If the salad seems thicker than you'd like, add the last tbsp yogurt.
Notes
For a vegan cucumber salad, use plain coconut yogurt and vegan sugar. 
Pin this homemade cucumber salad recipe:
Latest posts by Amy Reiley
(see all)