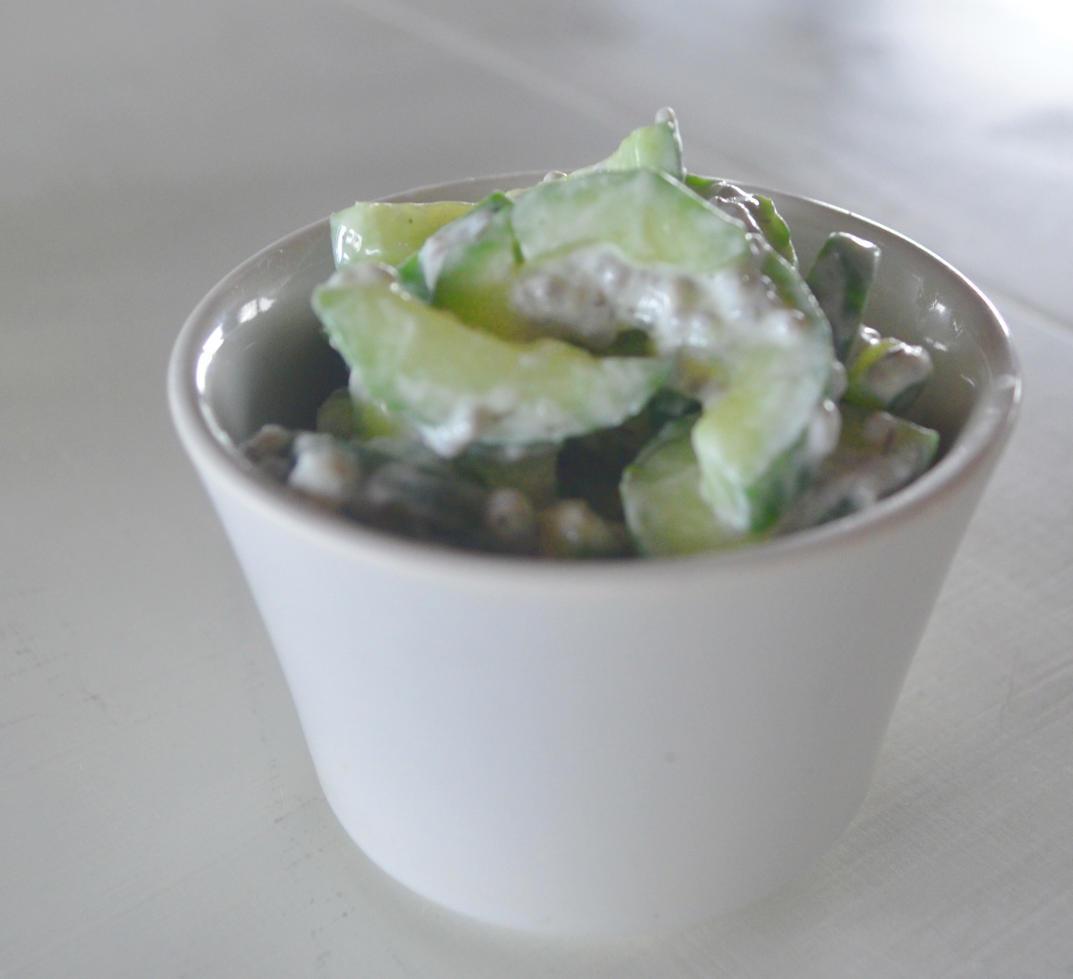 One day I was staring at a package of chia seeds trying to think of something to do with them beyond the ubiquitous chia pudding. I wondered what would happen if I added them to my mother's cucumber salad recipe. I also traded out her garden cucumbers for the sweet and supremely crunch Persian variety. The resulting cucumber salad recipe is a unique combination of slippery and crunchy, smooth and hard textures that I find to be an incredible sensory pleasure.
Many veggie lovers are surprised to learn that cucumber is actually a fruit. True, it is green. But it is the part of the plant that develops from the flower and contains the seeds. That makes it a fruit! But what's even more surprising to most people is that cucumber is an aphrodisiac. Most people are incline to dismiss that reputation as coming simply from cucumbers appearance. You know, long shaft and all that? But in actuality, cucumber has some nutrients that really help with sexual health. Learn more about cucumber's aphrodisiac reputation. And whether you see cucumber as something sexy or no, a great cucumber salad recipe is something that can be appreciated by all.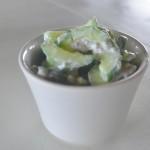 Chia Seed and Cucumber Salad
A unique play on a refreshing, cucumber salad, this version adds chia seeds along with crisp cucumber in a creamy dressing.
Cooking Style:
Easy, fast
Seasonal:
Fourth of July, Labor Day, summer
Ingredient:
chia seeds, cucumber
Servings
:
4
as a side dish
Ingredients
4

Persian cucumbers

trimmed, halved lengthwise and seeded

3-4

tbsp

Greek yogurt

1

tbsp

apple cider vinegar

2

tbsp

chia seeds

1/4

tsp

granulated sugar

1/4

tsp

salt + additional to taste

1

tbsp

red onion

finely chopped (optional)
Instructions
Slice the cucumbers into 1/8 or 1/4 inch thick half moons. (I like to use a mandolin to keep the slices uniform--I prefer my slices thin but you may choose to cut them thicker for more crunch.)

Add 3 tbsp yogurt, apple cider vinegar, chia seeds, sugar, salt and (optional) red onion. Stir until thoroughly combine, making sure all the chia seeds are incorporated.

Chill in the refrigerator for at least 4 hours. The recipe can be prepped a day in advance.

Season with additional salt to taste before serving. If the salad seems thicker than you'd like, add the last tbsp yogurt.
FREE APHRODISIAC NEWSLETTER
Subscribe to our free aphrodisiac newsletter