The Best Buffalo Burger Recipe
Our articles may contain affiliate links. For more information, view our policies.
I love this burger recipe.
Designed to take your average burger and transform it into something potentially aphrodisiac, I managed to create what I consider to be the perfect burger recipe. Because I use bison instead of beef, this buffalo burger recipe is lean yet flavorful.
And as for that aphrodisiac ingredient? You will not believe what the addition of coffee does to do tease out intense flavor from a simple, ground meat patty.
A burger makeover with American Bison
This bison burger recipe is one of the most popular recipes from my cookbook, Romancing the Stove: the unabridged guide to aphrodisiac foods.
But my buffalo burger is a twist on a barbecue classic is more than date night food. It also makes a crowd-pleaser perfect for a weekend gathering.
For this fun twist on an American grilling favorite, I traded in beef for ground buffalo, (also known as American bison). The intention was to take a basic burger and make it a food suited to a romantic evening. I figured I could do that with ground buffalo aka bison meat because bison has an edge over beef in the health department. In fact, bison makes our list of the 10 Best Foods for Men's Sexual Health.
But after experimenting with bison for a while, I realized that bison burgers are simply superior to beef burgers in just about every way.
What is bison?
For some quick clarification, when I refer to buffalo, I am talking about American bison. The two names are used interchangeably when speaking of this beef alternative. However, it should not be confused with water buffalo, or Asian water buffalo. (If you are buying an imported meat labeled as buffalo, check to make sure it is not Asian water buffalo before you buy.)
Things to love about buffalo burger meat
I love how quickly and cleanly buffalo burgers cook.
Bison meat offers a more robust flavor than does beef. And some experts even argue that bison may be a better choice than beef when it comes to environmental issues.
Yet this wild game meat still feels and looks like ground beef. You blend the seasonings and form patties just as you would with beef. In fact, I'll bet if you serve bison burgers at a casual, backyard gathering, most people wouldn't even notice the burgers aren't made from beef. They'd just know that you make really good burgers.
What makes this an aphrodisiac burger?
This recipe is called Coffee-Kissed Buffalo Burgers for a reason. That's because I really do add coffee grounds to the meat mixture.
It's intense and it's awesome! Adding coffee to the hamburger meat creates a flavor like no other, yet it's subtle enough that nobody would ever guess the ingredient giving this burger such richness is coffee. (Even if you want to stick to beef burgers, you have to try the coffee treatment sometime.)
Serve it with a sexy Malbec wine! 
A buffalo burger recipe with coffee?
Even I thought I might be crazy the first time I tried blending coffee into ground bison meat. I first did it when I was consulting for a burger company. They wanted a unique and undoubtedly aphrodisiac burger recipe. And I delivered, with coffee.
Coffee is one of my favorite aphrodisiac ingredients. (Didn't know coffee was an aphrodisiac? Check it out in my guide to aphrodisiac foods.) The amount of coffee in these burgers shouldn't be enough to keep you up all night – unless you want to be up all night…But many fans of my aphrodisiac burger report feeling a pleasant surge of energy after enjoying a coffee-kissed bison burger night.
As for the burger company, they never used it my ideas. In fact, when the owner found out my secret ingredient, he refused to even try a burger.
Fool!
The health benefits of eating bison
As I mentioned earlier, buffalo, or American bison, makes a great alternative to beef for a variety of reasons. But the key reason, if you're making this burger recipe for date night, is the healthy edge ground buffalo meat has over beef.
Bison is lower than beef in cholesterol and calories, higher in protein and iron. You may not consciously realize it but these are things your libido desires. Bison is also a source of several B vitamins, selenium, potassium and zinc.
Also good to keep in mind, most buffalo is raised grazing on grass instead of manufactured feed and synthetic hormones.
Where to buy ground bison meat
Because it's grown trendy in recent years, ground buffalo or bison, (it is sold by both names), is now widely available and is even sold in many mainstream grocery stores. You can also order it from Amazon.

How to cook buffalo burgers
Bison cooks differently than beef. If you're used to cooking wild game, you'll feel perfectly at home grilling these burgers.
But if you need a few pointers, here are the important things to keep in mind to ensure you don't dry out your meat on the grill:
Cook slow
Think pink
Watch your flame
Bison is lower fat than beef, which makes it more prone to drying out. In order to help the burgers cook to the right doneness without losing tenderness, start thinking about treating the meat gently as you form the burgers.
As you make your patties, compress them just enough so that they hold their shape but not enough to risk them turning into hockey pucks as you grill.
Keep your heat at medium and cook the burgers a little more slowly than you would beef. (Alternatively, you can cook them in a cast-iron skillet on the stovetop.) I recommend cooking these bison burgers to no more than medium doneness.
TRY NEXT: Marinated, Grilled American Bison
Coffee-Kissed Buffalo Burgers
Print Recipe
This recipe from Amy Reiley's aphrodisiac cookbook Romancing the Stove, gives a classic burger a makeover using American Bison and spiking the meat with the rich, earthy flavor of coffee.
Ingredients
1/2

tsp

salt

1/2

tsp

pepper

2

tsp

fine coffee grounds

1

lb

ground buffalo

or 4 buffalo patties,

1/2

sweet onion

cut into rounds

2

tbsp

oyster sauce

4

slices

ripe tomato

optional,

2

whole grain sandwich rolls

The sandwich is designed as open-faced is to help keep the meal light for a romantic evening. To serve a crowd, feel free to use full buns for practical purposes!
Instructions
Mix salt, pepper and coffee grounds into the ground buffalo and form 4 burger patties with 1/4 inch thickness.

Brush grill with cooking oil and heat to medium.

Cook burgers for 3-5 minutes per side depending on desired doneness, flipping once. (Because of its low fat content, buffalo will become tough if overcooked.)

After burgers are flipped, add onion rounds to the grill. Grill onions 2-3 minutes per side.

Top each half of the buns with 1-2 tsp oyster sauce. Add a tomato slice (optional) and 1/4 of the grilled onions. Top with a burger and serve open-faced.

If you are only serving 2 burgers, save the second bun and toppings separately, in the refrigerator, for up to 48 hours.

*The recommendation to serve the sandwich open-faced is to help keep the meal light for a romantic evening. If you're going to be serving burgers to a crowd, (particularly outdoors), feel free to use full buns for practical purposes!

(The ground buffalo mixture can also be used to make meatballs. Just brown lightly in a sauté pan and serve with pasta or as an appetizer with oyster sauce for dipping.)
Like the recipe? Get my cookbook.
For more of my recipes for seduction, check out Romancing the Stove: the unabridged guide to aphrodisiac foods.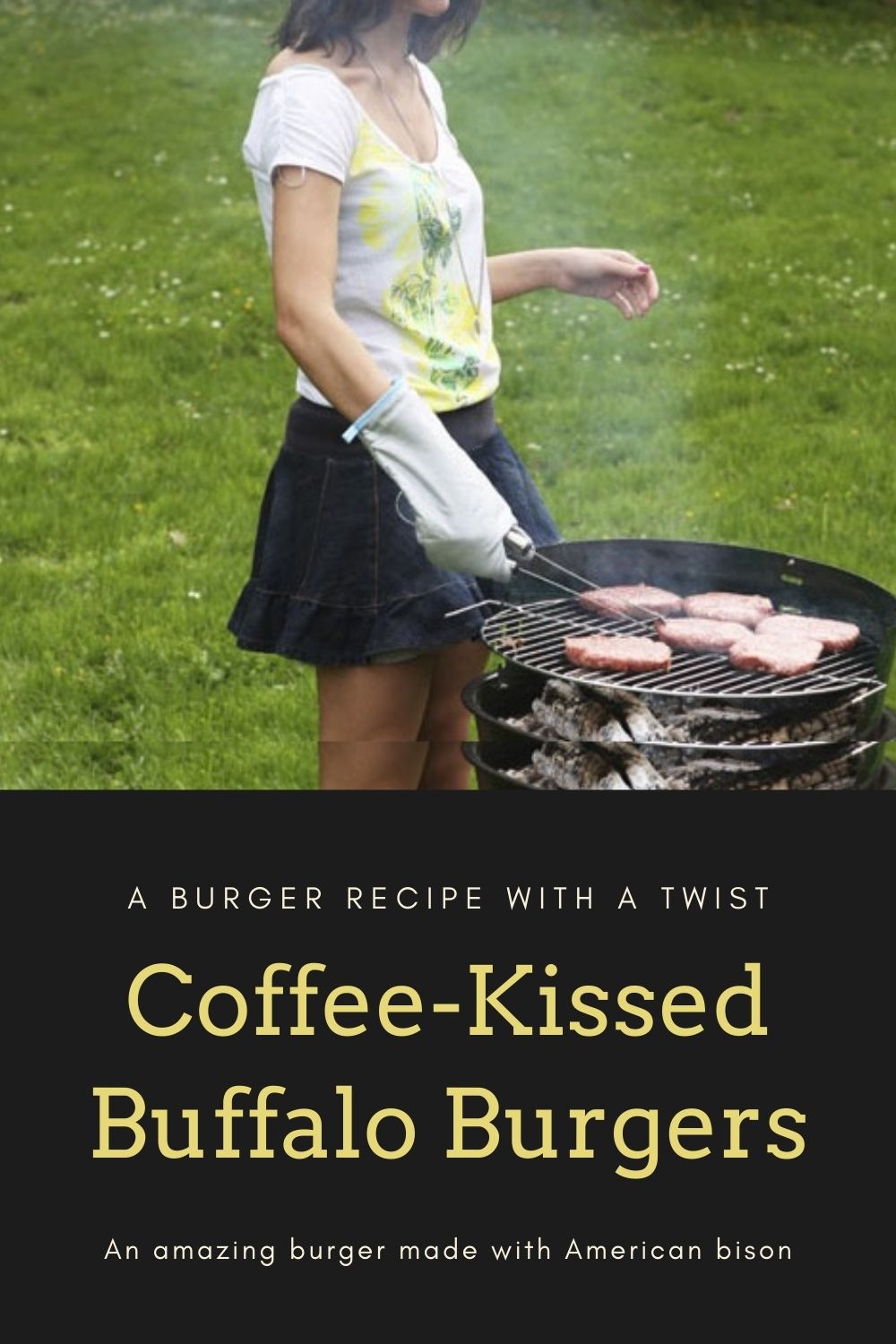 This article was originally published in 2012 and most recently updated in June 2021.
Latest posts by Amy Reiley
(see all)
Get on our mailing list
Subscribe and get our exclusive list of Six Great Sex-Boosting Snack Foods for FREE! Unsubscribe at any time.