Our articles may contain affiliate links. For more information, view our policies.
An (almost) healthy cure for chocolate cravings
I created this tofu-based chocolate mousse recipe when I was pregnant with my first child. I wanted chocolate and I wanted something really sweet and I wanted it in lieu of breakfast, lunch and dinner. But as anyone who has been pregnant (and anyone with common sense) knows, nutrition is of utmost importance when you're eating for two.
RELATED: If you love a creamy, smooth, silky dessert, don't miss this Avocado Pot de Creme.
So rather than shoveling cookies to feed my seemingly endless appetite, I worked on a recipe that offered at least a semblance of nutrition. This creamy, rich mousse was the answer.
It's since become one of my favorite chocolatey treats because of its smooth, creamy texture and satisfyingly rich, chocolate flavor. A balanced dessert, it's not too sweet. But the addition of protein rich tofu, one of our 10 Best Foods for Women, makes it practically a health food. (At least, it is in my mind!)
Tofu chocolate mousse serving tips
I love the thick, substantive texture tofu gives the mousse and the faintly bitter richness of dark chocolate. (And it should go without saying that chocolate is one of the world' s greatest aphrodisiacs.) This mousse recipe doesn't have the etherial quality of a cream-based mousse but it has far more lightness than pudding.
I recommend letting this dark chocolate tofu mousse warm up to room temperature before serving for the optimal, creamy and sensual texture.
And if you  appreciate a textural contrast, try serving it with about half a cup of your favorite berries. My favorite fruit to serve with this tofu mousse recipe is raspberries. But the mousse's rich chocolate flavor also compliments the mild sweetness of strawberries and the bright, tart punch of blackberries. For even more layers of texture, top with a small dollop of fresh whipped cream, or your favorite dairy-free alternative.
To make a vegan chocolate mousse
It's easy to make a vegan version of this Chocolate Mousse recipe. Just make sure to purchase vegan milk and dark chocolate
. (If you hadn't realized that all chocolate isn't vegan, here's an interesting article from Spruce Eats that breaks it down for you.) Everything else in this chocolate mousse recipe is vegan. So enjoy.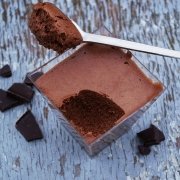 Easy Dark Chocolate Tofu Mousse
Print Recipe
This recipe puts a healthy spin on classic chocolate mousse by replacing cream with tofu and using rich, dark chocolate. The dessert is naturally dairy-free and can easily be modified for a vegan diet.
Ingredients
1 14

oz

package firm tofu

drained

4

oz

roughly chopped dark chocolate

I like Trader Joe's 72% blocks

4

oz

roughly chopped milk chocolate

again, I love Trader Joe's

1/2

cup

vanilla soy milk

2

tsp

cocoa powder
Instructions
In a food processor, mix the tofu until completely smooth (I use my vitamix).

In a double boiler, gently heat the chocolate until completely melted, then remove from heat.

Warm the soy milk slightly and stir in the cocoa. Add it to the melted chocolate and stir to mix.

Combine the chocolate mixture with the pureed tofu in the food processor and process for about 2 minutes, until completely combined and light in texture.

Store in the refrigerator. Bring to room temperature before serving.
Notes
Note: This dairy-free dessert is vegetarian-friendly but if you use vegan chocolate, you can make an entirely vegan version.
Pin this Tofu Chocolate Mousse Recipe:
FREE APHRODISIAC NEWSLETTER
Subscribe to our free aphrodisiac newsletter