Our articles may contain affiliate links. For more information, view our policies.
Women tend to have a lower sex drive than their male counterparts. In addition, according to Women's Health of Central Massachusettes, as much as 43% of women experience some form of sexual dysfunction in their lives. But getting the right nutrients can help boost sex drive, improve or maintain sexual function and even help maintain the ph balance of the female reproductive system. That's why, in collaboration with our Director of Nutrition, Delahna Flagg, we've compiled this list of the 10 Best Foods for Women.

The 10 best foods for women
Women require a different balance of nutrients from men. Women's protein and calorie requirements are vastly different than those of men. But what women eat can not only affect energy and appearance but also impacts sexual health and reproductive health. In fact, there's substantial clinical evidence to suggest that many issues women experience with sex drive and sexual function may be successfully treated, in part, by diet.  And that's where our list of the ten best foods for women's sexual health comes in:
Dark Chocolate
Peanuts
Strawberries
Eggs
Lentils
Kale
Chile Peppers
Tofu
Scallops
Citrus Fruits
And our bonus ingredient: Wine
This list of the best foods for women's sexual health was developed with the nutrients ladies need for healthy hormone levels and sexual performance in mind. This is not a diet plan for women but a list of foods for sex drive, sexual function and overall health. We've also added a bonus of wine, with information on the potential ways moderate, responsible wine consumption may contribute to women's libido and performance, (keeping in mind the risks of alcohol overconsumption).
Criteria used to select the best foods for women's sexual health
As you go through all of the ingredients on our list of foods for women, you'll learn more about why we selected each ingredient and how each one brings important nutrients to support a woman's sex drive and wellness. (Each link provides details on nutrition, clinical research and suggestions of how to incorporate these foods into a healthy diet, including recipes.)
To narrow the list to ten, we considered the following:
Nutrition – Every food on our list offers nutrition key to women's sexual health and performance, including not just sexual hormones but things like blood flow, energy and reducing visible signs of aging.
Clinical research – We looked not only at the nutritional makeup of the foods but any clinical research that gave further insight into how these foods and their nutrients could support libido and sexual function.
Availability – We limited our list to ingredients with wide availability and affordability as it would be useless to promote unattainable ingredients, no matter how impressive they might be nutritionally.
Variety – This list represents a variety of kinds of foods so that there is the flexibility of choice for women following any specialized diet.
Versatility – Each of the foods on the list can be used in a wide variety of preparations to help keep eating well exciting and delicious.
RELATED: Discover the 10 Best Foods for Men's Sexual Health
Ready to start eating right for your sexual health? Check out the first ingredient on our list:
The 10 Best Foods For Women
Food #1
Dark Chocolate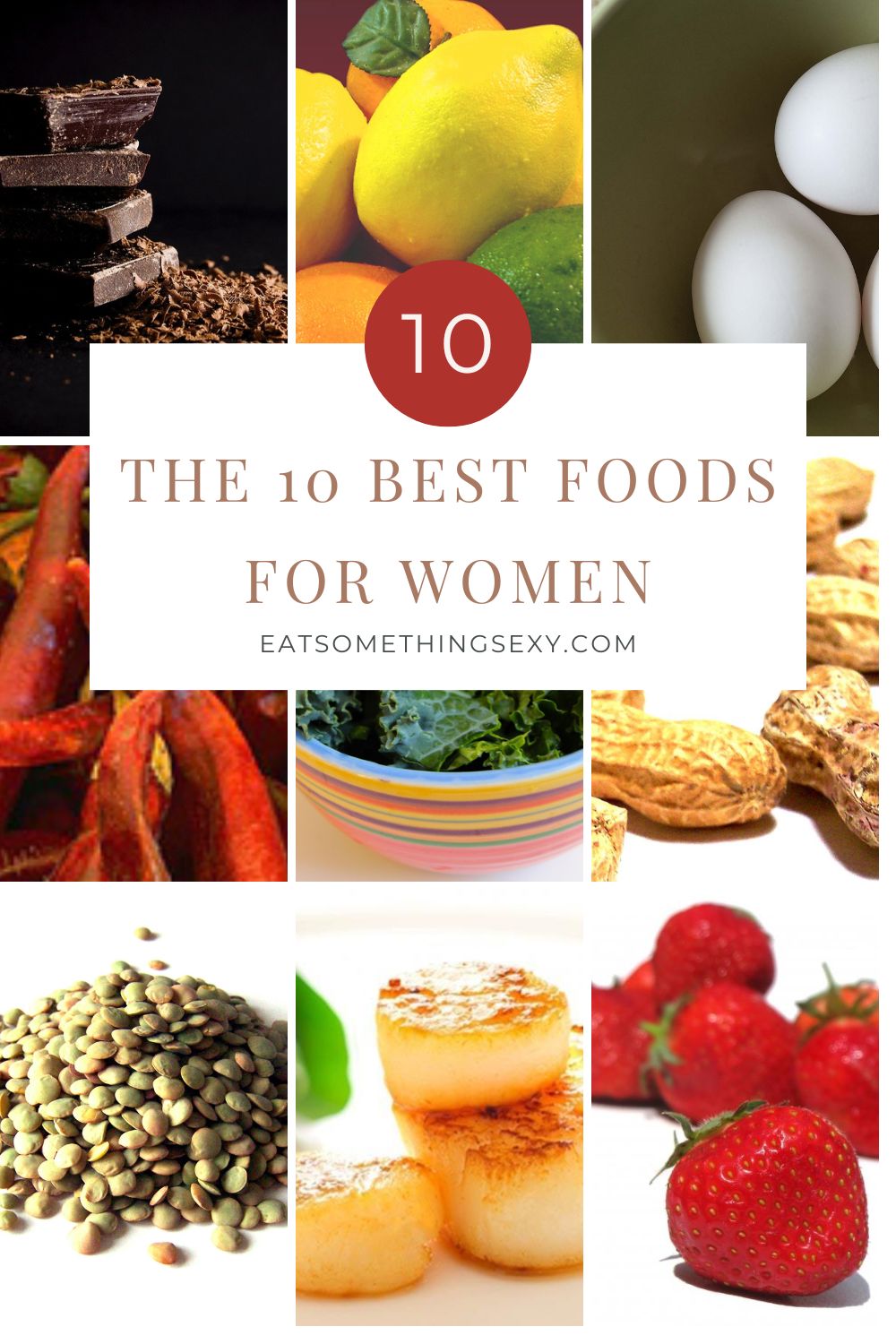 Edited by Delahna Flagg: This article was reviewed and additional research provided by Center for Mind-Body Medicine certified practitioner and Eat Something Sexy Nutrition Director Delahna Flagg.
Disclaimer: Please note that the information provided in this article is intended for informational purposes only. It is important to consult your physician before making dietary changes. More information
Latest posts by Amy Reiley
(see all)
Get on our mailing list
Subscribe and get our exclusive list of Six Great Sex-Boosting Snack Foods for FREE! Unsubscribe at any time - privacy policy