Our articles may contain affiliate links. For more information, view our policies.
Every twosome can benefit from a romantic getaway. But how about coupling that getaway with a spiritual pick-me-up? If your answer is yes (and why wouldn't it be?) then as soon as humanly possible transport yourselves to Enchantment Resort in Sedona! When you're looking for romantic getaways in Arizona, this resort tops the list.
Your Sedona Romantic Getaway
Located halfway between Phoenix and the Grand Canyon, Sedona, according to indigenous lore, is the birthplace of man- and woman-kind. The region possesses an awe-inspiring grandeur that has led it to be tabbed among the most beautiful places in the country.
There is something extra: "Vortexes" saturating the area are said to radiate electromagnetic waves. These waves promote a feeling of mystical wonder that can help the two of you regain that: "we're totally connected to each other" feeling.
How couples will benefit from Enchantment Resort Sedona
The best place to begin your inner and outer journeys on your Sedona couples getaway is at Mii amo spa (a Native American word for "journey"). Nestled inside the red rock haven of Boynton Canyon, the destination spa is adjacent to Enchantment Resort, your home base for this romantic stay in Sedona. All spa services are available to Enchantment guests.
What makes this the best Sedona resort for couples?
Each morning you can set your intentions for the day (i.e.: "we will really listen to one another") inside a "kiva-like" meditation space called the Crystal Grotto. However, every aspect of this spa promotes a feeling of oneness, love and being in the moment.
Step outside and watch the constantly shifting light over the rocks, providing a view that offers something fresh whenever you look. If that isn't a metaphor for relationships, what is?
Spa treatments unique to Sedona getaways
During this Mii amo/Enchantment Resort idyll, stretch your definition of spa treatments by booking an "Inner Quest" or a "Psychic Massage." The former connects you to the wisdom of the Native Indian Elders while the latter seeks to disconnect you from fear and negative patterns.
RELATED: Healthy Things to do in San Diego
What makes this one of the most romantic resorts in Sedona?
The romantic charms of Enchantment extend well beyond the spa. This resort at the base of Boynton Canyon in red rock country is truly an escape from it all. And you don't have to participate in spa activities to get in touch with the moving spiritual and natural world of this almost magical setting.
In fact, you don't even ever have to leave your private casita or suite to appreciate this spectacular location – and each other – at this romantic hotel in Sedona. All rooms have private balconies or patios. If gazing into the deep reds and oranges of the canyon landscape and watching the desert wildlife pass by is your idea of couple time, then the resort will cater to your in-room whims.
Enchantment Sedona amenities
This romantic resort offers rooms in every configuration from a standard king to two bedroom casitas and even casitas with private pools. They offer all the upscale resort amenities you would expect like plush linens and couples robes. There is WIFI throughout the resort property and, should you choose to leave your room on this romantic Sedona getaway, there are guided labyrinth walks, croquet and pickle ball courts and an adults-only swimming pool.
Romantic restaurants in Sedona
You will need to eat at some point on your romantic Arizona getaway. And Enchantment has thought carefully of that, too. The resort does offer in room dining. But the restaurant Che Ah Chi is considered by many to be Sedona's most romantic restaurant. All of the hotel's dining spots offer spectacular canyon views that can only enhance what is a couples retreat opportunity of a lifetime.
If your hunger cravings give you an urge to venture outside of the resort, another popular Sedona restaurant for romantic dining is found at L'Auberge de Sedona. Here's a list with more inspiration for romantic Sedona restaurants, should food and wine be the gateway to your lover's heart.
Things to do in Sedona (if you ever decide to leave your casita)
Sedona is not only spiritual country, it is a place for adventurers. If you and your lover like to get your hearts racing outside of the bedroom, Sedona has so much to offer. The staff at Enchantment will be happy to help you plan an adventure that fits your excitement level. But here are a few of the options to consider.
Hiking Sedona's red rocks
Few activities provide a more spiritually bonding experience than hiking, and Sedona's bounty includes over 100 designated trails in the Coconino National Forest. The Hike House can help you choose the trails that best suit your needs. Prepare for crystal clear creeks, magical forests, cool canyons and of course towering red rocks. To up the soul-searching ante, contact Vortex Yoga Hiking in Sedona for a truly mind-blowing way to channel the area's energy.
Experiencing the Verde River (and wine)
There is energy and magic on the water surrounding Sedona as well. The staff at Enchantment Resort can help you schedule a 'Water to Wine Kayaking Adventure' on the Verde River. Cottonwood, Sycamores and Sage dot the banks as you make your way toward the Alcantara Vineyards, http://www.alcantaravineyard.com/. Here your paddling efforts will be rewarded with tastings of Arizona-grown wines from many of Europe's noble grapes to be savored while drinking in the rolling hills surrounding the vineyard.
For the truly adventurous on their Arizona romantic getaway
It would be a crime against your relationship to end this journey of reconnecting without visiting one of the Seven Natural Wonders of the World. Sedona Sky Treks can ferry you via a one-hour Cessna ride to Grand Canyon West. Transfer to a helicopter for a thrilling 3200-foot descent to the bottom of the Canyon. The views you'll be privy to will be imprinted in your brains forever, creating a powerful shared memory you can access for the rest of your lives.
Spiritual Sedona – it's yours for the taking!
Get more information to help you plan romantic getaways in Arizona
For more information and to make your couples getaway reservations at Enchantment Resort in Sedona visit the resort website.
Or click here to check for prices and availability.
For more information on the region, go to the Visit Sedona website.
Considering a romantic getaway to Hawaii? This is why we like Wailea Beach Villas.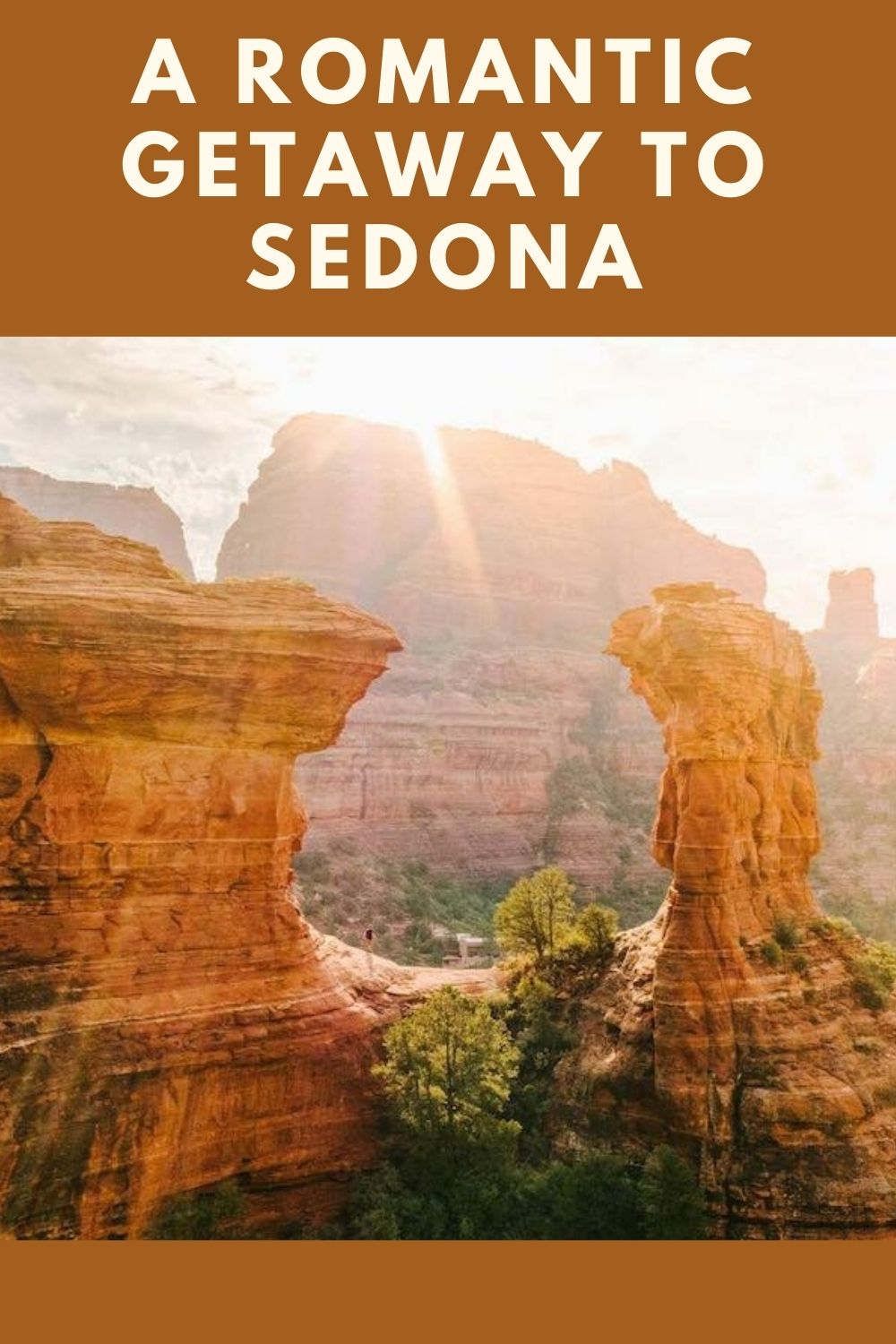 This article was written in 2018 and most recently updated in January 2021.
FREE APHRODISIAC NEWSLETTER
Subscribe to our free aphrodisiac newsletter