Discover the 10 foods all men need to eat
Men and women are not created equal, at least not physiologically. And while you might sit down to the same healthy meal, you may not get the same health results. Men need more calories and protein, (based on body weight). But, because their reproductive systems function differently from those of women, they also need different nutrients to support their differing systems. That's why we've created this list of the 10 Best Foods for Men.
Low sex drive and related health problems
Studies prove that men tend to have a stronger sex drive than women. Yet, according to statistics published by Web MD, approximately one in five men has a low sex drive. The problems can be psychological or related to stress. But a low sex drive can also signal health issues like diabetes and high blood pressure. And dietary deficiencies can be a significant contributor to all of these problems. And it isn't necessarily the obvious dietary problems like living on fast food. It can be as simple as missing some of the most needed nutrients for your sexual health.
How to improve sex drive and overall health
So nutritional expert Delahna Flagg and I created this list of the 10 best foods for mens' sexual health. We've highlighted 10 of the most rich sources of the nutrients men need for sexual desire and performance. What does that mean? Well, in addition to foods that will help support libido and sexual hormone production our 10 best foods for men offers ingredients for improving stamina, circulation, mood and even fight the visible effects of aging.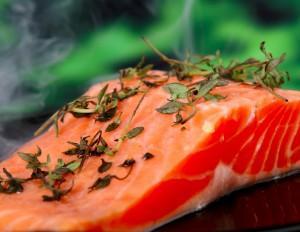 The 10 Best Foods For Men
Food #1
Salmon
View the list of all 10 Best Foods for Men
Discover how you can easily add the very best ingredients into your diet every day with our 3-day menu plan incorporating a libido-boosting dose of the 10 Best Foods:
The 72-Hour Jump Start Your Libido Menu 
FREE APHRODISIAC NEWSLETTER
Subscribe to our free aphrodisiac newsletter