Our articles may contain affiliate links. For more information, view our policies.
As a man, it's natural to want to maintain good sexual health, and diet plays an essential role in sex drive and sexual performance. Men need specific nutrients to support their reproductive systems and maintain optimal sexual function. In collaboration with our Director of Nutrition, Delahna Flagg, we've created this list of the 10 Best Foods for Men to help you make the kind of food choices that feed your libido and overall wellness.
Low sex drive and related health problems of men's sexual health
Studies prove that men tend to have a stronger sex drive than women. Yet according to CentraState Healthcare, 20-25% of American men suffer from low libido. And this is not the only sexual health problem for modern men. According to research published in the July 2013 issue of the Journal of Sexual Medicine, approximately 26% of men under the age of 40 have suffered from erectile dysfunction.
These issues can be psychological or related to stress but dietary deficiencies can be a significant contributor to men's issues with sex drive and sexual function. And it isn't necessarily the obvious dietary problems like living on fast food. It can be as simple as missing some of the most needed nutrients for your sexual health. With this in mind, we created our list of the ten best foods for men's sexual health. Click on each food for detailed information on nutrition and research into what makes the food a top pick for men.
The 10 Best Foods for Men
Salmon
Watermelon
Coconut
Pineapple
Clams
Garlic
Almonds
Oats
Pomegranate
Bison
BONUS: Wine
This list of the best foods for men's sexual health was developed with the nutrients men need for healthy hormone levels and sexual performance in mind. This is not a diet plan for men but a list of foods for sex drive, sexual function and overall health. We've also added a bonus of wine, with information on the potential ways moderate, responsible wine consumption may contribute to men's libido and performance, (keeping in mind the risks of alcohol overconsumption).
Criteria used to select the best foods for men's sexual health
As you go through all of the ingredients on our list of foods for men, you'll learn more about why we selected each ingredient and how each one brings important nutrients to support a man's sex drive and wellness. Not to mention the fact that these are all-natural ingredients, which will encourage healthy eating.
To narrow the list to ten, we considered:
Nutrition – Every food on our list offers nutrition key to men's sexual health and performance, including not just sexual hormones but things like blood flow, energy and hydration.
Clinical research – We looked not only at the nutritional makeup of the foods but any clinical research that gave further insight into how these foods and their nutrients could support libido and sexual function.
Availability – We limited our list to ingredients with wide availability and affordability as it would be useless to promote unattainable ingredients, no matter how impressive they might be in terms of their nutrition.
Variety – This list represents a variety of kinds of foods so that there is flexibility of choice for men following any specialized diet.
Versatility – Each of the foods on the list can be used in a wide variety of preparations to help keep eating well exciting and delicious.
Ready to start eating right for your sexual health? Check out the first ingredient on our list: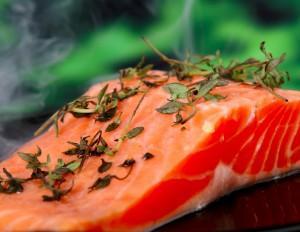 The 10 Best Foods For Men
Food #1
Salmon
DON'T MISS OUT ON THE BETTER SEX BUNDLE FOR MEN
What if you could have a better sex life just by eating aphrodisiac foods? Would you want to know how?
Well, guess what? You can with the Better Sex Bundle for Men, our exciting, new product to help men experience greater pleasure and performance in the bedroom. For just $24.99 you get a meal planner, guide to the best foods for men and aphrodisiac foods expert Amy Reiley's newest book, Fuel Your Fire for Men all downloadable for fast, easy and discrete delivery. We're so sure you're going to love it that we offer a 30-day money-back guarantee.
Whether you're a man or your partner is a man, everything you need to know is in the Better Sex Bundle For Men.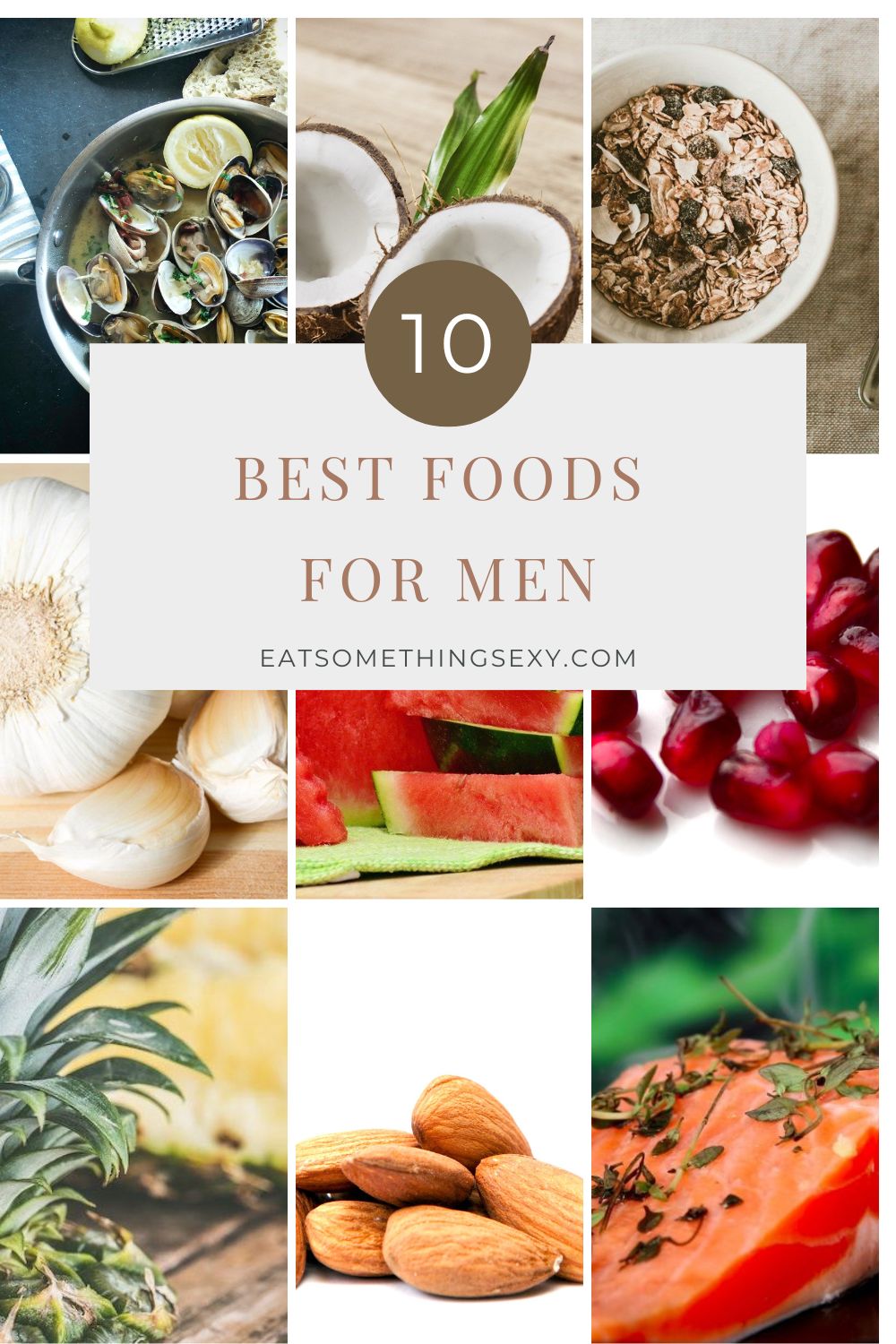 Edited by Delahna Flagg: This article was reviewed and additional research provided by Center for Mind-Body Medicine certified practitioner and Eat Something Sexy Nutrition Director Delahna Flagg.
Disclaimer: Please note that the information provided in this article is intended for informational purposes only and not to replace medical care. It is important to consult your physician before making dietary changes. More information
This article was written in 2016 and most recently updated in February 2023. 
Featured image by Malte Helmhold 
Latest posts by Amy Reiley
(see all)
Get on our mailing list
Subscribe and get our exclusive list of Six Great Sex-Boosting Snack Foods for FREE! Unsubscribe at any time - privacy policy