Authentic Japanese Shrimp Tempura Recipe
Our articles may contain affiliate links. For more information, view our policies.
Tempura is one of the best-known Japanese dishes. But for most of us, it's a restaurant dish, not a homemade treat. You might be surprised to learn how easy it is to make shrimp tempura, sometimes called ebi tempura or ebi ten, at home.
Ready? Because this easy tempura recipe makes authentic Japanese tempura not only easy but fun! This authentic Japanese recipe comes from Nakano, a highly regarded maker of Japanese knives. It is from the company's new cookbook, aptly entitled Japanese Food Culture.
What is tempura?
According to Japanese Food Culture, the cooking technique for making tempura is known as hanaage, which translates to blooming flower. When tempura is fried in hot oil, the batter blooms like a flower. The imagery is not only poetic but inspiring for any home cook timid about making homemade tempura.
Foods used for tempura are coated in a special batter to produce this chemical reaction. Tempura cooking produces morsels that are crispy without being greasy, as it is with this crispy shrimp tempura recipe.
Although today tempura is one of the most popular Japanese cooking techniques, this style of cooking didn't originate with the Japanese. The tempura frying technique was developed by the Portuguese and was only adopted as an integral part of Japanese cookery in the 18th century.
RELATED: Try this Cal-Japanese Sushi at home
How to make authentic tempura batter
The key to good homemade shrimp tempura is the tempura batter recipe. To ensure a crunchy tempura, follow the instructions exactly as written below to create this light, flour and egg yolk batter. (That's right, a good tempura batter recipe doesn't involve breadcrumbs.) And great shrimp tempura is among the best Japanese shrimp recipes.
You must keep the batter cold at all times. Incorporate the flour slowly but do not over-mix. You want a batter that is light and airy without excessive lumps. (It will be a little bit lumpy when all the flour is incorporated.) Once the batter is mixed, it should be used right away because it is essential that it stay cold.
Use this tempura batter recipe for prawn tempura
In addition to shrimp, you can use this batter recipe and technique for tempura prawns as well. Just remember not to crowd the pan when using these larger crustaceans.
Ultimately, if you follow these simple instructions to the letter and discover how to make shrimp tempura, you'll have a plate of flakey, airy shrimp, sure to impress and delight whoever is lucky enough to share your table.
Additional uses for the batter
Once you've mastered this basic tempura batter recipe and perfected your frying technique, you can always experiment with using this batter to coat your favorite vegetables and proteins, such as carrots, green beans, sweet potatoes, bell pepper and even chicken.
Keep in mind that if you're going to make a vegetarian-friendly tempura along with shrimp tempura, you should batter and cook the vegetables first or in a separate pan.
What's the best oil to use for frying?
Most chefs and home cooks use a different oil for frying than they do for sautéeing. That's because you need oil with a high smoke point for frying. The smoke point is the temperature at which the oil breaks down and starts smoking. Olive oil has a low smoke point, which is why it isn't used for high-heat tasks.
Canola oil is one of the most popular choices for frying. It's affordable and has a neutral flavor, which means the flavor of the shrimp will shine. But if you can afford to splurge, I recommend using avocado oil for frying. Not only does it have a high smoke point, but it is high in oleic acid and also contains vitamin E. Here's more information on the benefits of avocado oil.
Tips for crispy tempura
Make sure the batter is cold when you coat the shrimp. (Make it with icy cold water and an egg straight from the refrigerator.) Cold batter will fry up with lightness.
Keep the vegetable oil at a steady temperature in the pan as you fry. Use a kitchen thermometer to make sure your oil temperature stays between 350 and 375 degrees.
Do not crowd the pan. Cook in batches rather than risk lowering the oil temperature by adding too many shrimp at once. And make sure you remove any bits of batter floating in the oil between batches with a spider strainer.
Let the cooked shrimp rest on a wire rack until serving. (This is preferable to letting them rest on a plate lined with paper towel.)
Making tentsuyu: the tempura dipping sauce
This tempura recipe includes the instructions for making a traditional dipping sauce from dashi stock. Of course, this means you have to have dashi stock!
Dashi is a Japanese soup stock and, if you ask me, the secret ingredient that makes so many Japanese dishes a sensory pleasure. It is typically made from dried kelp, dried shiitake mushrooms, dried bonito flake, dried sardines or some combination of these ingredients.
If you don't know how to make your own dashi stock, you can purchase it at Asian markets. Or just order it from Amazon.com. You're going to love the richness dashi brings to this flavorful dipping sauce. You may even find yourself inventing other uses for this craving-worthy tempura sauce.
To make the sauce, simply add the soy sauce, sugar and mirin to a saucepan and bring to a boil. Then simmer until the sugar is dissolved. Serve it in individual dipping bowls with the freshly grated daikon on the side so that the diners can add as much of the radish as they desire.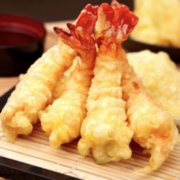 Authentic Crispy Shrimp or Prawn Tempura
Print Recipe
It's easy to make light, crispy shrimp tempura at home with this easy, Japanese recipe.
Ingredients
For the Tempura:

1

lb

jumbo shrimp or tiger prawns

with tail

1

egg yolk

large

1

cup

all-purpose flour

½

cup

ice cold water

oil for frying

my preferred is avocado oil*

For the dipping sauce:

¾

cup

dashi stock

2

tsp.

granulated sugar

3

tbsp

soy sauce

2

tbsp

mirin

2-

inch

daikon radish

grated
Instructions
For getting straight fried shrimp tempura rather than curved ones, make slits on the underside of the shrimp halfway through. Flip and make tiny cuts on the front belly also. Pat it dry with paper towels. Set aside.

Start by placing the dashi, sugar, soy sauce and mirin in a medium-sized saucepan.

Heat it over medium heat and bring the sauce to a boil.

Once it starts boiling, reduce the heat to low and allow it to simmer.

Continue simmering until the sugar is completely dissolved.

Remove from the heat and set it aside to cool. Divide among individual dipping bowls and serve the daikon on the side.

Now, heat oil in a wok over medium heat and allow it to warm up. Tip: Maintain a temperature of 350-375 degrees throughout the whole cooking process.

While the oil is heating, sift the flour. Mix the cold water and egg in a medium-sized bowl until whisked well. Remove the foam that appears at the top.

Next, gradually stir the flour into the egg mixture. Do not over mix. It is ok to have a few small umps. Keep the batter cold at all times. Make the batter just before frying as using cold batter makes for a light texture when fried.**

Sprinkle potato starch over the shrimp.

Dip the shrimp in the batter until coated well and shake off the excess.

Place the shrimp or prawns in the frying pan and cook for 2 to 3 minutes or until they are golden brown. Tip: Make sure to not over-crowd while frying as it can make it soggy.

Transfer cooked shrimp to a paper towel-lined plate and remove the excess oil.

Serve hot with the dipping sauce.
Notes
*See notes in the introduction on cooking oils. I use avocado oil because it is the healthiest option for frying although it is more expensive than other frying oils.
**If you prefer, you can even add 2 to 3 ice cubes to the batter to keep it cold.
Toppings: Top it with togarashi or seven chili spice for added heat.
Serve with: You can serve it with a dipping sauce called Tentsuyu or with matcha and yuzu salt.
A note on the provided nutrition information
The nutrition information provided has been estimated by an online nutrition calculator and is not a substitute for a professional nutritionist's advice.
Latest posts by Amy Reiley
(see all)
Get on our mailing list
Subscribe and get our exclusive list of Six Great Sex-Boosting Snack Foods for FREE! Unsubscribe at any time.