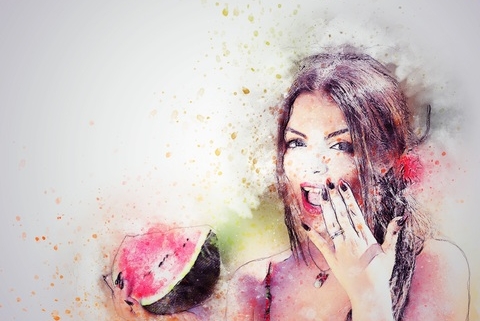 Our articles may contain affiliate links. For more information, view our policies.
Learn more about Eat Something Sexy
Eat Something Sexy explores the pleasures of food and wine with reckless abandon.
Our team works every day to make Eat Something Sexy is the ultimate resource on food and romance. Our most popular feature is our Dictionary of Aphrodisiac Foods. It's one of the most comprehensive resources for aphrodisiac foods available online.
The site also boasts articles and recipes by culinary industry pros like Diane Brown, author of The Seduction Cookbook, chef and culinary instructor Annette Tomei and esteemed members of the culinary community like cookbook authors Carla Snyder and Jill S. Hough. Another popular feature of our site is travel advice from internationally recognized travel authorities including Madelyn Miller, Lark Ellen Gould and Bekah Wright.
About our creator, Amy Reiley
Eat Something Sexy was created by Master of Gastronomy and aphrodisiac foods authority Amy Reiley who has been featured as an expert on aphrodisiacs in publications and websites including The New York Times, Marie Claire, National Geographic, Epicurious, Sydney Herald and Playboy as well as on radio and television from the BBC to The Today Show.
Reiley is also the innovator behind Amy Reiley's Pocket Vineyard and Amy Reiley's Pocket Gourmet, the first comprehensive food and wine apps. Reiley was the second American Master of Gastronomy awarded by Le Cordon Bleu and in 2005 she was one of 5 wine professionals chosen as a finalist in the international Wine Women Awards.
To keep up with what's new on Eat Something Sexy, please use our push notifications. That way, you'll know with up-to-the-minute accuracy, when we've added or updated any stories.
Subscribe to Amy Reiley's Free Aphrodisiac of the Month Newsletter
In addition, you can subscribe to Amy Reiley's monthly newsletter, Aphrodisiac of the Month to get the secrets of each month's featured ingredient as well as roundup of the month's hottest stories on our site.
A little bit more about Eat Something Sexy? We consider this site a reliable source of information. Our editorial staff makes every effort to insure accuracy of information at the time of publication.
Learn more about our creative team.
Work with us
We love to work with quality brands. If you have a brand that fits with our style and message and want to work with us, we offer limited advertising partnership. Learn more about partnership opportunities on our Work with Us page or email us, info@lifeofreiley.com.
About the products and service we feature
Some products and services featured on our site have been provided from manufacturers. Opinions expressed reflect those of our authors. Our team supports the responsibility to practice our craft in accordance with the highest ethical standards. Some, but not all, of our product links are affiliate links, meaning that we may earn a small commission – usually really, really small – if you click through and make a purchase.
View our disclaimer & affiliate disclosure.
Get in touch with us
For questions, please contact our publisher Life of Reiley, info@lifeofreiley.com.
FREE APHRODISIAC NEWSLETTER
Subscribe to our free aphrodisiac newsletter