Our articles may contain affiliate links. For more information, view our policies.
I've worked in this business for over 20 years. In fact, this blog has been around since 2002. If you've worked in one business for as long as I have, you get to know all the best things. And if you truly want to embrace the advice found on this site, try the recipes and supercharge your romantic life, then here are many of the things you're going to want to have.
Sales
Amazon is planning a two-day Prime Day sale from October 10-11. You have to be a Prime member to participate. If you aren't a Prime member, you can sign up for a free trial. If you sign up now, you'll be eligible for several pre-Prime Day promotions.
In the meantime, I've discovered that Amazon is already promoting some early Prime Day deals, including some pretty big price cuts on air fryers. They don't have every single air fryer on sale but if you scroll through the list, you're bound to find something that suits your style at a pretty fantastic price.
My books
The cookbooks I've written are obviously among my very favorite products. Here are links to ones currently in print.

Here's where to download Eat Cake Naked in iTunes and Google Play
This one isn't just a book but a whole suite of products. The Better Sex Bundle for Men includes my book Fuel Your Fire for Men with recipes, eating advice and lifestyle tips to help every man achieve optimal sexual health. But it also includes key supporting materials to make the goal achievable: a sample meal plan, weekly meal planner, health journal and at-a-glance guide to the best foods for men's sexual health. It's a pretty nifty package of products if I do say so myself!
Kitchen tools
These are some of my can't-live-without kitchen tools. I link to many of these tools throughout my recipe posts but here's a full list all in one place.

I use my Vitamix every single day. I've had it for over 10 years and it still hums like new. Vitamix does make less expensive models but this one does everything you could ever dream a blender can do.

I also have a Kitchenaid blender. It's a little easier to clean (and its quieter than the Vitamix) so I like using it during parties. It's great for making blended cocktails. I've had mine for over 15 years and it still runs like new.

This is the second most used tool in my kitchen after the Vitamix. It stood up to the task of testing every single recipe in my friend Chrysta Wilson's cake cookbook, Kiss My Bundt. If you want a mixer you'll have for life, get one of these!


If you have a Kitchenaid stand mixer, I highly recommend keeping an extra bowl or two handy. I like the small bowl for tasks like whipping a little bit of cream.

I love these lightweight Wilton sheet pans. They're great for making pizzas and cookies and they're incredibly durable. I also love that they're small enough to fit in my toaster oven.

This is my all-time favorite non-stick pan. (And I have tried soooo many pans.) It is a non-Teflon non-stick that actually prevents sticking every time. It's easy to clean. Treat it gently and prevent scratching and it will serve you well for years.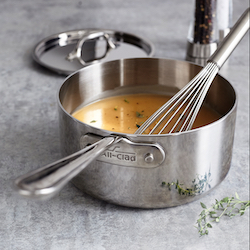 This 3-quart, stainless steel saucepan from All-Clad is of professional kitchen quality. It's a consistent performer, heating evenly and maintaining heat every time. I've dragged mine to cooking demos, even flying with it to events. Yet it still looks and performs like new. This is a pan I can pass on to my kids and they will be able to give it to their kids.

I can't live without my microplane. It's great for zesting fruits and adding extra flavor without calories.

I love my ceramic pairing knife for cutting tomatoes and other soft fruits. It slices cleanly without pressing or mashing delicate foods. If you love summer fruit, this is a must!
It might sound weird that I get excited about a knife sharpener but this three-stage sharpener from ChefsChoice is one of the best things in my kitchen. It not only keeps my knives sharp, (and you know the most dangerous knife is a dull one, right?) but it also keeps them shiny and pretty and looking like new.

Cutting down on waste is sexy and these cut food huggers are extremely helpful in moving you toward that goal. You just put your half onion, tomato, avocado, lime or whatever cut side down in the container and keep it in the fridge until you're ready to use it. It's a great, cheap solution.

If you've read my cookbooks, you know I love leftovers. And square glass containers with a tight sealing lid are the best. (I don't know about you but I much prefer square to round.)

As far as I'm concerned, every kitchen should have a collection of mason jars. They're great for everything from keeping berries fresh to serving quaint, Instagram-able cocktails.

My mother-in-law bought me one of these aprons and I never expected how much I would love it. It crosses your back with thin, easily adjustable straps so no pressure on your neck. You can get less expensive versions but I can't say how well they'll hold up. My apron is 10 years old and basically looks new.
Wine, spirits & all drink things

If you want a bottle that keeps hot things (like coffee) hot, this is the best purchase you can make. This bottle will seriously hold things at (or close) to temperature for as much as 24 hours. I didn't believe it until I tried it but it's true.

Speaking of keeping drinks at the right temperature, these wine tumblers are a must for enjoying wine at the beach or camping. They're also great for keeping a frozen daiquiri from melting.

If you think there isn't an affordable way to save wine for another day, think again. I've been using these simple Vacu Vin corks for years. Sometimes I have to open as many as 10 wines at once when I'm writing reviews and these corks will keep the wine reasonably fresh for as much as a week. (I've even stored white wines in the refrigerator sealed with a Vacu Vin cork for 2 months and it was still drinkable.)

If you want to save Champagne or sparkling wine for later (yes, that actually happens), this is the only stopper I've found that works better than just leaving the bottle open.

If you're into mixology, you need a reliable shaker. It doesn't have to be fancy and this simple, durable model from OXO is my favorite.
Tasty stuff

On top of sushi or licked from a spoon, I can't resist flying fish roe!

This is one of my favorite cooking oils. I love the neutral flavor and buttery texture. And it has a high smoke point. La Tourangelle makes very nice oils. If you like this one, check out the spray version.

This smoked paprika is deeply delicious. Buy a tin and you'll be knocked out by the aroma alone. It's subtly smokey and only faintly spicy but most definitely aphrodisiac.

All honey is considered aphrodisiac but this raw honey from Savannah Bee Company is something special. Tupelo honey, made from tupelo tree pollen, is only produced in two places in the United States. And it makes one of the most buttery, smooth kinds of honey in the world. Taste it and you will be a believer.

A couple of these and a glass of Champagne makes the perfect sweet snack. I was first served these baby pink-hued cookies in Reims, in the heart of France's Champagne region and my Champagne ritual was changed forever.

I often keep one of these chocolate bars in my purse. They're reasonably priced and fairly high quality. I love the texture of this dark chocolate and the "snap" it makes when you break off a square.
Wellness
Natural Vitality Calm is one product I always have to have stocked in my medicine cabinet. It is a powdered, magnesium supplement that can be used to reduce stress or to calm your mind in the evening for a better night's sleep. But it can also be used to reduce muscle spasms. I use it to help alleviate migraine pain naturally.
Vitamin C isn't just good for sexual health, used topically, it can help protect the skin from sun damage. I've started using this vitamin C serum every morning before I apply sunscreen. It's vegan and cruelty-free and in addition to helping protect my skin from damage, it gives my skin a healthy glow. It's free of fragrances and is suitable for both men and women.
Latest posts by Amy Reiley
(see all)
Get on our mailing list
Subscribe and get our exclusive list of Six Great Sex-Boosting Snack Foods for FREE! Unsubscribe at any time.