This melon's health benefits
Watermelon is our #2 food choice for men
Sweet, pink, ripe watermelon is a fat free snack great for overall health. You may already know that the benefits of watermelon include the fact that this fruit is a good source of vitamin C. And that it's great for hydration. It's great for adding variety to the diet and is good for health, whatever your sex. However, watermelon just might be more important for men than for women. In 2008 it was discovered that watermelon could be a perfect food for men's sexual health. That's because of one very special nutrient, citrulline.
View the list of all 10 best foods for men's sexual health
What is citrulline?
Citrulline is a phytonutrient. And it's one that is noted for its ability to boost nitric oxide and relax blood vessels. In other words, in concentrated doses, some experts believe that it could work as a replacement for erectile dysfunction medication. (WebMD even goes so far as to call watermelon "nature's Viagra.")
Additional health benefits of watermelon
In addition to citrulline, watermelon offers several benefits. Did you know that it's one of the finest sources of lycopene, a carotenoid extremely beneficial to cardiovascular health? This is, of course, beneficial to both sexes. After all, we all need good cardiovascular health to keep the blood pumping and achieve sexual climax. But studies show that increased intake of lycopene may prevent prostate cancer.
The benefits of watermelon include the fact that this low-calorie food is a source of vitamin A. And studies indicate that it may be helpful for relieving muscle soreness and reducing inflammation.
Although it's a standout for men's sexual health, watermelon is an aphrodisiac for both men and women. Learn more about the aphrodisiac benefits of watermelon.
Some of our favorite recipes featuring watermelon:
Grilled Watermelon with Baby Arugula and Goat Cheese Salad
Watermelon and Tomato Salad with Pistachios
Watermelon Soup with Jicama Salsa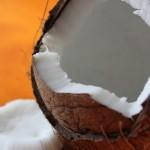 10 Best Foods For Men
Up Next: Coconut
FREE APHRODISIAC NEWSLETTER
Subscribe to our free aphrodisiac newsletter