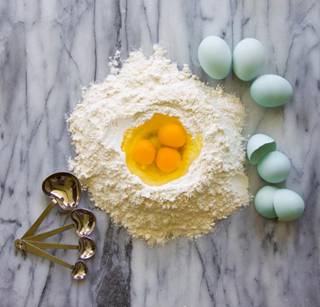 Heirloom Eggs – the most aphrodisiac eggs?
Our articles may contain affiliate links. For more information, view our policies.
An aphrodisiac symbol of fertility
The egg is one of the most powerful, ancient aphrodisiac symbols. And although historically eggs were considered aphrodisiacs because they represent new life, we now know that from a nutritional perspective eggs are terrific for supporting sexual health. But not all eggs are created equal. That's why this week we're featuring Carol's Heirloom Eggs.
In support of small farmers
There is much to say about a company like Carol's. They raise what are called heirloom breeds of hens in small flocks at multiple farms throughout the northeastern United States. Not only are they keeping less known breeds alive but they're raising these egg layers in a humane fashion that results in greater nutrition.
As we said, not all eggs are created equal. Most eggs sold today come from one of two breeds. The chickens are sometimes fed antibiotics and a fairly standard diet. They often live in cages and get little to no exercise.
However these heirloom eggs come from chickens who are not only free-range, they're raised without antibiotics. In addition, the chickens eat a rich and varied diet.
Most interestingly, studies show that eggs from brown hens have higher mineral content than those from white hens. Although the nutritional difference is likely to make much of an impact on your overall health, isn't it nice to know that you're eating the eggs of happy, hormone-free chickens?
Are the eggs really blue?
Yes, an order of heirloom eggs from Carol's really includes blue eggs! The blue heirloom eggs come from Andean Blue hens. They are from a breed whose line can be followed all the way back to the 16th century. Interestingly, these hens have fully feathered faces, to protect them from harsh winters. Although they come from the Andes, they're well-suited to New England farming life.
However, a basket of heirloom eggs from Carol's may also include pink–yes pink–eggs, olive green and brown eggs.
Where to get your blue (and pink and green) heirloom eggs
For more information on these visually stunning eggs from happy chickens, visit the Carol's egg locator. Like an Easter hunt for grownups, it's an interactive map that will show you all the places these eggs are available in your area.
Need a good egg recipe? Check out our recipe for Mini Cheddar Cheese Quiches.
FREE APHRODISIAC NEWSLETTER
Subscribe to our free aphrodisiac newsletter