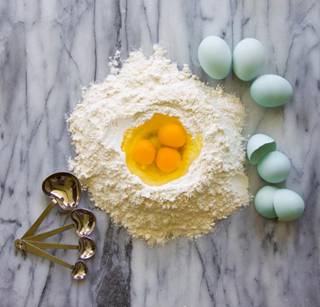 Heirloom Eggs: the most aphrodisiac eggs?
Our articles may contain affiliate links. For more information, view our policies.
The egg is one of the most powerful, ancient aphrodisiac symbols. And although historically eggs were considered aphrodisiacs because they represent new life, we now know that from a nutritional perspective, eggs are terrific for supporting sexual health. But not all eggs are created equal. That's why this week we're featuring Carol's Heirloom Eggs.
What are heirloom eggs?
There is much to say about a company like Carol's. They raise what are called heirloom breeds of hens on family farms in Virginia. Not only are they keeping less known breeds alive but they're raising these egg layers in a humane fashion that results in greater nutrition. The eggs are labeled heirloom because they represent traditional, old-fashioned ways of farming in which the chickens are allowed to roam and don't necessarily lay their eggs on a set schedule.
Are they better?
As I said, not all eggs are created equal. Most eggs sold today come from one of two breeds. The chickens are sometimes fed antibiotics and a fairly standard diet. They often live in cages and get little to no exercise. However these heirloom eggs come from chickens who are not only free-range, they're raised without antibiotics. In addition, the chickens eat a rich and varied diet.
The eggs from heritage breeds of chickens tend to have thick shells and darker yolks than your average grocery store carton of eggs. Many chefs prefer using them in baking and feel that the thick yolks add to the texture of baked goods and that the whites whip with incredible fluffiness.
The eggs are considered good for the environment because a greater variety of chickens promotes genetic diversity. In addition, the heritage hens tend to forage for their food, which makes for a natural form of pest control and can help turn the soil naturally. Although environmental chickens don't necessarily make more aphrodisiac eggs, they do help support our planet, which is good for everyone's well-being.
Most interestingly, studies show that eggs from brown hens have higher mineral content than those from white hens. Although the nutritional difference is likely to make much of an impact on your overall health, isn't it nice to know that you're eating the eggs of happy, environment-supporting chickens?
Are there really heirloom blue eggs?
Yes, an order of heirloom eggs from Carol's really includes blue eggs! The blue heirloom eggs come from Andean Blue hens. They are from a breed whose line can be followed all the way back to the 16th century. Interestingly, these hens have fully feathered faces, to protect them from harsh winters. Although they come from the Andes, they're well-suited to North American farming life.
However, a basket of heirloom eggs from Carol's will also include a rich shade of dark brown eggs that bear a striking resemblance to Easter chocolates. These prized eggs come from another heirloom breed, Chocolate Marans. These beautiful, rare chickens are famous for laying "chocolate" eggs.
Where to get your blue and chocolate heirloom eggs
Carol's eggs are sold through a variety of specialty retailers. We recently ordered them for delivery through Instacart. The company used to offer an egg-cellent locator map on the Carol's website but it currently appears to be down. But never fear! A Google shopping search should produce the results you're looking for. And if you can't find Carol's, Vital Farms now also offers pasture-raised heirloom blue eggs.
Need a good egg recipe? Check out our recipe for Mini Cheddar Cheese Quiches
This article was written in 2012 and most recently updated in June 2023. 
Latest posts by Amy Reiley
(see all)
Get on our mailing list
Subscribe and get our exclusive list of Six Great Sex-Boosting Snack Foods for FREE! Unsubscribe at any time.