Get Seriously Citrusy with the Best Patrón Citrónge Margarita Recipe
Our articles may contain affiliate links. For more information, view our policies.
We had no idea the traditional margarita was considered a little stale until we started receiving recipes from major liquor distributors. Apparently, spirits producers think it's time to give the classic margarita recipe a makeover. In the past two weeks, we've received nearly a dozen different spins on the beloved party drink. Of all the choices, we picked this Patrón Citrónge margarita for its close connection to the original.
What's in a margarita?
How can you appreciate a margarita makeover without understanding what makes a good margarita? The margarita is a Mexican cocktail. Many bartenders claim to be the drink's inventor and nobody really has any idea who made the first one.
But we do know the ingredients in a good margarita, a drink that's made the same way around the world.
Ingredients in a classic Margarita recipe
A classic margarita recipe is simply a blend of tequila (generally blanco), orange liqueur and lime. It can be served on the rocks, (over ice), or blended with ice like an alcohol smoothie.
It is often served in a glass rimmed with salt, although it is unclear whether the original – whichever version is the original – called for salt. But the only really remarkable difference from margarita to margarita is the choice of tequila and liqueur.
TRY NEXT: The Vanilla Margarita
What is the Patrón Citrónge margarita recipe?
Instead of completely reinventing the beloved drink, Patrón used the concept of the margarita to showcase their alternative to Triple Sec, a French orange liqueur. Patrón's version is an orange liqueur made in Jalisco called Citrónge. It's an all-natural, premium liqueur with a fairly smooth, citrus flavor, great for enhancing a margarita cocktail.
You can make a lot of cocktails with this liqueur. But of all the Citrónge recipes I've tried, this is my absolute favorite. In fact, it might be the best Patrón margarita recipe. It really is that good.
Ingredients & equipment
You will need a shaker for this cocktail recipe. If you don't already have one, a cocktail shaker is a great investment.
The most important ingredient in this recipe is the tequila. With a good tequila, a great margarita needs no sweetener other than the orange liqueur and, in this case, a splash of orange juice. While most recipes call for blanco, this margarita recipe uses a reposado tequila. Reposados are aged somewhere between two months and a year. This results in a tequila with a golden hue and a hint of vanilla on the flavor.
The other key ingredient in this tequila cocktail recipe is the lime. Do not use bottled lime. Use only freshly squeezed lime juice to make the best margaritas.
Besides the Citrónge, this recipe calls for a slightly unusual but not unheard of splash of freshly squeezed orange juice. The juice really helps to enhance the sweet flavor of the liqueur and the vanilla note in the tequila.
Salt or no salt? That one you'll have to decide for yourself. I prefer my Patrón margaritas without salt but if you're a salt lover, you might want to invest in this salt rimmer. It's a fun gadget to have around and a good conversation starter for parties.
When to enjoy this Patron Citrónge recipe
This is a fairly straightforward drink to make. And that makes it a smart choice for serving guest. It is definitely a crowd-pleasing cocktail. Of course, it should also be your recipe for National Margarita Day so mark your calendar to make this Citrónge recipe every February 22.
Consider this cocktail for date night
But, of course, this cocktail is also appropriate for a quiet evening for two. If your lover, or potential lover, is a tequila fan, this might be your new go-to date night drink. Remember not to overindulge in the tequila if the "bedroom salsa" is your end goal.
Want more drink inspiration? Get more of my favorite cocktail recipes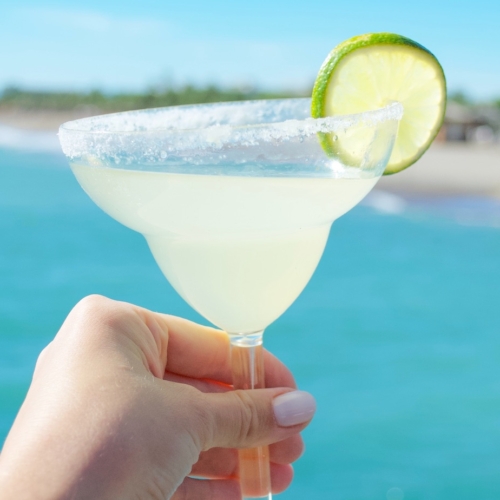 Citrónge Margarita
Print Recipe
A variation on a classic margarita using Citronge, an orange liqueur from Patron tequila.
Ingredients
2

oz

Reposado tequila

1

oz

Patrón Citrónge orange liqueur

3/4

oz

fresh lime juice or to taste

approx 1 lime

splash fresh squeezed orange juice

lime wheel for garnish

optional
Instructions
In a cocktail shaker filled with ice, add all of the ingredients.*

Shake well and pour into a martini glass.

Garnish with a lime wheel.
Notes
*One of the keys to great cocktails is fresh ice. It's important to make sure your ice is fresh and as flavorless as possible. Don't ever make a cocktail - any cocktail - with ice that's been sitting in the freezer for weeks. Trust me! 
A note on the provided nutrition information
The nutrition information provided has been estimated by an online nutrition calculator and is not a substitute for a professional nutritionist's advice.
Nutrition
Calories:
224
kcal
|
Carbohydrates:
11
g
|
Protein:
0.1
g
|
Fat:
0.1
g
|
Saturated Fat:
0.03
g
|
Polyunsaturated Fat:
0.03
g
|
Monounsaturated Fat:
0.01
g
|
Sodium:
3
mg
|
Potassium:
35
mg
|
Fiber:
0.1
g
|
Sugar:
9
g
|
Vitamin A:
11
IU
|
Vitamin C:
6
mg
|
Calcium:
3
mg
|
Iron:
0.1
mg
Latest posts by Amy Reiley
(see all)
Get on our mailing list
Subscribe and get our exclusive list of Six Great Sex-Boosting Snack Foods for FREE! Unsubscribe at any time - privacy policy