Our articles may contain affiliate links. For more information, view our policies.
A limeade cocktail?
We consider ourselves fairly traditional when it comes to cocktails. Flavorings, additives, etc usually aren't on our radar. But Ciroc asked us to try their coconut vodka. And since there's no harm in trying new things, we did. Surprisingly, have to say that we're sold. Now, it's never going to replace a well-crafted vodka in our bar cabinet. But this Coconult Limeade Cocktail recipe they sent us makes the kind of drink to beat summer heat with just a hint of tropical coconut. 
Because you may be wondering whether or not to invest in this spirit, here's how Ciroc describes their coconut vodka. It is made from a base of Ciroc's premium vodka, (which is, incidentally, gluten-free). The spirit is five times distilled then "infused" with natural coconut and "tropical fruit flavors." We cannot speak to the nature of this blend of tropical fruits nor whether or not it is all natural. However we will heartily endorse the final flavor. It is smooth, fresh and offers a fairly subtle tropical coconut note without any hint of artificial flavor or lingering aftertaste. This is an investment worth the money, if only to use during the summer's hottest days.  
A cocktail made with aphrodisiac ingredients
Now that we've covered the choice of the drink's base, let's explore the ingredients that make this Limeade Cocktail a top choice for summer. As you run your eyes down the list of ingredients, you'll see that the name "Limeade" is slightly misleading. Although the name conjures images of an electric green cordial, the fact of the matter is that this thirst-quenching summer drink uses only natural ingredients. And in fact, it features two ingredients that could be classified as aphrodisiac.
For starters, we love that this cocktail includes the aphrodisiac of basil as well as fresh lime juice. (We've named citrus among the best foods for a woman's libido. And fresh lime juice is definitely among our favorite forms of citrus.) It may not be a traditional cocktail but this sexy drink is refreshing, fun and definitely aphrodisiac!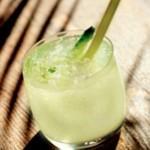 Coconut Limeade Cocktail
Print Recipe
This refreshing, tart and sweet drink is a perfect choice in summer or tropical heat. 
Ingredients
1.5

oz

Cîroc Coconut

1/2

of one lime

3/4

oz

simple syrup

6

basil leaves

one reserved
Instructions
Cut lime and place half in a mixing tin. Add a handful of basil, then muddle. Add the remaining ingredients and shake over ice.

Double Strain into a chilled Old Fashion glass.

Garnish with a sprig of basil.
Pin this Limeade Cocktail recipe:
FREE APHRODISIAC NEWSLETTER
Subscribe to our free aphrodisiac newsletter