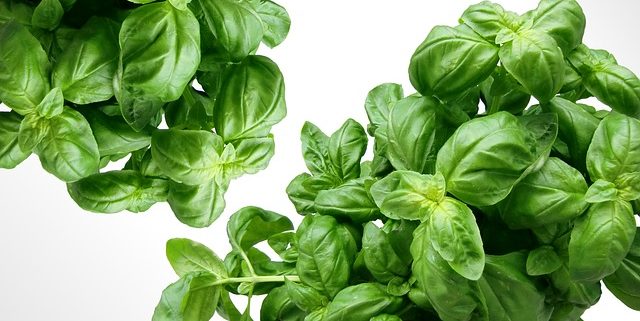 Our articles may contain affiliate links. For more information, view our policies.
Although most of us probably best know this herb as a flavor booster for foods with an Italian flare, basil was once considered among the earth's most noble and sacred plants.
Why is basil an aphrodisiac?
The plant is believed to have originated in Asia, but its use in European culture dates back to Ancient Greece. (The Greeks called the herb "basilkohn" which means "royal.") In Roman times, basil was a symbol of love.
In ancient cultures, it was regarded as a food of enlightenment. According to Erotic Cuisine: a natural history of aphrodisiac cookery, its aroma was thought to guide both body and spirit into a "unity of perception and acceptance."
RELATED: Discover the aphrodisiac benefits of mint
Are flavonoids the key to this herb's nutritional benefits?
Modern science has traced the herb's flavonoids, illuminating to us the source of the herb's anti-inflammatory properties. In recent studies, its essential oil has shown promise in inhibiting antibiotic-resistant bacteria.
But what are flavonoids? These are plant compounds found in deeply colored fruits and vegetables, as well as cocoa, tea and wine. They are rich in antioxidant activity (which means they fight free radicals) but different flavonoids offer different specific benefits. This is why the health link to basil's flavonoids is specifically with reducing inflammation.
That being said, although it is typically used for little more than a garnish, basil has a surprising number of additional nutrients that might make you want to rethink how you use this herb.
Basil benefits for men's and women's sexual health
Although it might come as a surprise to most pesto lovers, the vibrant, leafy green's leaves contain a variety of libido-lifting nutrients. It is considered a good source of Vitamin A, offering about 6% of the DV in a two-tablespoon serving.
It also provides manganese, vitamin C and folate, all nutrients linked with sexual health and fertility. Most remarkably, it is a source of vitamin K. (A single serving provides about 27% of the DV.) Vitamin K is most often talked about in association with preventing osteoporosis but it is also known to help prevent the hardening of arteries and may be beneficial in fighting erectile dysfunction.
Although it won't directly impact your sex drive or sexual performance, it is worth noting that basil is also thought to be beneficial in reducing stress-related depression. And it may help to relax blood vessels. But it is recommended that you talk to a physician before using basil to treat chronic depression or any heart-related illness.
Discover the many varieties of basil
There are over 50 varieties of basil grown around the world. Their shapes vary from long-leafed with pointy tips to broad with blunt edges. In flavor, varieties vary from subtle and anise-like to faintly spicy to a tinge of lemon.
You're probably most familiar with the green-leafed sweet variety used in Italian cooking. But if you're ever lucky enough to find a bunch of opal basil, be sure to experience the subtle, smoother flavor of this less popular herb. It's so good!
Cooking and recipes
The herb is sold both fresh and dried. Fresh basil lasts well on the counter in a cup, the stems in a splash of water. Or store the bunch in the refrigerator wrapped in damp paper towels. To make its flavor last, fill ice cube trays with the minced herb and cover with water or stock and use later for flavoring soups and sauces.
Here are a few of my favorite recipes featuring basil to tempt your tastebuds:
Pink Grapefruit Curd with Hints of Strawberry and Sweet Basil
Whole Wheat Spaghetti with Raw Tomato Sauce
Mustard-Glazed Pork Loin with Summer Peach Ratatouille
Meyer Lemon Quinoa with Turmeric, Black Pepper and Basil Leaves
Watermelon Soup with Jicama Salsa
Discover more of the world's greatest aphrodisiac foods
This article was written in 2010 and most recently updated in February 2022. 
Latest posts by Amy Reiley
(see all)
Get on our mailing list
Subscribe and get our exclusive list of Six Great Sex-Boosting Snack Foods for FREE! Unsubscribe at any time - privacy policy