Our articles may contain affiliate links. For more information, view our policies.
Unlike many of the ingredients I feature in my list of foods of love, the benefits of hemp lacks a long aphrodisiac history. Yet there are references in works such as Wedeck's  Dictionary of Aphrodisiacs
and Davenport's Aphrodisiacs and Love Stimulants
to the aphrodisiac effects of cannabis and hash. Timothy Leary's Search for the True Aphrodisiac
makes the claim that hashish and marijuana will initially increase libido, and chronic use will cause "sexual inversion." As far as I can tell, Leary's assertion is not backed by science. But I'm guessing that it's likely very accurate and based on his own extensive field research.
Is hemp an aphrodisiac?
And so, even though there's little to go on from a historical standpoint, all of this evidence inspired me to explore the potential aphrodisiac benefits of hemp seeds.
I started out by researching the question, "Is hemp good for you?" And what I first discovered was a vast quantity of research on hemp's health benefits based on nutritional value. And much of the nutrition points to the possibility that hemp seeds can help support a healthy sex life.
Try this aphrodisiac shake recipe using hemp. 
The nutritional benefits of hemp
The health benefits of hemp seeds include the fact that they're rich in protein and easier to digest than animal protein. And one of the benefits of hemp protein is that, unlike some plant-based protein sources, these seeds provide a complete protein. This means they provide all of the essential amino acids. The seeds are also lower in saturated fat than most of the world's quality protein sources.
Try our favorite CBD cocktail recipe. 
One of hemp's amino acids in particular may benefit your heart health, as well as your performance in the bedroom. Hemp contains a high amount of the amino acid argenine. This amino is recognized as a precursor to nitric oxide, a gas molecule that makes your blood vessels dilate. This not only leads to low blood pressure but it is also proven to aid in issues of blood flow associated with erectile dysfunction. In other words, one of hemp seeds benefits is that they can help ensure sexual arousal and orgasm. Not bad for something that looks like bird food!
Hemp is also rich in fiber. Whole hemp seeds provide an excellent source of soluble and insoluble fiber. (The benefits of hemp hearts are not as pronounced, since their fiber-rich shell is removed.) And while that might not sound sexy, fiber aids in digestion and it can prevent blood sugar spikes. In other words, whole hemp seeds can help prevent an energy crash and they can keep you feeling your most sexy.
Hemp seeds health benefits also include the fact that they are a source of potassium, magnesium, zinc and folate–all of which are nutrients essential to sexual health and fertility. Most importantly, the seeds are a source of vitamin E, aka the sex vitamin.
Health benefits of hemp oil
There are also some hemp seed oil benefits for skin that may help support aphrodisiac claims. Among hemp oils benefits, it can reduce skin redness and inflammation. In fact, it is considered as a possible cure for many skin disorders.
And for those who just want an anti-aging boost, the benefits of hemp oil are found in its powerful antioxidants like vitamins A, C and the aforementioned vitamin E. This powerful oil, which many experts say will not clog pores, can be applied straight to the face or body after bathing for a simple, DIY skin treatment.
Discover why castor oil is also a great choice for healthy skin and hair.
Hemp and THC
If you're planning to eat hemp for health, you should be aware that the seeds do contain a trace amount of THC, which is part of the reason its growth in the culinary market has been slow.  However it has been deemed safe for consumers of all ages. (According to Healthline, those who have been dependent on cannabis should probably avoid hemp seeds.)
However, for most of us, there's no reason not to start making hemp seeds part of a healthy diet–and to enjoy the aphrodisiac benefits from time to time!
Hemp seed image by Ulrike Leone.
Discover more of the world's greatest aphrodisiac foods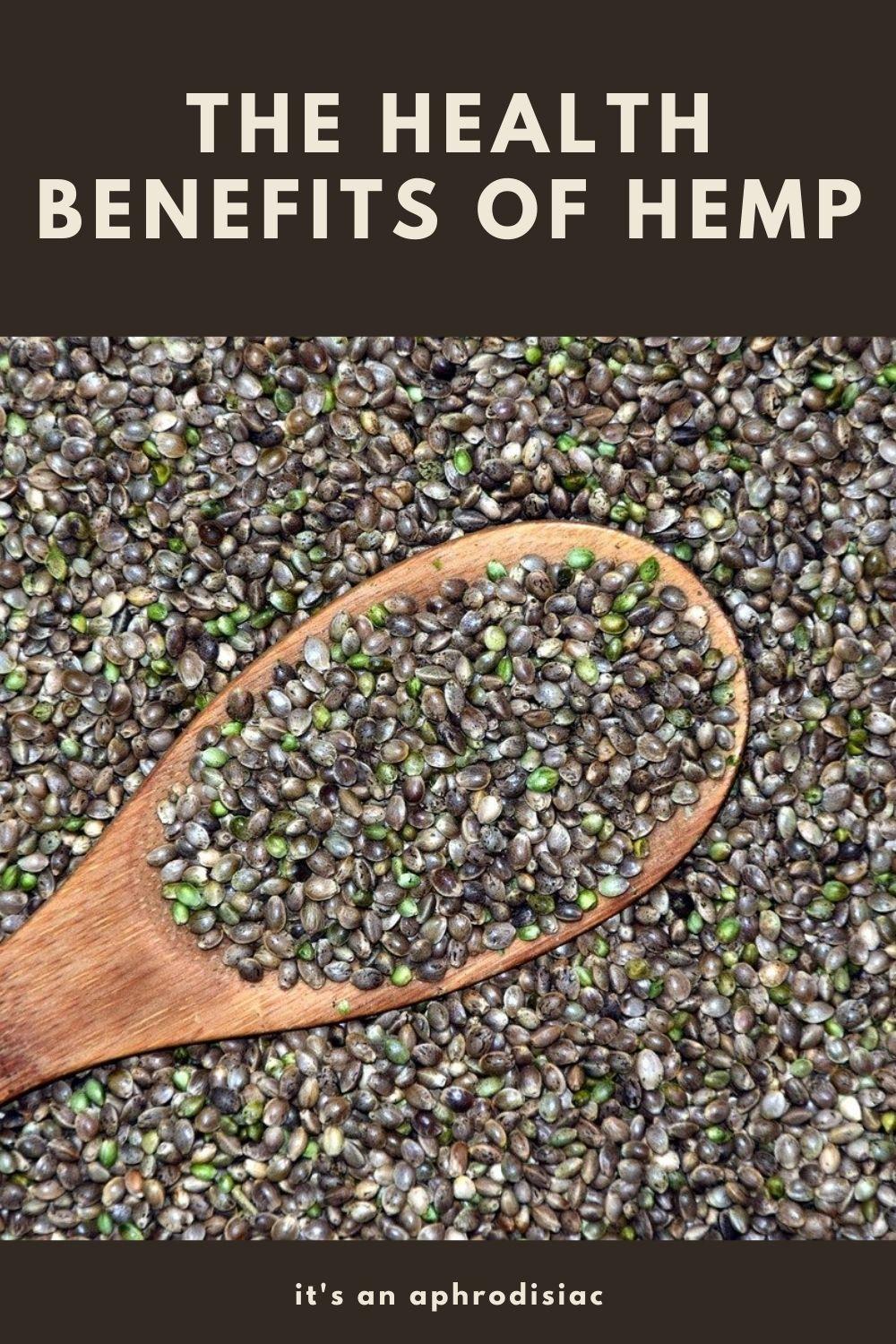 FREE APHRODISIAC NEWSLETTER
Subscribe to our free aphrodisiac newsletter