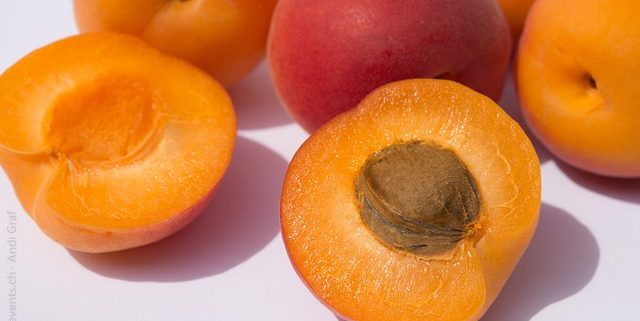 Our articles may contain affiliate links. For more information, view our policies.
There is more to the apricot than a fuzzy skin and glowing, orange flesh. This fruit has a fascinating folkloric history and excellent nutritional benefits. The fact that it is an aphrodisiac is among the most surprising apricot benefits  Here's a deeper look into this spring stone fruit and how you can make it work for you.
Is apricot an aphrodisiac?
At one time, the English called apricots "apricock." I am not sure at what point the name changed but it's recorded that in the court of James I, "apricocks" were commonly served as an aphrodisiac treat. And it was thought that Shakespeare referred to apricocks as a sexual allusion. (No surprise, really.  Shakespeare adored a good aphrodisiac allusion.)
RELATED: Love stone fruits? Find out why peaches are aphrodisiac
On the other side of the world, Australian Aboriginals used the sexy apricot as an aphrodisiac. This spring fruit's pit, or kernel, was steeped as tea. The flesh of the fruit was crushed and rubbed on the suitor's erogenous zones as a pre-coital perfume.
Unfortunately, this food is not untouched by controversy. It has one rather sad, anti-aphrodisiac use. An old practice of Middle Eastern camel herders was to block the uterus of the female camels with an apricot kernel to prevent pregnancy.
The health benefits of apricots
And while it is not entirely clear why ancient peoples first elevated the spring stone fruits to their mythical status, today we know that these seductively soft little fruits are packed with beauty-enhancing nutrients.
One of the advantages of apricots is that a single serving of fresh apricots provides over 50% of your daily intake of beta-carotene. According to the USDA's FoodData Central, they are also a source of iron, which is a key nutrient for fertility in women.
But most of the nutrients in apricots are beneficial to men as much as they are to women.
Apricots benefits for heart health
Apricots are a source of polyphenols, which are associated with heart health. (And, of course, anything that keeps the heart pumping will also help keep blood flowing to the sex organs and make sexual arousal possible.)
And this stone fruit is also a source of potassium, another essential nutrient for heart health. Potassium is linked with a reduction in the risk of stroke.
But potassium benefits your sex life in more ways than one. In addition to promoting heart health, it is involved in regulating muscle contractions and maintaining fluid balance. In other words, it can help prevent bloating.
Skin benefits
There is some evidence that apricots will benefit skin health. The vitamin C contained in this fruit may work to fight free radicals and protect against UV damage. There is also evidence that the vitamin C in apricots can promote collagen production, which is considered key to fighting signs of skin aging.
It is also worth noting that fresh apricots are a source of vitamin E. And vitamin E is also linked with skin health and the prevention of damage from free radicals. Beyond what it does for your skin, vitamin E is called the sex vitamin because of its role in supporting heart health and circulation.
The oil of apricot kernels, (the small seed inside an apricot pit), is also considered beneficial to skin health. According to the Health Shots website, apricot oil is great for moisturizing skin. And you may get some of the antioxidant, anti-aging benefits found in apricots from using this topical oil.
Dried apricot nutrition
But the wealth of nutritional benefits is not just reserved for the juicy, fuzz-covered fresh stone fruits. They also extend to the candy-like dried fruit. True, they're high in sugar. But dried apricots offer a trace of iron and magnesium. In addition, they are considered a decent source of dietary fiber.
Dried apricots can be expensive. Click here to compare prices.
Apricot recipes and serving suggestions
Lightly fuzzy apricots are great on their own when served in season and they make a satisfying but healthy snack. But both fresh and dried apricots are also great ingredients for cooking.
Although their growing season is short, apricots are a golden symbol of summer as the first of the stone fruits to ripen. Pureed, fresh apricots can make an excellent fat-free oil or butter substitute in moist cookies and cakes. Pound cake may take on a new meaning!
Here are a couple of the aphrodisiac apricot recipes you'll find on our site:
Aleppo Pepper and Apricot Glazed Chicken Thighs
Bacon Wrapped Pork Tenderloin with Apricot Compote and Jicama Salad
Discover more of the world's greatest aphrodisiac foods
This article was written in 2010 and most recently updated in April 2021. 
Latest posts by Amy Reiley
(see all)
Get on our mailing list
Subscribe and get our exclusive list of Six Great Sex-Boosting Snack Foods for FREE! Unsubscribe at any time - privacy policy