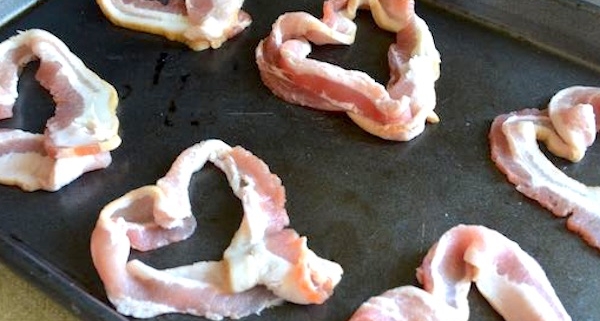 Our articles may contain affiliate links. For more information, view our policies.
There is little to no evidence from a nutritional standpoint to support the idea that bacon is an aphrodisiac. Yet I've been reading references to its amorous effects for years. I admit I can easily see how smoky, crisp slices of this salty, cured meat can be incorporated into a steamy night of seduction. But what, if any, bacon benefits can actually help you in the games of love?
Is there really a link between bacon and sex?
I never considered bacon to be a sexy food until I read food writer Betty Fussel's biography. Her account of bacon's role in a torrid love affair first planted the seed in my mind that bacon could have hedonistic powers. Then, I became even more curious when I learned that a DC-area restaurant was offering regularly scheduled "bacon aphrodisiac dinners."
Famed aphrodisiac reference Lewd Food offers an interesting view on the subject. The book recounts the tale of a Victorian woman, (referred to in the book as a Pigimist), who swore by the powers of the pig to light her inner fire. And the book also cites several literary references to the persuasive power of bacon.
However, little else turns up on the subject of bacon when I consult other traditional sources. So I tried Google. A quick internet search turned up multiple blogs dedicated to a passion for the pig. Most of these sites, at some point in their postings, discussed the aphrodisiac power of this intensely flavored pork product.
One posting pointed out that this cured meat was recently celebrated in advertising as a food of primal passion. Think back to the Taco Bell ad selling a Bacon Chalupa as an aphrodisiac. In the ad, the scent of a bacon-enhanced Chalupa tucked away inside a woman's purse allegedly turned men into love slaves.
Why is bacon called the "Gateway Protein"?
It would seem that popular culture is obsessed with, as irreverent food personality Anthony Bourdain called it, "the gateway protein." (As in, the power of bacon is so great that it can lure vegetarians to cast aside their herbivore ways.) How could it not be an aphrodisiac?!
Nutritional bacon benefits
As far as the nutritional benefits of bacon go, you can probably already guess what I'm going to say. There aren't many. As one taste of a crunchy strip of bacon will tell you, this pork product is loaded with salt and fat.
Bacon calories
The calories in a serving of bacon vary by type. A serving of the highest-fat bacon contains about 145 calories. But if you choose less fatty bacon, you can get those calories down to around 100 per ounce. And if you're trying to choose between bacon or sausage with your breakfast eggs, bacon is the way to go. It not only has fewer calories than most sausage, but it also has less fat. (And as any bacon lover will tell you, it is definitely the sexier of the two pork products!)
Your average slice of bacon has around 40 calories, so as you might have already guessed, the typical one-ounce serving is usually three strips unless you're using an ultra-thin or thick cut of bacon.
Additional bacon nutrients
You might be thinking, "Well, bacon is a source of protein, right?" And yes, the protein in bacon gives it some nutrition. But not much when you compare it to a serving size of high-quality protein choices.
A one-ounce serving of bacon has about 10 grams of protein. Now, that is a decent amount of protein for an ounce of meat. (A chicken breast has less than 10 grams of protein per ounce.)
The problem is that there are three ounces of chicken in a serving, which means you will take in almost 30 grams of protein from one serving. But it is recommended that you keep your serving of bacon to a maximum of one ounce because of the aforementioned sodium and fat content in this sexy, salty protein source.
One of the most surprising health benefits of bacon is that this salty pork meat is a source of a few vitamins and minerals, even with a limited portion size. It offers modest amounts of niacin, thiamin and vitamin B12. And as far as your sex life goes, bacon offers a few minerals linked to sexual health. It is a modest source of iron, offering about 2% of your daily value. But it also offers magnesium, potassium and zinc.
Nutrition for men's sexual health
These nutrients are all recognized for supporting both men's and women's sexual fitness but bacon may be the man's protein when it comes to boosting sexual health. That's because it offers over 25% of the daily value of selenium. And selenium is recognized as essential for men because it is needed for sperm production. It is also believed that a selenium deficiency can reduce sex drive in men.
The most important bacon health facts you're not going to like
But please keep in mind when you're planning a romantic occasion featuring the sexiest of all pork meats, that a single serving of bacon also provides 28% of your daily value for sodium. And it is also high in saturated fats. If you have any questions about your fat or sodium intake, be sure to check with a medical professional before planning a sexy bacon feast. But for most of us, an occasional serving of bacon can be part of a healthy diet.
However, if you're sensitive to gluten, be sure to check your labels because not all bacon is gluten-free.
Cooking and recipes
As for how to cook bacon, follow these step-by-step instructions to make heart-shaped bacon for your next breakfast in bed.
More of our best bacon recipes:
Pumpkin Coffee Cake with Bacon Streusel
Bacon, Tomato and Avocado Picnic Sandwiches
Chipotle Bacon Chocolate Chip Cookies
Discover more of the world's greatest aphrodisiac foods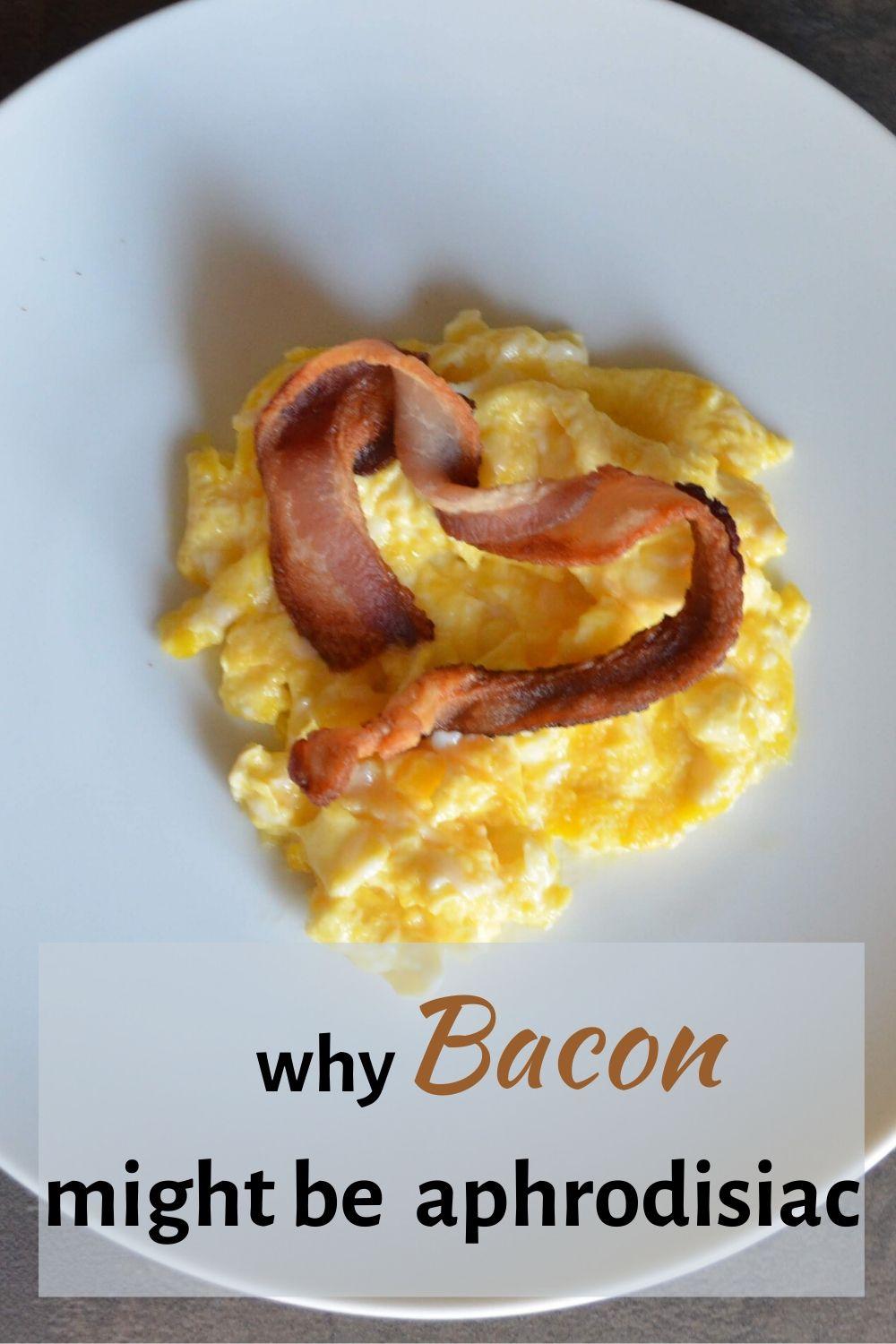 This article was written in 2010 and most recently updated in January 2022. 
Latest posts by Amy Reiley
(see all)
Get on our mailing list
Subscribe and get our exclusive list of Six Great Sex-Boosting Snack Foods for FREE! Unsubscribe at any time.