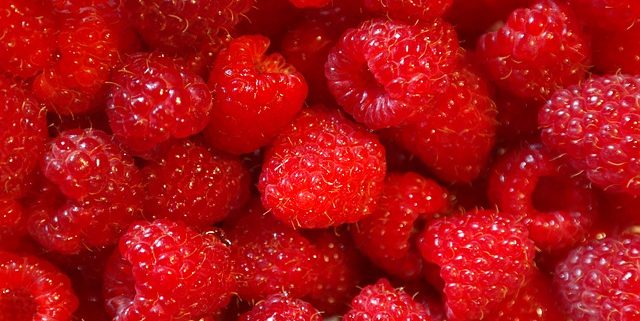 Our articles may contain affiliate links. For more information, view our policies.
Raspberry is surprisingly nutritious for such an indulgent fruit
If you stop and think for just a moment, the aphrodisiac allure of the raspberry is obvious. Shape and texture alone make this summer fruit sexy. Combine with that ruby glow given off by a bowl of the ripe, summer fruit, a raspberry is simply a morsel of seductive beauty.
The fruit is actually a collection of tiny fruits by the not-so-sexy name druplets. The tiny, fragile fruits, held together around a hollow core make for a sensual experience when pressed between the teeth. As the individual pods pop, the fruit bursts with flavor and the remaining skins acquire an almost melt-in-your-mouth flavor.
Some of the vitamins and minerals found in raspberries
We now know that these well-traveled fruits are a good source of manganese, a nutrient identified as essential to sexual health–particularly for men. It is also a source of vitamins B2 and C and provide potassium and magnesium. (Their vitamin content is so high that raspberries boast 50% more antioxidants that strawberries, also indulgent berries noted for their antioxidant powers.) With their bundle of hard, little seeds, they are also a source of fiber, helpful in keeping the body at its most slim and sexy.
Because of their fragility, raspberries in perfection are a rare and short-lived treat. Despite being among the world's most nutritional foods, they are considered an indulgent delicacy. For a sensual treat, surprise your lover with a bowl of plump, just-picked berries accompanied by nothing more than a dollop of clotted cream.
How to store this fruit
Most readily available from mid-summer to fall, raspberries should be stored carefully to prevent spoilage. They should always be kept in the refrigerator, preferably topped with a paper towel to help prevent excess moisture. Stored this way, the precious fruits will last around 24-48 hours.
Discover more of the world's greatest aphrodisiacs
FREE APHRODISIAC NEWSLETTER
Subscribe to our free aphrodisiac newsletter