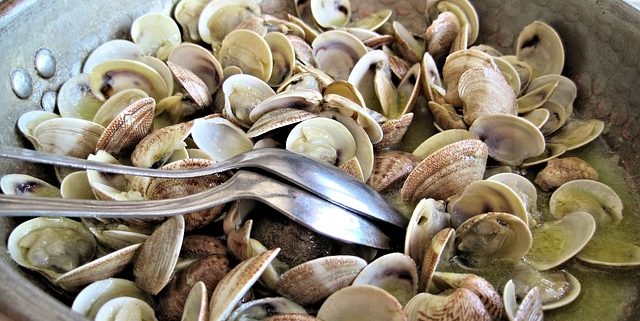 Our articles may contain affiliate links. For more information, view our policies.
Modern science has some interesting things to say about clams as aphrodisiac seafood. But clams earned a reputation as aphrodisiacs long before modern science put a sexy spin on shellfish. One odd but amusing belief is that their plump flesh is reminiscent in appearance to testicles. Suggestive, yes, but appetizing? Maybe not.
Are clams an aphrodisiac?
Beyond odd and lewd suggestions, little can be found in folklore associating clams with sex, other than references grouping them with other shellfish like oysters and shrimp. The exception, at least according to Lewd Food by Robert Hendrickson, is the Pacific geoduck clam.
RELATED: Oysters Aphrodisiac & Health Benefits
The Pacific geoduck, (pronounced gooey duck), is a large clam. And it is known to "sun" itself on bright days. This means it will stick its thick shaft of a neck out of the sand to stretch toward the warmth. At one time, it was improper for ladies living on the western coast of the United States to lay eyes upon this lewd sight.
But despite a lack of lore linking this bivalve with sexual passion, clams are generally added to any list of aphrodisiacs because of their link with Venus, Goddess of Love. Thanks to Botticelli's famed painting, "The Birth of Venus," all shellfish are forever linked with love and sensuality.
Is clamato an aphrodisiac?
Clamato, a rather strange combination of clam and reconstituted tomato juice is an underground aphrodisiac in Hispanic American culture. Although it benefits from the addition of lycopene in the tomato juice, Clamato certainly does not reap the nutritional benefits of fresh clams scooped straight from the shell.
RELATED: Tomato Aphrodisiac & Health Benefits
Clam nutrition
A single serving of clams provides more than 100% of the daily allowance for iron, a mineral important for sexual health. These shellfish are also considered a lean source of protein. Although protein won't spike sexual hormone levels, it is incredibly important to your sex life. Without the sustained energy of protein, your sexual performance will be lackluster at best.
RELATED: The 10 Steps to Sexy Diet
Clams are also a source of several nutrients known to support sexual health. A three ounce serving of steamed clams provides over 100% of the daily recommended intake of iron. These mollusks are also a source of zinc, a key nutrient for circulation and achieving sexual climax. Other nutrients for sexual health found in clams include manganese, selenium and potassium.
RELATED: Manganese & Health – why your sex drive needs it to thrive
A surprising benefit
In 2005, a study by a group of Italian and American scientists released the findings that amino acids found in bivalves, (oysters, mussels and scallops as well as clams), have the potential to raise sexual hormone levels.
The study was conducted on a Mediterranean species of mussels. It showed that these amino acids, D-aspartic acid and N-methyl-D-aspartic acid, induced sexual hormone production in rats. No follow-up studies measured the impact on humans, but the news was certainly encouraging to seafood lovers. And since these amino acids are found in all mollusks, including clams, the results imply that not just mussels but also clams could boost sexual hormones.
RELATED: Mussels Benefits & Aphrodisiac Use
However, as a possible contraction to those 2005 findings, there was a study conducted in 2015 on the impact of D-aspartic acid on men actively involved in resistance training. Its results demonstrated no measurable difference in testosterone levels in this group. This leads us to wonder if these aminos affect rats in a very different way than they impact humans.
A good mood food
So although we're not sure what these amino acids really do for us, we do know that clams are a good source of vitamin B12. And B12 is involved in the production of dopamine and serotonin. In fact, a deficiency in B12 is linked with depression. So yes, what we do know is that clams can make you feel happy as a clam.
Discover more of the world's greatest aphrodisiac foods
This article was written in 2010. The most recent update was in February 2021.
Latest posts by Amy Reiley
(see all)
Get on our mailing list
Subscribe and get our exclusive list of Six Great Sex-Boosting Snack Foods for FREE! Unsubscribe at any time - privacy policy