An Irish Salmon Recipe with a Simple Butter Sauce
Our articles may contain affiliate links. For more information, view our policies.
Want an easy recipe to celebrate St. Patrick's Day or just celebrate your Irish heritage any night of the week?  Serve this poached Irish salmon recipe with a simple Irish butter sauce for dinner.
Although this is the ideal kind of light and healthy fish recipe for a dinner party, Chef Diane Brown created this stunning poached salmon as the centerpiece to a romantic dinner. In fact, it's part of a whole romantic St. Patrick's Day menu, celebrating one of Ireland's most beloved products, salmon. (But don't let that stop you from serving it at your next dinner party.)
How to poach salmon
Poaching is a wonderful cooking method for fish. If you've never tried poaching salmon, don't be afraid. Although "poach" may seem like a fancy cooking term, it is actually a simple and beautiful cooking method.
What is poaching?
Poaching is simply a cooking technique for cooking something in a small amount of liquid. It is a moist heat cooking method and one requiring a low temperature. A poaching liquid can be anything from water to a more complex or acidic liquid, such as white wine.
In this fish recipe, the salmon is poached in water with fennel, which helps develop flavor.
Tips for poaching fish
The trick to successful poaching is to keep the water temperature low, below 205 degrees F is recommended, to avoid agitating the item being poached.
TO TRY: Sexy Poached Salmon in Rosé Wine Sauce
Once you get the hang of the technique of poaching, you'll be poaching eggs every weekend so you can make this recipe for Red Wine Poached Eggs.
Tips for making an Irish butter sauce
In this easy salmon recipe, the poached fish is treated to a bath of Irish butter sauce.
This sauce is made with Irish butter whisked into a mixture of white wine and shallots, then finished with salt and pepper to taste. A fish sauce really doesn't get better than this!
Be patient
The secret to producing a perfect butter sauce every time is patience and constant attention. Cut the butter into cubes then return it to the refrigerator until you're ready to use it. You must use cold butter to produce a creamy butter sauce.
Whisk the cold butter, one cube at a time, waiting until it is incorporated before you add the next cube. If you try to rush the process, the sauce can break.
Use unsalted, Irish butter
One last tip, be sure to use unsalted butter and add your own salt at the end. (It is better to control the amount of salt in your dish. You can't do this when the butter already has added salt.)
The recipe calls for Irish butter, which you can shop for using the link below. If you can't find Irish butter, use another European butter or grass-fed butter, which has higher butterfat than most American butters.
In addition to the aphrodisiac of salmon, this dish features fennel. Fennel has been held in regard as an aphrodisiac since the times of ancient Rome. Learn more about fennel's aphrodisiac side.
Serve this Irish salmon recipe as part of an Irish-themed romantic dinner
This Atlantic salmon filet recipe is part of a full menu of Romantic Irish recipes, meant to be served as a St. Patrick's date night or any romantic evening.
Since both fennel and salmon have a history as an aphrodisiac, this recipe is well-suited to an evening of seduction. For the full experience, be sure also to try the Black Velvet cocktail recipe and the Irish Potato Soup with Stout that are meant to pair with this salmon dish. (Of course, you can also just serve it with a great Irish Whiskey and a knowing smile.)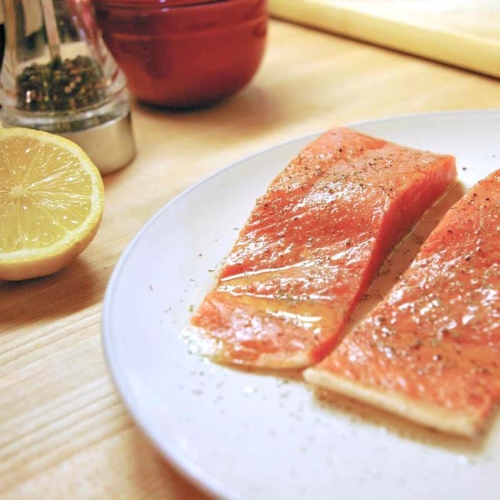 North Atlantic Poached Salmon with Irish Butter Sauce
Print Recipe
Salmon can be the perfect centerpiece to a romantic meal. This salmon recipe features both the aphrodisiacs of salmon and fennel served in a creamy, Irish butter sauce. It's a fairly simple dish that's hard to resist.
Ingredients
2 8-

oz

North Atlantic Salmon filets

1

tsp

salt

1/2

head fennel

coarsely chopped

1

shallot

finely minced

1

Tbsp

white wine

2

Tbsp

very cold, unsalted Irish butter

cut into cubes

Salt and pepper

Squeeze of fresh lemon

1/4

tsp

chopped parsley
Instructions
Fill a medium-sized saucepan half full with water, salt and bring to a boil.

Reduce the water to a gentle simmer, add the fennel and fish. Cover and cook for 15 minutes.

Turn off and keep fish in water while you make sauce.

Put shallots and white wine in a small saucepan, bring to boil and cook until wine is almost cooked off and shallots are dry.

Remove from heat and whisk in butter one cube at a time, butter will start to thicken.

Season with salt, pepper and lemon.

Serve over the poached salmon and garnish with parsley.
EatSomethingSexy.com contributor Diane Brown is the author of The Seduction Cookbook: Culinary Creations For Lovers

Latest posts by Amy Reiley
(see all)
Get on our mailing list
Subscribe and get our exclusive list of Six Great Sex-Boosting Snack Foods for FREE! Unsubscribe at any time - privacy policy