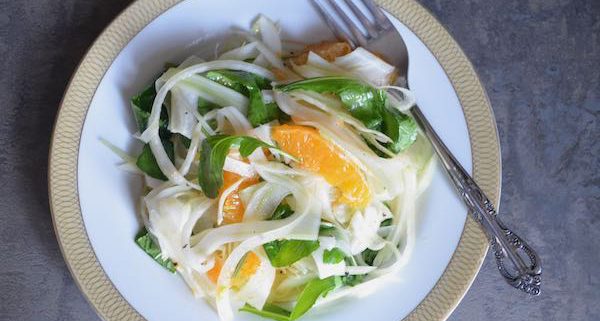 Shaved Fennel Salad Recipe with Citrus & Arugula
Our articles may contain affiliate links. For more information, view our policies.
This easy fennel salad recipe takes just six ingredients and fifteen minutes to make your winter a little warmer and brighter and maybe even more romantic!
We're deep in the season which makes putting together a salad challenging. If you love salad as much as I do, the dark days of winter can be depressing. No plump, juicy tomatoes to decorate your plate. The lack of peaches, basil and fresh little gem lettuces could get any salad lover down. But there are winter ingredients to add texture and flavor to your plate. And there's one in particular that actually makes me crave the winter month. That's fennel. Shaved and served with orange or tangerine segments, this crunchy, tangy, salty and sweet fennel salad recipe can make the winter months fly by.
This tasty winter salad recipe is easy, inexpensive and it's completely vegan and gluten-free without any need for modifications. It's not only incredibly healthy but it might just be the perfect salad for a romantic evening. Did you know that the main ingredient is famously aphrodisiac?
What is fennel?
Fennel is a vegetable popular in Mediterranean cuisines but it isn't as well known elsewhere. And that's a pity because not only does fennel have a great, crunchy texture and a light, anise-like texture, it's remarkably nutritious. It is a source of vitamin C, fiber, iron and potassium. And best of all, it's historically considered an aphrodisiac.
The ancient Greeks called this vegetable marathon. They believed it would give the eater strength and longevity for athletic pursuits, including those in the bedroom.
RELATED: Fennel Benefits & Aphrodisiac Use
Typical fennel season, according to Prevention, is mid-autumn through spring. (Where I live, local fennel usually doesn't come in until winter. So the season may vary by region.) The type of fennel you typically find sold at farmers' markets and in the grocery store is called Florence fennel. It has feathery tips and almost celery-like stalks although you'll sometimes find it trimmed down and sold as just fennel bulbs, no stalks or fronds.
In this shaved fennel salad recipe, I combine the anise-flavored vegetable with baby arugula to make a light and healthy blend of greens. Incidentally, arugula is also considered an aphrodisiac.
To prep the fennel for this salad
Although you might not guess it, fennel is a member of the parsley family. It's easy to cook with although it isn't the easiest vegetable to cut. You're just going to use the bulb, which is thick and somewhat tough. To thinly slice it for this fennel orange salad, I recommend using a mandolin slicer. (This slicer is also handy for cutting the onions.) This is the mandolin I use.
Before you shave the fennel, you need to clean and trim it:
Trim the root end then cut off the stalks. What you're left with is the bulb.
Remove any rough, brown or gouged outer layers.
Cut the fennel bulb in half lengthwise. What you're left with is two easy to manage pieces of fennel you can either run through the mandolin or cut into thin half-moons by hand. (You can also use a food processor if you prefer.)
Why I love serving this shaved fennel recipe with a variety of citrus
There are many citruses available in late winter and early spring to bring vibrant color and acidity to a salad. Although I use tangerine in this recipe, you can use whatever type of fresh orange, tangerine or satsuma is available to you. Most citrus fruits are at their ripest and sweetest in late winter, so you probably have the most variety just when all the fall fruits have disappeared. This fresh fennel salad recipe welcomes experimentation.
RELATED: Why citrus fruits are among the best foods for women
Some of my favorite citrus to use in this winter fennel salad include:
Blood oranges – for brilliant color
Naval oranges – for their sweetness
Ojai Pixie tangerines – my favorite spring citrus
Clementines – if you don't like sour
Winter salad recipe variations
This fennel orange salad recipe is somewhat free-form. As I mentioned above, you can choose whatever citrus looks best at the store. But beyond that, you can take the dressing in a variety of different directions. I've even got a few suggestions for extra ingredients and substitutions.
Give it a "fancy" dressing
For me, the right dressing for this citrus salad is just a bit of extra virgin olive oil, (here's a good olive oil to stock your pantry), and a sprinkle of coarse sea salt. I like the simplicity of this dressing because I enjoy the sensuality of the simple fruit and vegetable ingredients, which crunch and squish with notes of sweetness and tart, pepper and anise as they dance across the tongue. But you might prefer a dressing that brings more of a traditional salad flavor. You can make a balsamic vinaigrette for it or simply whisk some olive oil into freshly squeezed tangerine or lemon juice to make a simple but tangy dressing.
Additions and substitutions
Avocado – If you like a little extra texture you can thinly slice one avocado and top each salad with several slices. This will add a creamy note and since avocado is also considered an aphrodisiac, it might also increase the recipe's romantic potential.
Mixed baby greens – If you can't find arugula or just want to change the lettuce, you can use baby spinach or mixed baby greens.
Red onion – If you want to add a little extra color, you can use red onion instead of sweet onion. Just keep in mind that red onion generally has a stronger aroma and flavor.
Fennel fronds – Fennel is often sold trimmed down to just the bulb. But if you happen to buy whole fennel, you can trim off the feathery ends, called fronds, roughly chop them and toss them with the rest of the ingredients. They're pretty, light and add extra fennel flavor. The stems can be used to season soup stocks.
Turn this side salad into a main course
Although this salad makes a lovely side dish or a vibrant vegan salad option, I've played around with adding light proteins. My favorite way to serve it, other than as a simple, vegetarian salad, is to add poached or seared shrimp along with some salmon roe.
As you can see, I enjoy making it just a little bit differently every time. After all, who doesn't love surprises?
More great salad recipes for winter
Brown Rice Salad with Leeks and Golden Beets
Massaged Kale Salad with Cranberries & Persimmons
Frisee Salad Lyonnaise
Winter Star Fruit Salad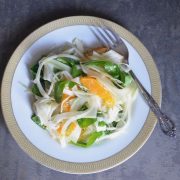 Shaved Fennel Salad with Citrus and Arugula
Print Recipe
This tangy, winter salad features thinly sliced fennel and onion with vibrant, fresh citrus. Use oranges or tangerines, just get the best fruit you can find and prepare to love salad!
Ingredients
1

small fennel bulb

cleaned trimmed and cut in half lengthwise

1

medium sweet onion

substitute with a small red onion

2

tangerines or 1 orange

2

c

baby arugula

washed and dried

salt & pepper to taste

2

tsp

good quality extra virgin olive oil

use more to taste or substitute with your favorite balsamic vinaigrette
Instructions
Slice the fennel and onion as thinly as possible, preferably using a mandolin or food processor. (I prefer the vegetables cut with a mandolin for uniformity.)

Cut off the very top and bottom of each tangerine. Then peel the fruit with your knife. Next—and this is the tricky part—carefully slice the fruit between the membrane and the flesh. Repeat with all of the segments of both tangerines.

Toss the fennel, onion, tangerine and arugula in a medium mixing bowl. And top with salt, pepper and your favorite dressing to taste. (A splash of premium olive oil recommended.)
Notes
To slice the fennel as thinly and uniformly as possible, the best tool is a mandolin. If you don't have a mandolin, you can use a food processor or cut by hand, using a heavy and sharp chef's knife. 
A note on the provided nutrition information
The nutrition information provided has been estimated by an online nutrition calculator and is not a substitute for a professional nutritionist's advice.
Nutrition
Calories:
90
kcal
|
Carbohydrates:
17
g
|
Protein:
2
g
|
Fat:
3
g
|
Saturated Fat:
0.4
g
|
Polyunsaturated Fat:
0.4
g
|
Monounsaturated Fat:
2
g
|
Sodium:
41
mg
|
Potassium:
451
mg
|
Fiber:
4
g
|
Sugar:
11
g
|
Vitamin A:
616
IU
|
Vitamin C:
24
mg
|
Calcium:
78
mg
|
Iron:
1
mg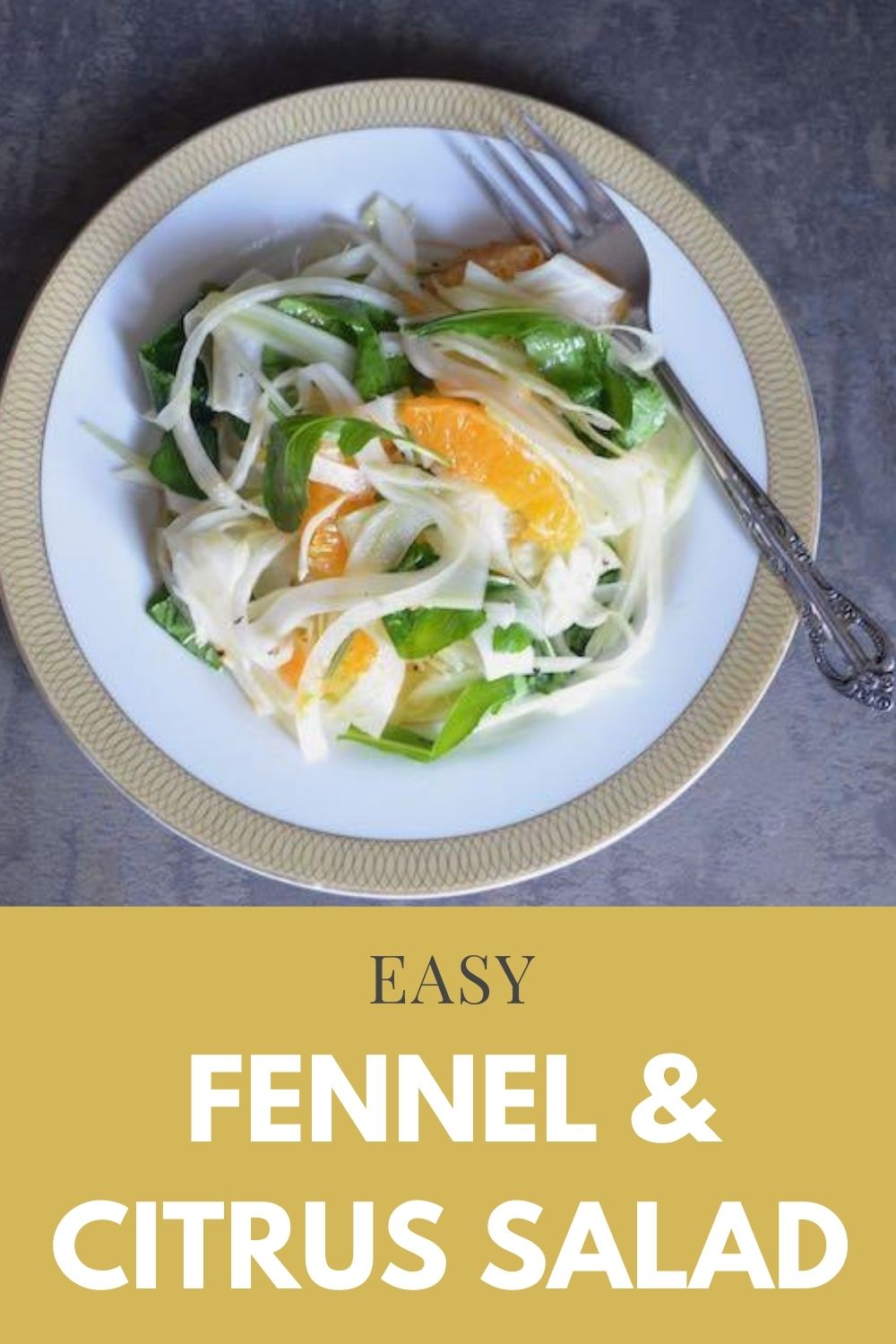 Latest posts by Amy Reiley
(see all)
Get on our mailing list
Subscribe and get our exclusive list of Six Great Sex-Boosting Snack Foods for FREE! Unsubscribe at any time.