The Anti Aging Drink You Need to Try: a Regener8 review
Our articles may contain affiliate links. For more information, view our policies.
If someone told you there was an anti aging drink you could just pour from a packet to feel great, would you believe it?
A turmeric tea with collagen to change the way you feel
I found a daily supplement called Regener8 that's a blend of curcumin from turmeric and collagen that has not only simplified my daily wellness routine but has also given me more energy and less joint aches than I had five years ago.
Collagen drink benefits
When I heard the drink was turmeric-based, I was in, (knowing the healing benefits of this Eastern spice). But I was more hesitant about the addition of collagen to this wellness tea. I've seen more than my share of ads for collagen supplements and I still remain skeptical about ingesting collagen for beauty.
Collagen is a protein naturally produced in the body. It's what keeps our skin looking plump and bouncy. Unfortunately, collagen production decreases with age. But can taking additional collagen orally really add back the bounce?
I've read a lot of mixed reviews on the topic, but according to dermatologist Dr. Ohara Aivaz of the Cedars Sinai Medical Group, we don't really know enough about collagen to know if taking orally can produce the desired effect. However, if it's a safe product like Regener8, (a high-quality supplement using bovine collagen protein), taking it can't hurt you. (And we can certainly hold on to the hope that it might help rejuvenate aging skin!)
The drink's proprietary blend also contains hyaluronic acid, another supplement associated with fighting visible signs of aging. It is supposed to fight wrinkles and when taken orally, may have some benefits to eye health.
RELATED: Try our DIY turmeric & yogurt face mask
Why turmeric is anti inflammatory
For me, the collagen wasn't really the draw for starting a Regener8 wellness routine. I was much more interested in the anti-aging effects of curcumin. Curcumin is recognized as a powerful aid in fighting chronic inflammation. The curcumin in this tea is extracted from turmeric by a specialized method to inhibit two types of protein involved in activating inflammation.
My review of the Regener8 anti aging tea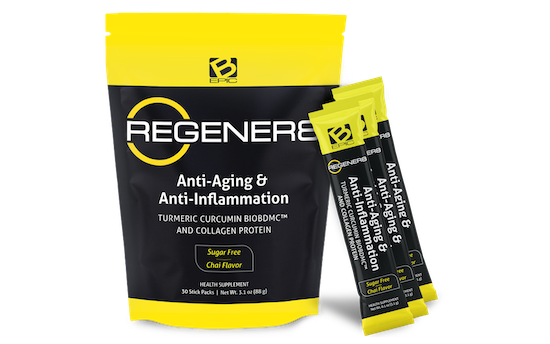 I've been drinking this wellness tea daily for almost a month. I noticed no difference at first but after about 10 days, I realized that the chronic pain inhibiting movement in my shoulder was almost gone. It wasn't enough of a change to make me swear by this curcumin tea – after all, it could have been a coincidence – but it was enough to make me want to keep drinking it.
How does it taste?
As a food writer, my first question when asked to try a health drink is, "But how does it taste?" This powdered turmeric tea is not what I'd call delicious from the first sip. It's more of an acquired taste. The manufacturer calls it a version of chai, however, it is made without the addition of black tea. But it is reminiscent of chai in terms of weight on the tongue, sweetness level and spice.
Despite the fact that it contains only five calories per serving, it is a drink of substance and will actually make you feel more full from just one cup. Although you can enjoy Regener8 tea hot or over ice, I prefer to drink this health tea warm. (The spices are naturally warming, so I find drinking this turmeric and collagen powder cold gives me an odd sensation of feeling hot and cold at the same time.)
Although I can't say I loved the subtly earthy and slightly peppery flavor at first, after about a week, I started craving my daily anti-inflammatory drink.
RELATED: Here's the recipe for my favorite chai
Best benefits of this anti aging drink
As I mentioned, after about 10 days, the drink seemed to make the shoulder pain I'd been battling disappear. But as far as inflammation goes, it did not stop me from getting a migraine. Then again, it promised to fight chronic inflammation, not a short burst of misfiring muscles around my right eye. I did, however, notice quicker muscle recovery after exercise once I started drinking the turmeric supplement daily.
As for the collagen, I can't say that my skin has improved bounce. At least, I can't see a visible difference yet. I will say, however, that my nails are growing more quickly than normal, which isn't a real surprise since collagen is also linked with improved hair and nail growth. Now that I think about it, my hair has also seemed extra bouncy lately.
To sum it up, I would say that the effects of this anti-aging, turmeric and collagen drink are subtle. But there are definitely some changes for the better in my aging body! And the results are enjoyable enough that I will definitely keep drinking this health chai for the foreseeable future.
Please note that this product is not vegetarian and it is made in a facility that processes eggs, nuts, wheat, soy and dairy. It may also not be appropriate for individuals with certain health conditions so be sure to consult with a physician about any concerns before adding this turmeric supplement to your diet.
About the manufacturer, B-Epic
B-Epic is a manufacturer of research-based health supplements. Their goal is to create innovative health products from natural ingredients. And although I tend to prefer getting my nutrition from food, I can say that their science-backed, anti-aging tea is the kind of high-quality, innovative supplement I can get behind.
Where to buy this turmeric and collagen tea
If you're ready to try Regener8, you can visit the B-Epic website to order this and all of the company's unique supplements. (Please note that I have not tried any other B-Epic products as of the time of writing.) Some B-Epic products are also sold on Amazon.com.
Tea photo by Nikita Kachanovsky
This article was originally published in January 2022 and updated in January 2023 to reflect the most up-to-date ordering information. 
Latest posts by Amy Reiley
(see all)
Get on our mailing list
Subscribe and get our exclusive list of Six Great Sex-Boosting Snack Foods for FREE! Unsubscribe at any time.