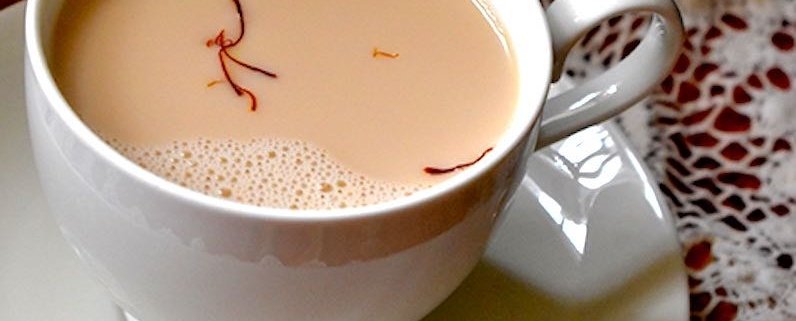 Saffron Chai: A Sensual Saffron Tea Recipe
Our articles may contain affiliate links. For more information, view our policies.
If you're looking for a warming drink to enjoy in winter, this traditional chai recipe with saffron from tea expert Nandita Godbole is sure to put a smile on your face as it warms you from the tip of your tongue to the very ends of your toes. A delicious drink made with delicately floral tea and the right balance of exotic spices, this alluring saffron tea is a drink you'll want to make over and over again.
What is chai tea?
Chai, the spicy brewed beverage so commonly sold as a coffee alternative in Western coffee houses today has a history in the East that goes back thousands of years. (The term chai tea is actually redundant. The word chai means tea. But in the West, the two terms are often linked, helping to indicate that the drink is made both with spices and tea leaves.)
A brief history of chai
There is some debate as to whether the invention of chai was in India or Thailand. But what is agreed upon is the fact that it was initially a drink of royalty. The original beverage was created in hot and cold varieties, each made with a different blend of whole spices to address different ailments according to Ayurvedic medicine. However, the one thing it didn't contain was tea.
According to The Spruce Eats, it really wasn't until the British set up Indian tea plantations in the 1800s, that tea appeared with regularity in Indian cuisine. Of course, the addition of tea meant that chai suddenly boasted a host of antioxidant benefits as well as the healing properties of the spices. The benefits depend on the blend of spices used in the brew.
TRY NEXT: Check out our favorite turmeric anti-aging chai
Why make chai with saffron?
For this chai tea recipe from cookbook author Nandita Godbole, the star ingredient is the aphrodisiac of saffron. And when she agreed to let us run this recipe from her book, Seven Pots of Tea: an Ayurvedic approach to sips and nosh, Godbole also took the time to explain what makes saffron alluring to her.
"Saffron is one of the world's most expensive spices because it grows only in small pockets around the world and must be harvested by hand. Good quality saffron is fine in texture, like inch-long strands of embroidery floss. And it is fragrant. If a saffron strand is placed in warm water, within minutes, the strand or thread will unfurl and plump up like a clarinet swimming in a golden orange liquid."
Of course, we love using saffron in tea (or anything else for that matter) because of its ability to increase sexual function. (Read more about the aphrodisiac power of this indulgent spice.)
Adds Nandita, "This decadent spice is very popular in Indian, Islamic, Persian and Spanish cooking for their distinct aroma and delicate flavor, and popular in beauty treatments across the world and an Ayurvedic powerhouse. Saffron chai is an effortless way to enjoy a creamy, velvety and warm tea-based drink, designed to be sipped at leisure."
RELATED: Try my favorite saffron cocktail recipe
And there may be some additional saffron tea benefits. In scientific studies, saffron has been linked with treating depression and supporting weight loss. There's even some evidence that the aroma of saffron can alleviate PMS symptoms.
What kind of tea leaves should you use for this saffron tea recipe?
For this particular chai recipe, Nandita uses the unique floral flavor of loose-leaf Earl Grey tea. Earl Grey is made from black tea blended with bergamot. Some teas are made with the oil of this citrus fruit while others use the peel. But the result is always the same. This flavoring creates an aromatic and citrusy version of black tea like no other.
Most chai recipes will call for Darjeeling or Assam loose-leaf black tea but for this particular tea recipe, we recommend following Nandita's more feminine, complex tea recommendation.
Can you make it as a vegan chai?
Nandita recommends making this chai with whole milk to produce a tea that is optimally rich in body and flavor. However, if you're trying to avoid dairy, we encourage you to try making this chai tea recipe with your favorite plant-based milk alternative, such as almond, hemp or oat milk.
Why this chai is an aphrodisiac recipe
As we touched on earlier, the starring spice in this exotic tea recipe is one of the world's most sought-after aphrodisiacs, saffron. But saffron is not the only aphrodisiac ingredient in Nandita's Indian tea recipe.
This saffron tea incorporates green cardamom pods, one of the warming spices. Cardamom and other warming spices like nutmeg and cinnamon were historically used to not just warm the body up from the inside out but were also believed to help start a fire in one's loins, so to speak.
Additionally, although black tea does not have the same aphrodisiac reputation as coffee, it shares some of the attributes that make coffee an aphrodisiac. Black tea contains caffeine, which is sometimes used to give the body a little boost of energy before entering into the games of love.
And, as I mentioned at the beginning of the article, black tea has antioxidant benefits that may help support heart health, as well as help fight visible signs of aging. And with this homemade Indian tea recipe, you get all of these saffron tea benefits along with fantastic flavor.
Love Nandita's tea? Don't miss her Fig Lassi recipe.
Saffron Chai
Print Recipe
A traditional black tea chai recipe made with the spices of saffron and cardamom
Instructions
Combine the water and milk in a one-quart saucepan.

Add the loose tea and coarsely crushed cardamom pod in a tea ball, and add this to the saucepan.

Add sugar if using.

Bring this to a boil.

Add the saffron strands directly into the brew and continue to simmer on low for 1 additional minute.

Remove from heat and carefully remove the tea ball from the brew.

Pour the tea into a suitable cup to include the saffron strands. Serve hot.
Notes
This recipe originally appeared in Seven Pots of Tea: an Ayurvedic approach to sips and nosh.
Pin this homemade chai tea recipe: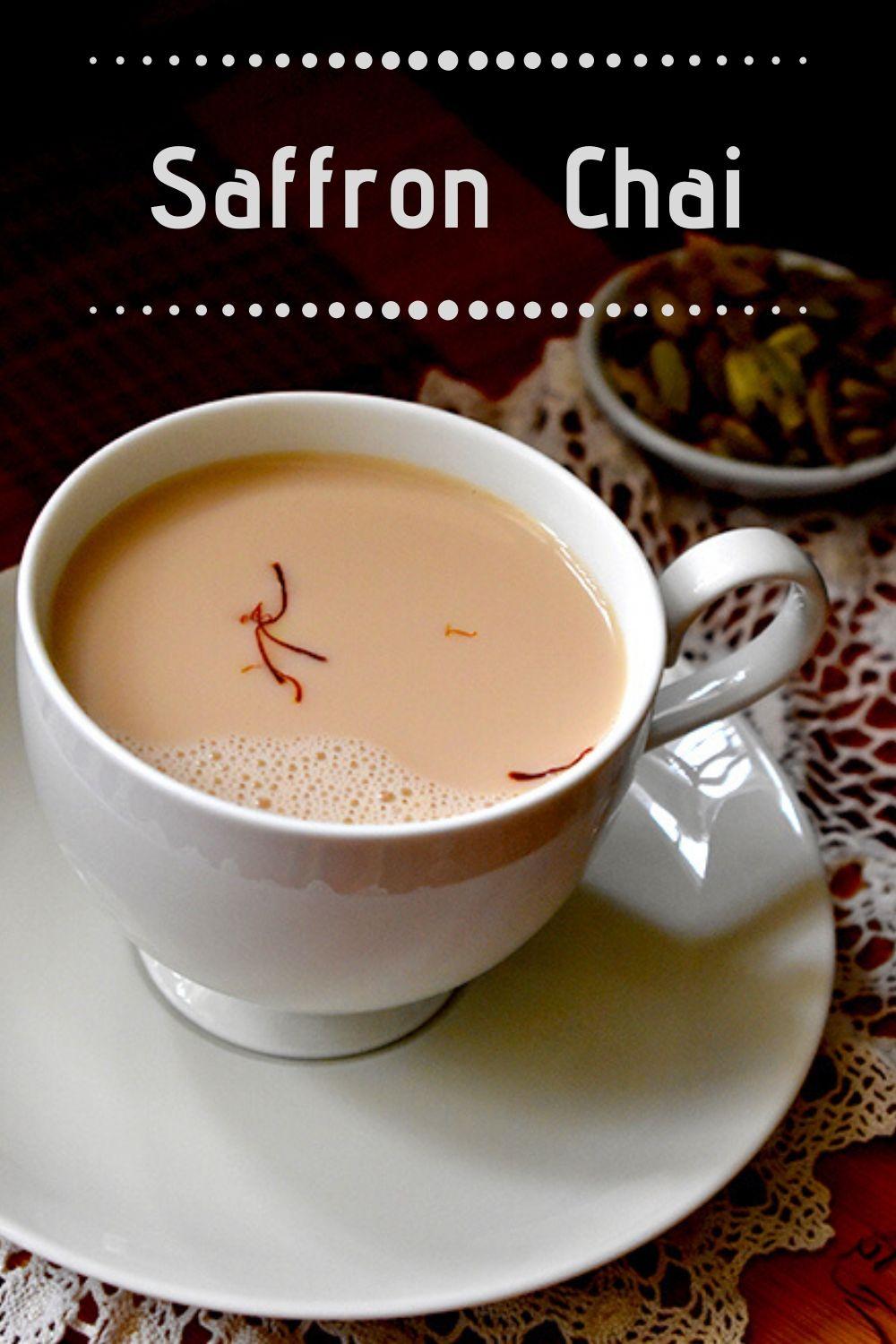 Latest posts by Amy Reiley
(see all)
Get on our mailing list
Subscribe and get our exclusive list of Six Great Sex-Boosting Snack Foods for FREE! Unsubscribe at any time.