Our articles may contain affiliate links. For more information, view our policies.
I first shared this vegetarian white bean chili recipe in my cookbook Romancing the Stove: the unabridged guide to aphrodisiac foods. It is my family's favorite chili recipe. Veggie Chili, or Veggie Chilli as the Brits call it, is really an American dish with Latin American root. My version is most definitely American-influenced but it also incorporates the Mexican use of cacao in savory dishes.
Some background on using chocolate in chili
A paste of ground, roasted cacao nibs, sugar and spices is frequently used in dishes from certain regions of Mexico. You can also buy pre-made Mexican chocolate disks that are made from stone ground, roasted cacao, sugar. cinnamon and, usually but not always, chiles. These are great for melting into hot milk to make an aphrodisiac version of hot chocolate.
Shop for Mexican chocolate online
For this easy vegetarian chili recipe I don't take the time to attempt to create the paste, or use Mexican chocolate disks. I prefer to control the amount of spice in the recipe and you can't do that with the disks. (Although they are fun for experimenting in other recipes!)
Instead, I use European-style dark chocolate along with the spices in an attempt to recreate the deep, rich flavor of Mexican chocolate in this veggie bean chili. The result is a slightly sweet, gently spiced, earthy flavor that makes everyone who tastes my white bean chili recipe ask for seconds.
TO TRY: Love a vegetarian recipe with some heat? Check out this Pumpkin Kimchi.
A vegetarian white bean chili for date night
Chili might not strike you as a date night dish. But I'd like to argue for a healthy chili recipe like this one as a prelude to a night of romance. I fact, I'd say this is one of my favorite vegetarian aphrodisiac recipes.
Why? For starters, there's the ingredient that gives this meatless white bean chili recipe its name. Chile peppers are considered among the world's most effective aphrodisiacs. That's because they raise body temperature and can cause the release of endorphins.
RELATED: Chile pepper benefits and aphrodisiac use
And then there's my signature ingredient, the chocolate. Chocolate is probably the best known aphrodisiac food in the world. And while some naysayers insist its power is only in persuasion, chocolate is one of the most complex foods. And it contains a number of compounds linked with mood, heart health and sexual arousal. So, although my meatless chili recipe might not sound like an aphrodisiac, it can be your secret weapon for seduction.
RELATED: The aphrodisiac benefits of chocolate
The secret ingredient in my vegetarian bean chili recipe
You might have thought chocolate was the secret ingredient in my chili. But no! Chocolate is in the title. How could that be my secret?
The key to my chili perfection (and as far as I'm concerned, this veggie chili is perfect), is acai berry. I add a touch of acai puree just before serving.
Acai is a super-fruit of the Amazon. In fact, it's considered one of the finest sources of antioxidants in the world. This super fruit of the rainforest also contain nutrients linked with improved cognitive function and anti-cancerous effects. And acai not only brings this amazing arsenal of nutrients to this healthy vegetarian chili recipe but it also enhances flavor. The addition of acai offers a subtle sweetness to the final flavor.
TO TRY: An easy cocktail recipe made with acai
White bean vegetarian chili variations for beef, turkey or vegan bean chili
Because a big bowl of chili can be a heavy dish, I've omitted meat from the recipe to keep it light. Lighter meals are best for a romantic evening. And as a general rule, eating more plant based foods supports a healthy environment.
However, if you really want a hearty chili, you can use ground beef or a combination of beef and turkey in place of the vegetable protein. But I don't recommend making this recipe with just turkey. This lean meat causes both the texture and flavor to be a little bit off the mark.
For vegan white bean chili
If you want to make the white bean chili vegan be sure to check the label on your ground soy protein to ensure that it is also a vegan product. You can use tofu instead but I find that it gives the cooked chili a mushy texture. In addition, make sure to use vegan chocolate.
Order vegan chocolate from Amazon
It's worth the effort. I think you'll find this to be one of the tastiest vegan white bean recipes you'll ever try.
If you're a meat lover, you're going to feel incline to make this easy vegetarian chili recipe with beans using beef instead of "mock meat." But I encourage you to try it with the the vegetarian protein, just once. Or, if it makes you feel better, try it the first time with half beef, half vegetale protein. I swear the meatless version of this chili is better than a version using meat. I promise, once you've tried the vegetarian version of my chili recipe, you won't want to mess with the results!
RELATED: Check out this incredible vegan bone broth alternative
A note on the beans in this vegetarian bean chili recipe
Lastly, if you're wondering whether you have to make this a white bean recipe, you do not. You can absolutely use any bean you prefer. I personally have an aversion to kidney beans. But I've made this vegetable bean chili recipe with pinto beans. It also makes a very nice black bean veggie chili.
I recommend adjusting the bean as well as the heat of chile pepper to match your personal taste. Or – better yet – personalize this easy veggie chili to match the favorite flavors of the lucky someone who will join you in enjoying this dish.
TO TRY: Check out all of my favorite soup recipes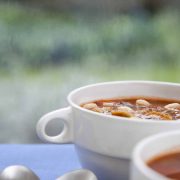 White Bean Chili with Chocolate
Print Recipe
This unique, vegetarian chili recipe from Amy Reiley's aphrodisiac cookbook Romancing the Stove, combines classic chili ingredients with the earthy notes of cocoa powder and chocolate and the sweet tang of acai fruit. 
Ingredients
2

tbsp

vegetable oil

1

small yellow onion

chopped

2

stalks celery

chopped

1

clove

garlic

finely minced

12

oz

soy ground meat substitute*

2

tsp-1 tbsp chile powder

1

tsp

ground cumin

1/2

tsp

powdered cayenne pepper

1 16

oz

can diced tomatoes

1 16

oz

can white beans

1

c

vegetable broth

1/4

tsp

dried oregano

1

bay leaf

1/4

c

pure acai juice or fruit purée

(optional)**

1

oz

bittersweet chocolate

grated (or chocolate chips)

1/4

tsp

cinnamon

salt to taste
Instructions
Heat vegetable oil in a large stockpot.

Sauté onions and celery until soft, about 3 minutes.

Add garlic and sauté for an additional minute.

Add ground soy, chile powder, cumin and cayenne and sauté for 1 minute.

Stir in tomatoes, white beans vegetable broth, oregano, bay leaf and acai juice or fruit purée. Bring to a boil then simmer, covered, for 2 hours, stirring occasionally. If chili gets too thick, stir in water 1/2 cup at a time until chili reaches desired thickness.

Remove bay leaf and stir in chocolate and cinnamon. Turn off heat and season with salt to taste before serving.
Notes
*You can use ground beef or turkey or a combination of the two if you prefer but you will get the optimal flavor and texture using the meat substitute. It makes superior chili, I swear! ** Acai juice can be found in the refrigerated section of health food grocers, or sold with the frozen foods as a pure fruit puree. If you can't find the ingredient, you can leave it out, but we think it is the key to this delicious stew.
If you like this easy white bean chili recipe, check out the rest of the recipes in Amy Reiley's award-winning cookbook Romancing the Stove
Pin this white bean chili with chocolate recipe:
FREE APHRODISIAC NEWSLETTER
Subscribe to our free aphrodisiac newsletter