Our articles may contain affiliate links. For more information, view our policies.
Maybe you thought it was an urban legend but you've probably had someone tell you to eat chocolate for better sex. But is chocolate an aphrodisiac? Well, the attraction to chocolate is deeply embedded in the history of Western civilization. But is chocolate actually linked to sexual arousal? Here's the whole truth.
The history of chocolate as an aphrodisiac
Let's start at the beginning.
Before the food we know today as chocolate ever existed, Mayans used cacao beans to pay for prostitutes in their early version of whorehouses. (The going rate was around eight beans per woman).
And the great Aztec ruler Montezuma was one of the first red-hot lovers to tap into the strengths of the aphrodisiac of chocolate. He reportedly consumed as much as fifty cups of a cocoa elixir before heading off to his harem.
The Spanish Conquistadors introduced chocolate to Europe. But despite cacao's early reputation, it was not introduced in Europe as a sexual stimulant. Chocolate was first enjoyed in Europe as a rich, hot drink.
Check out my favorite drinking chocolate
Yet at some point, chocolate got its reputation as a sexual stimulant back. In fact, text from the seventeenth century shows that by the Rococo period, "One obtained strength from chocolate for certain tasks." The pleasure principle was clearly understood during the Rococo period!
Is chocolate aphrodisiac?: evidence-based benefits
In the late twentieth century, Michael Liebowitz of the New York State Psychiatric institute proved that the phenylethylamine (PEA) in chocolate releases the same hormone as does sexual intercourse. There are those who object that the amount of PEA is too small to produce significant results.
Based on his findings is chocolate considered an aphrodisiac? To a degree, but many experts view it as a weak argument. However, it turns out there's so much more to chocolate than just PEA.
This sweet drug offers hundreds of additional chemical compounds. And it's believed that many of these compounds, not just the PEA, contribute to chocolate's appeal in the games of love.
Unfortunately, chocolate is among the world's most complex foods. So we may be a long way from understanding all of its effects on the body. (Incidentally, cheese also contains PEA and in far higher doses than are found in chocolate.)
That being said, researchers continue to explore a possible link between chocolate and sex. In 2006, a study published in the Journal of Sexual Medicine explored a possible link between chocolate and women's sexual health.
The results of this study were fairly inconclusive once age was factored in. But it did show an increased sex drive in women under 40 who ate chocolate daily when compared with women in the same age group who were not chocolate eaters.
There is also the notion that chocolate can reduce stress and by alleviating stress, pave the way for feelings of sexual arousal. According to a 2014 study, polyphenols in chocolate measurably reduce stress in women. This could be a real link between chocolate and sexual arousal since relaxation can be an important part of getting in the mood for sex.
Are there health benefits to dark chocolate?
Beyond the ways in which chocolate may (or may not) potentially increase sexual desire, there are benefits of chocolate that can impact sexual health. In fact, the benefits of chocolate, specifically dark chocolate, are impressive enough that I added this food of love to my list of the Best Foods for Women's Sexual Health.
So how can eating chocolate, (specifically dark chocolate), benefit our health?
For starters, aphrodisiac chocolate contains flavonoids. These antioxidants found in chocolate are from the same "family" as those in green tea and red wine linked with blood flow and overall heart health.
In fact, studies show that the antioxidant activity in one serving of cocoa is higher than that of either tea or red wine. The important thing to note is that the darker the chocolate, the more potent antioxidants it contains.
Check out my review of Scharffen Berger's 99% Cacao Dark Chocolate Bar
Dark chocolate is also a good source of fiber, magnesium, iron and manganese, as long as you're choosing chocolate that is 70% or more cacao. It also contains smaller amounts of selenium, potassium and zinc, all of which are nutrients important to sexual health.
Because of its nutritional makeup as a source of minerals including zinc, some chocolate lovers believe that eating chocolate for sex will increase blood flow and potentially improve erections in men and sexual satisfaction in women. As wonderful as that sounds, there is unfortunately no scientific evidence to support this claim.
And keep in mind that if you're eating milk chocolate, you are not going to get the health benefits of dark chocolate. That's because milk chocolate contains less cacao.
Read more about the nutritional benefits of cacao
Dark chocolate may improve mood
Although we may not be 100% sure that chocolate will put you in the mood, there is definitely evidence that it will put you in a good mood. Adam Drewnowski from the University of Michigan proved that eating this sweet candy of love produces natural opiates in the brain. This provides yet another insight into chocolate's feel-good reputation.
Further studies at the Neurosciences Institute in San Diego illustrated that three of the chemical compounds in chocolate act like THC. (This is the active chemical compound in marijuana.) As with marijuana, these chemicals spark dopamine production in the brain.
Unfortunately, according to research from the National Institute of Mental Health, a 130 lb person has to eat approximately 25 lbs in one sitting. Well, if they want to experience any marijuana-like effects, anyway.
That's probably too much chocolate consumption for most of us. And, frankly, eating that much chocolate on a regular basis would probably do little to improve your sex life. (We have to keep in mind that despite the fact that chocolate does offer health benefits, it is still a fairly high-calorie food with added sugar.)
Anyway, you need not risk diabetic coma to appreciate the aphrodisiac qualities of chocolate. Casanova, the legendary lover, touted the aphrodisiac of chocolate for its ability to provide energy for a night on the prowl. He also understood the allure of creamy, dark chocolate on craving-prone women. He was said to distribute gifts of chocolate to the women who caught his eye.
In fact, the great lothario declared dark chocolate's sweet, complex and sensual pleasure among the world's finest aphrodisiacs, second only to Champagne (another of the world's greatest aphrodisiac foods).
Recipes
Dark Chocolate Chunk Cookies with Fiori di Sicilia
Double Chocolate Cherry Brownies
Flourless Chocolate Almond Cake
Self-Saucing Chocolate Pudding
Hand-Rolled Dark Chocolate Truffles
(Almost) Healthy Chocolate Bark
Hot Chocolate with Peppermint Schnapps
Homemade Chocolate Almond Creamer
Discover more of the world's greatest aphrodisiac foods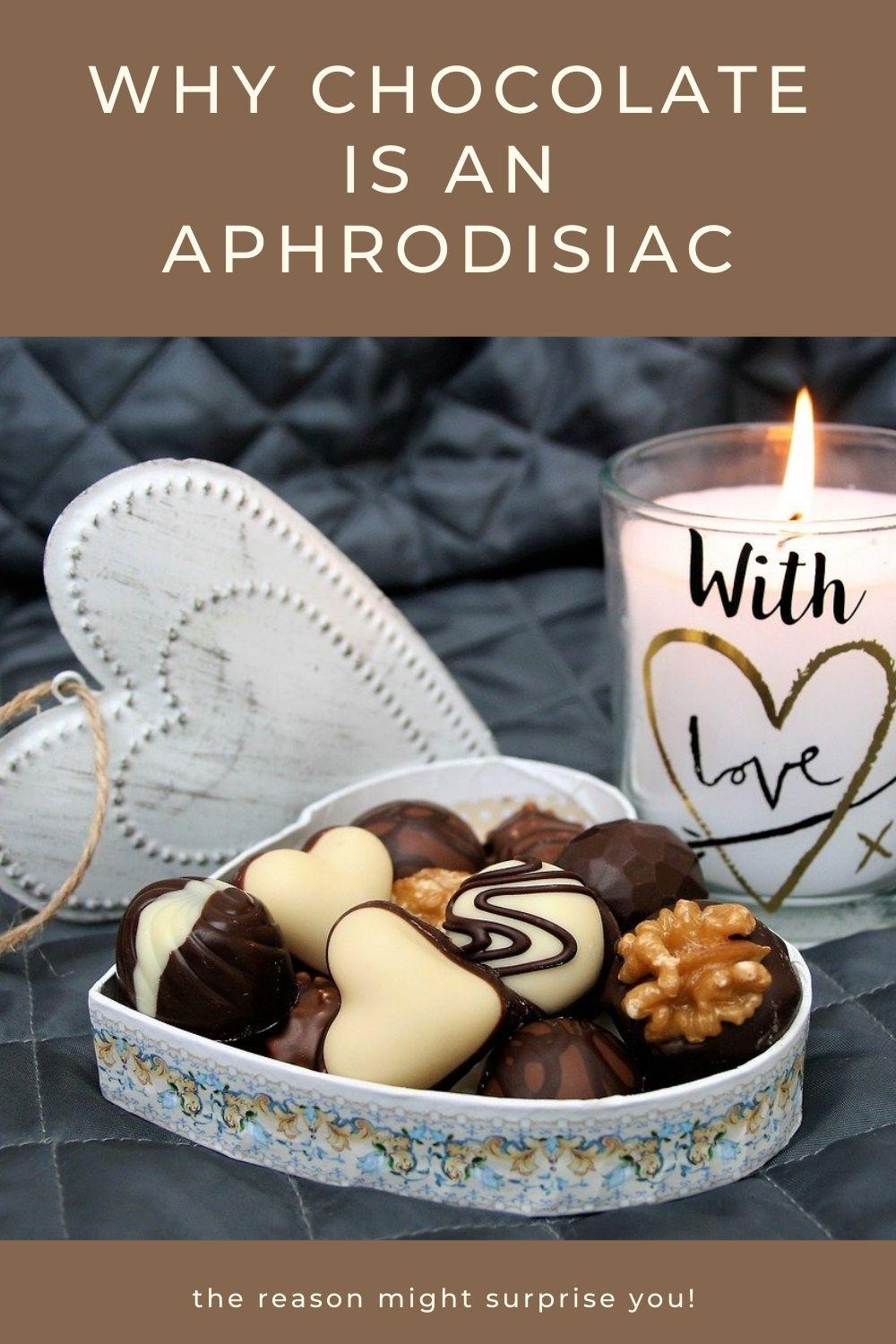 This article was written in 2010 and most recently updated in April 2022. 
Latest posts by Amy Reiley
(see all)
Get on our mailing list
Subscribe and get our exclusive list of Six Great Sex-Boosting Snack Foods for FREE! Unsubscribe at any time - privacy policy