Lychee & Chocolate Martini Recipe
Our articles may contain affiliate links. For more information, view our policies.
For a chocolate lover, a recipe featuring this dreamy ingredient is always one to try. And for some of us, the words chocolate combined with cocktail are like magic. So how could we pass up a chocolate martini recipe when it was offered to us?
A fun chocolate martini cocktail featuring dark chocolate liqueur
Many of our recipes are developed in our test kitchen. But we like to change it up. And when Marie Brizard, the makers of the Chocolat Royal liqueur we reviewed a few years ago asked us if we wanted a recipe for a chocolate martini, we didn't hesitate to say that was one we would happily try! (It goes without saying that our review of their chocolatey liqueur was five-star.)
But this is no ordinary chocolate martini. These chocolate martini ingredients include the spark of something tropical. And specifically, that something is lychee liqueur. Intrigued? We were when we first saw the recipe!
The chocolate vodka martini recipe calls for Soho lychee liqueur. Made in France from Asian lychee, it's a clear spirit with natural lychee flavor.
Shop for Soho on Drizly, the alcohol delivery service
Substitutions
If you are a fan of lychee flavor, you may want to try making your own lychee liqueur. You can use it later in lychee martinis. While we don't have our own recipe, The Spruce Eats offers this straightforward lychee liqueur recipe.
There are also substitutions for the dairy. You can use fat-free half and half if you want to cut a little calories and fat. The lychee and chocolate liqueurs are so decadent, you really won't miss the added fat. If you don't happen to have half and half on hand, one quick substitution is to use 1 tablespoon of melted butter whisked into 1 cup of milk.
We've not tried this chocolatini recipe using any non-dairy milks in place of the half and half. However, a popular substitute is 50% coconut cream with your favorite non-dairy milk substitute. Coconut cream does give the drink added flavor, but in the case of this tropical martini, we think that could be a welcome addition. If you try this sexy non-dairy substitute in this easy chocolate martini, let us know what you like.
TRY NEXT: A Creme de Cacao Cocktail
Choco Lychee Martini
Print Recipe
Ingredients
1 1/2

oz

Chocolat Royal

1/2

oz

Soho Lychee Liqueur

1/2

oz

vodka

1/2

oz

half and half
Instructions
Combine all ingredients in a martini shaker. Shake vigorously, pour into a chilled Martini glass. Garnish with tropical fruit, organic red rose petals or other edible flowers.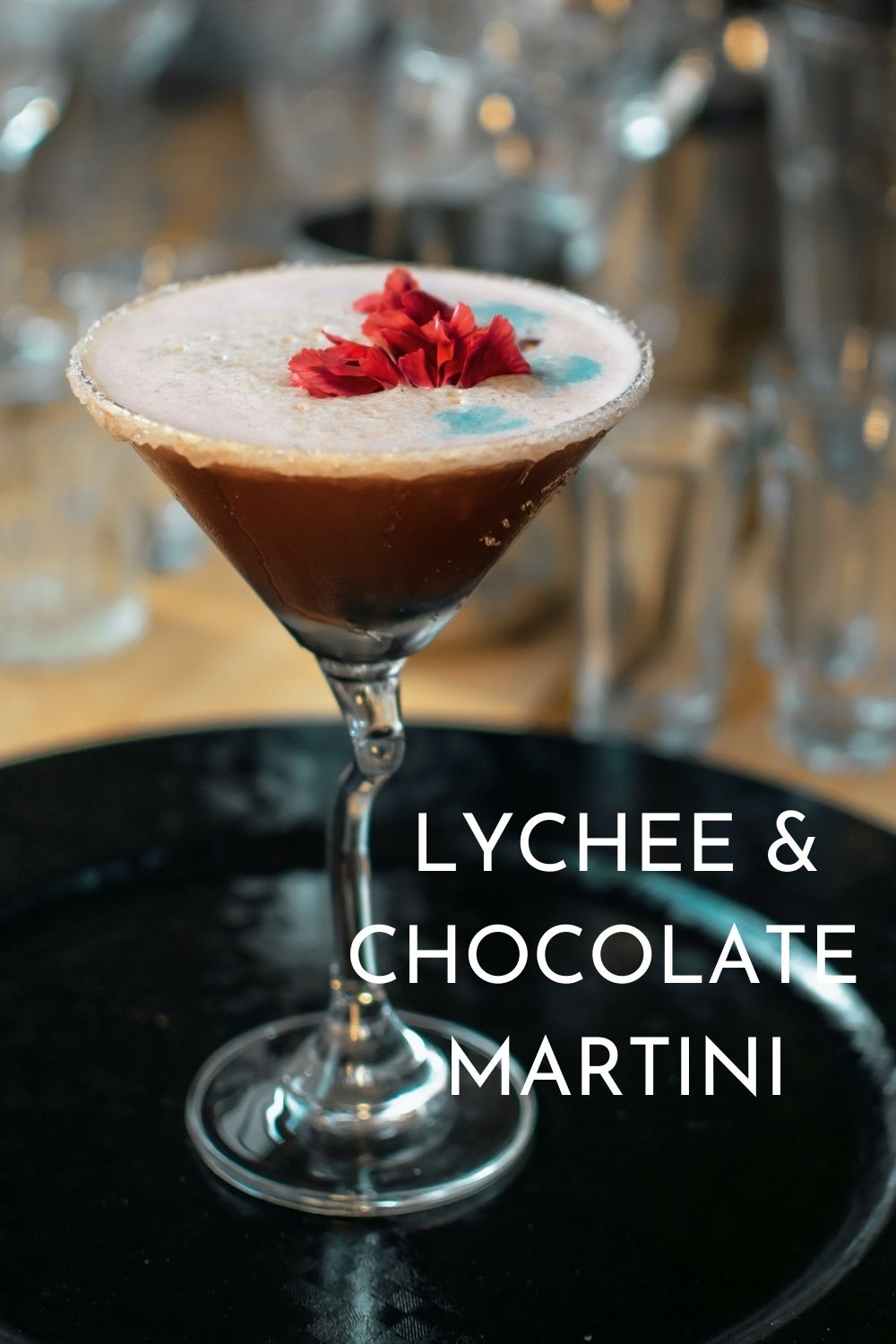 Get on our mailing list
Subscribe and get our exclusive list of Six Great Sex-Boosting Snack Foods for FREE! Unsubscribe at any time - privacy policy