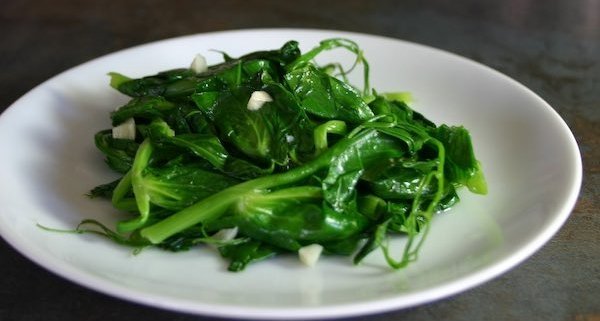 Our articles may contain affiliate links. For more information, view our policies.
I adore pea tendrils for their little corkscrew stems and tiny flower buds clinging to the vines. But mostly, I think, I enjoy these tender greens because the window of opportunity to enjoy their unique flavor only comes once a year.
What are pea tendrils?
Pea tendrils are among the gifts of springtime produce. They are the the young stems, leaves and curly tendrils of a pea vine. (You may also know them by the name pea shoots.)
They have a flavors that hints of sweet peas but more delicate. But their aroma is more like dewey, fresh cut grass. That have a very short season, so make this dish while they're available.
If you buy pea tendrils from a grocery store or farmer's market, plan to use them within 48 hours. These greens are delicate and won't last.
Love peas? Try this Italian Sausage and Pea Risotto recipe.
Uses for pea tendrils for vegans and meat lovers
In addition to sautéing, you can use them fresh in salads or toss into freshly drained pasta with a splash of olive oil and some salt. I once read that Alice Waters sautés her pea tendrils in duck fat. (This is the kind of cooking tip that sticks with you.) So if you have a spare jar of duck fat laying around, you might want to try swapping the olive oil in this recipe for the one of a kind richness of duck fat.
Peas and romance
If you're wondering if this unusual green is worthy of a romantic occasion, the answer is yes. Although I've found no direct references to pea tendrils as aphrodisiac, the fully formed pea does have a history as a food of love.
In fact, peas earned a mention in The Perfumed Garden as aphrodisiac. The reason is probably more nutritional than romantic. You see, both peas and their shoots are packed with nutrients essential to great love making, including vitamin C, folate and fiber.
Looking for more side dishes? Get inspired with our index of recipes.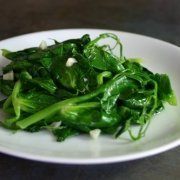 Garlicky Pea Tendrils
Print Recipe
This simple side dish recipe makes good use of a little-known spring vegetable.
Ingredients
1/2

lb

pea tendrils

1

tbsp

olive oil*

1

clove

garlic

finely chopped

salt and pepper to taste

1

tbsp

cold water
Instructions
Thoroughly wash the pea tendrils (Be thorough. These greens tend to attract bugs).

Heat the oil in a large saute pan. Add the garlic and saute until soft, about one minute.

Add the pea tendrils and saute for an additional 2-3 minutes. (The leaves should still be vibrant green but soft.)

Season with salt and pepper then remove pan from heat and mix in the water before transferring the tendrils to a serving dish.
Pin this recipe:
FREE APHRODISIAC NEWSLETTER
Subscribe to our free aphrodisiac newsletter