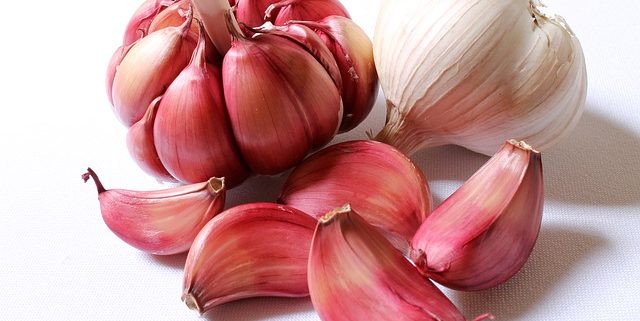 Our articles may contain affiliate links. For more information, view our policies.
When you hear that some foods are aphrodisiacs, the connection between that ingredient and romance seems pretty obvious. But others, like garlic, come as a complete surprise.
Is garlic aphrodisiac?
When I speak on aphrodisiac foods and I get to the topic of garlic, most people stop me to ask, "Is garlic an aphrodisiac?" My short answer is always a resounding, "Yes!"
It's true! The use of garlic as an aphrodisiac is supported both by history and scientific investigation. However, unlike many aphrodisiac foods, there is one condition to using garlic as an aphrodisiac. You see, unlike most aphrodisiacs, garlic is one that both lovers must eat for its magical properties to manifest the powers of romance.
The reason? Well, that's probably obvious but I'll explain just in case. It's no mystery of science or magic but one of common sense. A whiff of (maybe not so) aphrodisiac garlic breath is about as arousing as the smell of a zoo on a hot, summer day. The only antidote is to partake with your lover in the feast of sweet stink. This way, you numb your senses to any unappealing odor.
RELATED: Pheromones & the scent of attraction
The history of aphrodisiac garlic
The ancient Romans clearly weren't put off by the pungency of garlic breath. According to Temptations: igniting the pleasures and power of aphrodisiacs, in ancient Rome, it was believed that garlic stimulated the penis. And a garlic juice drink was served as an aphrodisiac elixir.
But the belief that garlic was a bringer of sexual pleasure reached far beyond the culture of ancient Rome. According to the Talmud, (the text of rabbinic Judaism), garlic increased passion and fertility. It is believed that the tie between garlic and procreation is the reason for the prominence of garlic in traditional, Jewish cooking.
However, some religions discouraged the ingestion of garlic. At one time it was forbidden for Buddhist priests to eat garlic because of its potential power to stimulate unwanted sexual desire.
RELATED: Mustard Aphrodisiac & Health Benefits
Proven health benefits
Beyond its reputation as an aphrodisiac food, the benefits of garlic are many. In fact, it seems like there are theories that garlic can cure just about anything.
This is also true, to some extent, of the other members of the allium family. Alliums also include leeks, chives, onions and shallots.
Some proclamations about the curative benefits of garlic could be a little thin on truth. But here are some of garlic's benefits that are recognized as effective. As we start to examine the science, it becomes easier to understand the nutritional benefits that make garlic aphrodisiac.
In France, garlic is boiled in pungent soup as a treatment for the common cold. And although this may have started as a folkloric treatment, the scientific community supports the claim. In one double-blind study, daily garlic consumption reduced the rate of common colds by 63%. That alone may be the reason for you to start consuming more garlic!
How does garlic help sexually?
The health benefits of garlic are all well and good and history would lead us to believe that garlic is an aphrodisiac but fighting colds and boosting sex drive are two very different things. So what makes garlic an aphrodisiac?
For starters, garlic is also proven to help lower LDL cholesterol. (LDL is the "bad" kind of cholesterol.) And it appears to be most effective on individuals with high cholesterol.
Although this doesn't immediately impact your sex life, it does affect your heart health. And a healthy heart keeps the blood pumping and makes sexual arousal possible. So next time you consider your cholesterol, remember the effect it can have on your sex life!
RELATED: Ginger Aphrodisiac & Sexual Benefits
If the fact that garlic may reduce bad cholesterol isn't enough to sell you on the fact that this pungent allium could help your sex life, there are a few facts about garlic and health that relate specifically to sexual health.
There is an enzyme in garlic called alliinase. It is released when garlic is chopped or crushed. It results in a compound called allicin, which improves blood flow.
There's much talk about how allicin can potentially help men. But allicin is thought to increase sexual desire by increasing blood flow to the sex organs, which is beneficial to women as well as men.
Garlic benefits to women sexually
Another way garlic benefits women sexually is by boosting nitric oxide levels.
Nitric oxide helps blood vessels dilate. This benefit is noted for helping improve exercise performance but nitric oxide also regulates blood flow to the sex organs.
We often talk about how improved blood flow can help men to increase sexual arousal. But increasing nitric oxide levels can help women achieve sexual pleasure. One study in 2002 found that garlic temporarily boosted nitric oxide within one hour of consumption.
More sexual benefits
This aphrodisiac is surprisingly nutritious, although most of us don't eat garlic in large enough quantities to make a significant impact.
But it does offer trace amounts of several nutrients important to your sex life–sexual nutrition necessary for women's sexual health as well as men's. These nutrients include vitamin C, vitamin B6, iron, potassium, selenium and manganese. And you might be surprised to learn that garlic is also a source, (although marginal), of fiber and protein.
There are other benefits of garlic specific to men's health and sexual attraction. There are so many, in fact, and some are quite surprising, that we've named garlic one of the 10 Best Foods For Men. So if you're interested in finding natural boosters for men's sexual health, you'll want to read my article on why garlic is one of the best foods for men.
A sexy scent?
This may be the most surprising link between garlic and sex:
Maybe you're one of those picky eaters who tend to shy away from stronger of culinary smells. But if you are, you might want to chew on this: A scientific study proved that the chemical substance creating aphrodisiac garlic's aroma, (the one that lingers in the air and also creates garlic breath), is one of the chemicals present in female sexual secretions.
Cooking and recipes
Garlic may have been used medicinally for centuries but it is also a favorite ingredient of chefs. Garlic offers a distinctive, faintly sweet and pungent flavor. When finely chopped, its flavor distributes exceptionally well throughout the whole dish. This is part of the reason chefs around the world reach for garlic as a flavoring agent in so many savory dishes.
To help inspire you to use more garlic in your own cooking, here are some of my favorite recipes featuring this aromatic ingredient:
Easy, Oven-Roasted Dungeness Crab
Pan-Seared Tilapia Fish Tacos with Asian Slaw
Rosemary and Garlic Lamb Loins
Braised Chicken with Orzo and Olives
Spanish Mussels in Sailor's Sauce
Vegetarian Chili with Chocolate
Roasted Broccoli with Black Garlic
Brown Rice Salad with Leeks, Golden Beets & Kale
Discover more of the world's greatest aphrodisiac foods
This article was written in 2010 and most recently updated in February, 2021.
Latest posts by Amy Reiley
(see all)