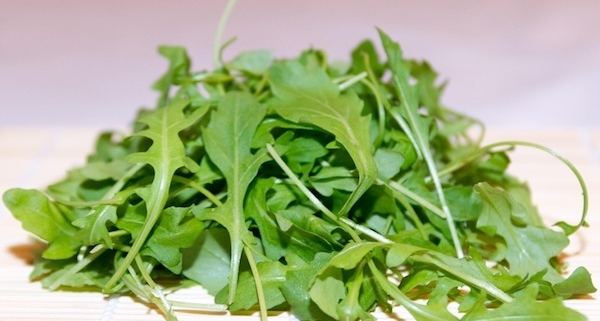 Arugula's history as an aphrodisiac
Arugula, or rocket as the saucy Brits call it, was a popular aphrodisiac among the ancient Romans and ancient Egyptians. This mildly peppery green was quite often associated with Priapus, a minor Roman god of fertility.
Today most proponents of arugula downplay the natural aphrodisiac properties, promoting the lettuce instead as an aid for digestion.
Some surprising health benefits of arugula
Arugula is also said to help clear the mind. And although neither a clear mind nor healthy digestion  specifically improves or supports sexual hormones, they are both attributes that promote the right mood for romance. This leafy vegetable from the cruciferous family, (in other words, it's a relative of broccoli), is also noted for its ability to freshen breath.
The nutrients in arugula
But arugula is also a bit of a powerhouse when it comes to the nutrients necessary for a thriving sex life. It is rich in vitamins A and C, which are essential for sex hormone production. In addition, it delivers many minerals that are important to put the body in its sexual prime. Its a source of zinc, excellent for promoting good blood flow to the nether regions, as well as sex-aiding minerals magnesium and potassium. It's also a source of folate, which is important for fertility. This is primarily true for women. Although at one time it was thought that folic acid could improve sperm counts, further investigation revealed that folate appears to have little influence over men's fertility.
In addition, arugula contains beneficial polyphenols. These polyphenols are linked with brain health. (This might help explain its reputation for clearing the mind.) And they're also thought to benefit heart health. So eating this leafy green could potentially keep your mind nimble and your heart pumping. Isn't that reason enough to nosh on this tender, spring green?
Just taste this delicate yet spicy lettuce and there should be no question of its natural aphrodisiac abilities.
Discover more of the world's greatest aphrodisiac foods
FREE APHRODISIAC NEWSLETTER
Subscribe to our free aphrodisiac newsletter