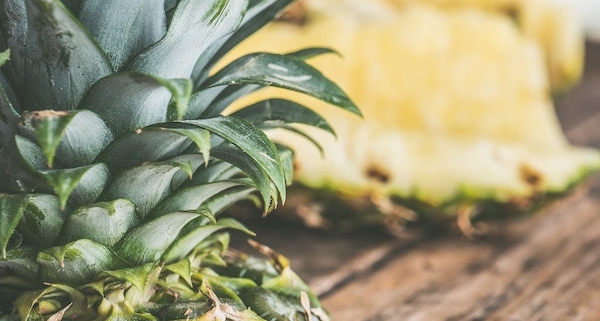 Our articles may contain affiliate links. For more information, view our policies.
As a noted authority on aphrodisiac foods, I get many questions about specific ingredients. But one that consistently comes up, particularly when men question me is, "Is pineapple aphrodisiac?" Everyone is pleased to hear that my answer is, "Yes!" Pineapple is known historically as an aphrodisiac for a variety of reasons. And it turns out, the fruit is packed with nutrition to benefit your sex life. Here's a closer look at the benefits of pineapple sexually and the surprising ways even just the appearance of pineapple might be a turn-on for some. (Make sure you read all the way to the end!) 
The top 7 pineapple benefits sexually
Pineapple is an incredibly nutritious and fairly low-calorie food. And that's really the key to why the fruit is known for giving the sex life a boost. Here are the seven best ways pineapple benefits women and men when it comes to sexual health.
1. It is packed with nutrition for sexual health
In order to better understand the potential of pineapple to improve your sex life, it's important to understand the incredible amount of nutrition beneficial to sexual health that this tropical fruit delivers. A 1-cup serving of raw pineapple contains:
2.3g fiber
.9g protein
78.9mg vitamin C
.1mg thiamin
29.7mcg folate
.8mg niacin
.5mg iron
.2mg zinc
19.8mg magnesium
180mg potassium
.2mg copper
1.5mg manganese
RELATED: Nutrition for Sexual Health
2. It improves blood flow
This fruit is loaded with vitamin C. A one-cup serving provides about 88% of the DV for vitamin C. Vitamin C is a powerful antioxidant that can help strengthen your immune system. This antioxidant is also proven to fight inflammation.
How is this going to help you sexually? Well, vitamin C's ability to reduce inflammation is linked with improving blood flow. And without healthy blood flow, sexual arousal and climax can be difficult if not impossible. (Make no mistake, this is a benefit for women as well as men. After all, without healthy blood flow, women are unable to reach climax.)
3. It's anti-aging
The antioxidants in pineapple not only help support good blood flow but antioxidants fight free radicals, which means they can slow the visible signs of aging. In other words, they help us look and feel our most vibrant. This, in turn, will make you feel your sexiest. Don't we all want to feel like our best selves?
Another important point, according to at least one study, a combination of several antioxidants also raises serum sex hormone totals. So they may also serve as a fountain of youth for your sex life!
4. It could be a cure for impotence
Beyond being a standout source of vitamin C, this tropical fruit is a very good food source of manganese. And this could be where pineapple gets its reputation for fighting erectile dysfunction. Manganese is well known as essential for the health of human libido, particularly for men. In lab studies, manganese deficiencies caused a lack of seminal fluid.
So the fact that one cup of pineapple provides the body with 76% of the recommended daily intake of manganese is significant when it comes to men's health.
But there are more reasons men may want to enjoy pineapple. In fact, there are enough pineapple benefits for men's health that Eat Something Sexy nutrition director Delahna Flagg and I dedicated an entire article to it and even named pineapple one of the 10 Best Foods for Men.
5. It improves sex hormone production
According to Nature's Aphrodisiacs,  several nutrients in pineapple are important to healthy sex hormone levels. This includes the minerals magnesium and manganese. In fact, a manganese deficiency is linked not only with impotence as I touched on earlier but with a loss of sex drive. And the vitamin C in this tropical fruit is linked with sex hormone synthesis.
Pineapple is also a source of bromelain. (Bromelain is a mixture of enzymes found in pineapple). Bromelain is linked with muscle recovery and testosterone production. In fact, in one controlled trial, bromelain supplementation was associated with maintaining testosterone circulation in elite athletes.
A delicious snack of fresh pineapple chunks will give you all of these nutrients – not bad for a tasty treat! Keep in mind that although we most often talk about sex hormone deficiencies when it comes to men, this is a benefit of pineapple for women, too.
6. It may improve fertility
In recent years pineapple has become a popular fertility food for women. But it isn't a plate of juicy pineapple wedges that are thought to improve chances of conceiving, it's the core. Yes, there's a school of thought that eating pineapple core after ovulation will improve a woman's chances of getting pregnant. However, according to IVF specialists, there's no scientific evidence that it works. But if you enjoy eating pineapple core, go for it!
7. Pineapple might make you horny
Pineapple offers a remarkable number of nutrients to boost sexual health and possibly even sexual pleasure. But will eating pineapple turn you on? Probably not, unless tart and tangy fruits generally stir a fire in your loins. If you want an aphrodisiac food with an immediate, physiological effect, pineapple is not your fruit.
That being said, pineapple does have some possible mood-elevating properties. The thiamin in pineapple is linked in clinical studies with improved mood and better energy. But will pineapple make you horny? The best answer is maybe. Any food that helps put you in a good mood and has the potential to increase sexual stamina will open the doors to the possibilities of passion.
What does pineapple juice do sexually?
And as for that thing you've probably been wondering about since the start of this article…If a man drinks pineapple juice, will it improve the experience (or flavor) of the bodily fluids involved in one particular oral act? Yes, just like pineapple, pineapple juice is an aphrodisiac. But there are a few myths we need to clear up.
Effects on semen
There is absolutely no scientific research to substantiate the claim that pineapple juice will make semen taste better. That being said, everything a man eats will impact the pH of semen, which ultimately will change what it tastes like, even if it is ever so slightly. According to Men's Health, the acidity of pineapple may work to tone down the bitter flavor of semen.
Benefits to women
It's been said that drinking pineapple juice can also improve the scent of women's private parts. But I've not found one gynecologist to support the claim that drinking pineapple juice (or eating pineapple for that matter) will sweeten the scent of a woman's vagina. It is possible that the acidity of the fruit makes a subtle, positive change but it isn't going to leave a woman's private parts smelling like an aphrodisiac garden.
Of course, pineapple does contain several nutrients that help promote vaginal health, including vitamin C and fiber. And foods that help keep the lady parts healthy are essential to feeling (and smelling) your best down there. But you'll get greater benefits from eating fresh pineapple than drinking juice.
How long does it take for the juice to work sexually?
Some noted authorities in this area, including adult film actress Annie Sprinkle, have weighed in on the subject. Maintaining that the fruit impacts pleasure during oral sex, Sprinkle recommends a man consume fresh pineapple or juice a few hours before this type of intimate exchange of body fluids. That seems like pretty sound advice.
Fun FAQ about this sexy fruit
What does pineapple and honey do sexually?
I've started getting questions about combining pineapple with honey. Although both foods are considered aphrodisiacs and contain many nutrients to support sexual health, I'd never heard of combining the two for added benefits. So I did some digging. An internet search revealed that eating pineapple dipped in honey became a trend on TikTok, as a supposed new way to make your vagina smell sweeter and/or make semen sweet.
Unfortunately, just like with the use of pineapple juice to make oral sex tastier, there's no scientific backing to this claim. As with drinking pineapple juice before sex acts, it could be true that this food combination will reduce bitterness in sexual secretions. But it certainly is not going to transform the eater's nether regions into an aphrodisiac paradise.
What does pineapple represent sexually?
There is one other interesting piece of pineapple lore. Although the fruit was known as a symbol of hospitality in the United States since the 17th century, it seems to have…err…sprouted a new symbolic meaning.
Though I wouldn't exactly consider this a reason to classify pineapple as aphrodisiac necessarily, this exotic fruit is now the symbol of swingers. That's right, the pineapple you once displayed outside your front door now announces you, at least to a small portion of the population, as celebrating a certain type of sexual freedom. Because this association lends nothing to sexual desire or your ability to perform sexually, I'm inclined to dismiss it as urban lore. But I suppose if you're into swinging, seeing a pineapple lamp in a front window could be a turn-on.
Is it an aphrodisiac?
Since we're on the topic of pineapple lore, let's dive into how this fruit became known as a food of desire in the first place. You might be surprised to learn that the fruit has had its sexy reputation for a very long time.
The earliest use I can find for pineapple beyond a tasty, tropical fruit is as a symbol of hospitality. The pineapple was introduced into European culture shortly after Columbus "discovered" the New World. Foreign and exotic, the fruit was embraced as a status symbol because those who could afford it possessed a certain level of wealth. It's fair to say that it was a lusted-after fruit. How's that for a food of desire?
According to The Aphrodisiac Encyclopaedia, pineapples were sometimes rented out for the night as a suggestive topper to a fruit display and returned, whole and untouched, to the owner the next morning. As is often the case, this luxury food was quickly linked with sexual desire. But those who consumed the tropical fruit discovered that it seemed to give the eater a boost in the bedroom. And this sexy reputation certainly adds a spark to a night of romance.
How do you select a pineapple?
Pineapple is wonderful when eaten fresh and raw, just the way it is. When purchasing a fresh pineapple, look for a fruit with healthy green leaves. Ripe pineapple is often a golden color but a pineapple with a greenish hue can actually be ripe, too. A ripe pineapple should give ever so slightly when you squeeze it. And it should give off a lovely, sweet smell near its base. A pineapple farmer once gave me a tip that the most flavorful pineapples are the ones with the largest scales on their bumpy skin.
What are the best ways to serve it?
This is a great fruit for blending into smoothies and cocktails. It's also a fun fruit to grill. You can also broil it, sprinkled with a little brown sugar. If you're looking to increase your pineapple intake, don't forget about Hawaiian pizza!
Here are more great cooking ideas for using pineapple:
Saffron Cheesecake with Sauteed Pineapple
Pineapple Teriyaki Sauce
Green Tea Rum Punch
Are there side effects to eating pineapple?
Although pineapple is a tasty treat for most of us, this fruit is not without its side effects. Because it is a high-acid food, it can make the eater's mouth sore or tender if they consume too much. Additionally, the bromelain in pineapple is associated with a few side effects, including:
Overconsumption of this tropical fruit can potentially cause a buildup of too much manganese in the body. However, it is unlikely to get too much manganese from just eating fruit.
Lastly, there is such a thing as a pineapple allergy. Consult your doctor about a possible allergy to pineapple if you experience mouth itching or burning or an anaphylactic reaction after eating the fruit.
What happens if you put a pineapple upside down in your shopping cart?
And apparently, if you put a pineapple upside down in your shopping cart, you're sending the message that you're a swinger shopping for sexual partners in the produce aisle. At least one radio station is convinced enough of this symbolism that they felt the need to warn their supporters on their website. I can't say that I've ever tested the theory myself but it does make me wonder what you're conveying if you show up at someone's house with a pineapple upside-down cake!
Discover more of the world's greatest aphrodisiac foods
This article was written in 2010 and most recently updated in April 2023.
Disclaimer: Please note that the information provided in this article is intended for informational purposes only and not to replace medical care. It is important to consult your physician before making dietary changes. More information
Latest posts by Amy Reiley
(see all)
Get on our mailing list
Subscribe and get our exclusive list of Six Great Sex-Boosting Snack Foods for FREE! Unsubscribe at any time - privacy policy