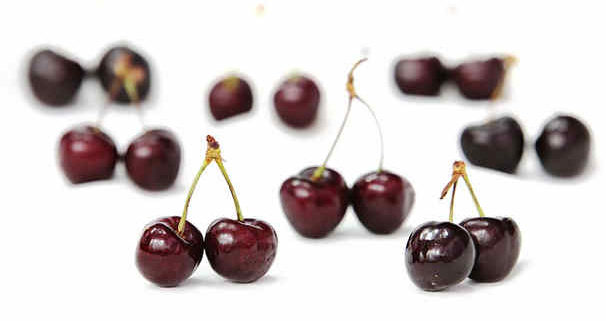 The aphrodisiac power of the cherry
Behind its glistening, ruby sheen, the ripe flesh of the cherry bursts forth with a plentitude of nutrients key to performance.
In spring, cherries from Ranier to Bing take wildly entice from grocers' shelves across the nation. Only available for one short season, the cherry's scarcity adds to its attraction.
Invite a shining pint full to take that a tumble from the shelf into your grocery cart and carried home with care to protect the claret fruit's delicate skin.
Pop those cherries in the freezer then roll them across your lovers' skin in fine, 9 1/2 Weeks
fashion. Or simply place a bowl, piled high at the bedside, awaiting the occasion for a naughty midnight feast.
Often mingled with chocolate, cherries become an exotic ingredient in otherwise mundane desserts. They transform traditional chocolate cake into something so sophisticated it deserves a name like Black Forest. And of course, what would that sundae be without the cherry on top?
Little did your mama know when she ordered you your first Shirley Temple, that childhood mainstay made from ginger ale and grenadine topped with a plump Maraschino
that cherries are loaded with sexual stimulation. Certain cherries, those with more musky scents, are said to stimulate pheromone production. They also offer a little potassium, essential for producing sexual hormones. Cherries' antioxidants keep skin radiant and their quercetin content has antihistaminic attributes, a wonderful aid to physical exertion.
FREE APHRODISIAC NEWSLETTER
Subscribe to our free aphrodisiac newsletter