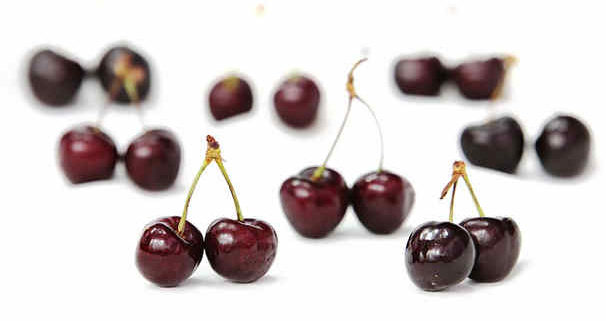 Our articles may contain affiliate links. For more information, view our policies.
A sex symbol of the food world
Behind its glistening, ruby sheen, the ripe flesh of the cherry bursts forth with a plentitude of nutrients key to sexual performance. Get ready to discover all the benefits of cherries.
In spring, favorite varieties from Ranier to Bing cherries turn grocers shelves shades of pink and crimson, calling shoppers with their glossy skins and promise of sweet flesh. Only available for one short season, the cherry's scarcity adds to its attraction.
Invite a shining pint full to take that a tumble from the shelf into your grocery cart and carried home with care to protect the claret fruit's delicate skin.
The aphrodisiac benefits of cherries
Little did your mama know when she ordered you your first Shirley Temple, that childhood mainstay made from ginger ale and grenadine topped with a plump Maraschino
that cherries are loaded with sexual stimulation. Certain cherries, those with more musky scents, are said to stimulate pheromone production.
And although they don't get the same kind of attention for their health benefits as do blueberries, cherries are a source of antioxidants. Although the concentration of antioxidants varies by variety, it's safe to say that all cherries posses anti-inflammatory compounds.
Inflammation can interfere with your heart's activity and can inhibit blood flow. But fighting and or reducing inflammation helps to ensure both heart health and sexual health by promoting blood flow. (This is essential for experiencing arousal and sexual climax.)
Cherries may also keep you looking your best. These tiny fruits offer vitamin C, which promotes healthy, glowing skin. And, of course, the same antioxidants that will help keep your heart pumping are associated with fighting the visible signs of aging. So a potential benefit of cherries is that they'll keep you looking and feeling young!
Want great skin? Check out the benefits of castor oil. 
Additional health benefits of cherries
These little stone fruits are a source of several other vitamins and minerals, including potassium, which is essential for producing sexual hormones. This might be one of the biggest cherry benefits for men. Additionally, their quercetin content has antihistaminic attributes. This isn't directly beneficial to your sexual health but this benefit of cherries could help you feel good.
Another one of the benefits of cherries is their potential to improve athletic performance. In a controlled study using endurance runners, it was revealed that eating cherries increased race times.
A second study, this time using active women who were not professional athletes as the test subjects, revealed that cherry juice improved recovery time from athletic activities.
Fun serving suggestions
Pop those cherries in the freezer then roll them across your lovers' skin in fine, 9 1/2 Weeks
fashion. Or simply place a bowl, piled high at the bedside, awaiting the occasion for a naughty midnight feast.
To enjoy the benefits of cherries in winter, try this recipe for Wine-Soaked Dried Cherries.
Often mingled with chocolate, cherries become an exotic ingredient in otherwise mundane desserts. They transform traditional chocolate cake into something so sophisticated it deserves a name like Black Forest. And of course, what would that sundae be without the cherry on top?
Discover more of the world's greatest aphrodisiac foods
FREE APHRODISIAC NEWSLETTER
Subscribe to our free aphrodisiac newsletter