Easy and Gluten-Free Chocolate Cherry Brownies: A Scrumptious Recipe
Our articles may contain affiliate links. For more information, view our policies.
This intense, decadent and fudgy brownies recipe is so easy and so good! It's one of my go-to recipes from my cookbook Eat Cake Naked: aphrodisiac desserts to heat up your love life. I can't believe I'm giving it away for free but I just think that everyone needs to try this one. If you like extra-chocolatey, chewy, fruity, nutty brownies, you have got to try this chocolate cherry brownie recipe.
Why you're going to love this dark chocolate brownie recipe
What makes this recipe different from other cherry chocolate brownies? This dessert recipe represents everything a great recipe should. It is simple enough that anyone can follow it. Yet the flavor offers complexity and intensity from the balsamic-soaked dried cherries and the dark chocolate chunks, which are in my opinion, far superior to your average sweet chocolate chips.
Then there's texture from the soft, perfectly moist batter, the surprise of chewy cherries and the crunch of nuts. And you get all of these texture sensations in one seductive bite. But best of all, these brownies are made with chickpea flour – they are entirely wheat-free. This means they have an added bonus of protein and fiber and chickpea flour makes these brownies naturally gluten-free. You know you want to make this brownie recipe!
How to make fantastic double chocolate brownies that are naturally gluten free
Making a brownie gluten-free is relatively simple. You just use chickpea flour, also called garbanzo bean flour instead of wheat flour. It is a nutrient-dense flour made from ground, dry chickpeas. And chickpea flour happens to be naturally gluten-free. (Here's the nutritional breakdown of garbanzo flour from USDA FoodData Central if you're curious.)
Using chickpea flour in baking
You can make your own garbanzo flour at home with a Vitamix blender or a grain mill. But I prefer to just buy the packaged Bob's Red Mill organic garbanzo bean flour. To use it in this brownie recipe, just follow the instructions below.
The ground chickpeas not only add great weight and texture to the brownie batter but they bring a faint, earthy note that helps keep the brownies from becoming too sweet. Of course, that's what they do to the flavor profile. From a health standpoint, they add protein and fiber where there would be none if you use bleached, white flour.
However, keep in mind, if you're going to try using chickpea flour as a substitution in other baking recipes, that this flour is denser than white flour and you will need to adjust the amount used or you will wind up with cakes and cookies that feel like lead.
Try our Flourless Chocolate Cake recipe
Important tips for making the best chocolate cherry brownies
Choosing the best cocoa powder for brownies
This dark chocolate cherry brownie recipe calls for high fat cocoa powder. To make the best brownies, it is critical that you find a good cocoa powder. A cocoa bean is about 50% fat. Most of that fat is extracted during processing into cocoa powder. But all cocoa powders still have some fat, between about 10 and 24%. Most grocery store brands have around 10% but a high fat cocoa powder has over 20%. Why does it matter? Because the more fat in the cocoa powder, the more richness it will bring to your baking. It also helps ensure moisture.
Using Dutch processed cocoa powder
If you need a recommendation for a great cocoa powder, this one from Valrhona is amazing. You'll notice that it's a Dutch process cocoa powder. You don't necessarily need to choose a Dutch processed cocoa for this recipe but some people prefer it for the darker color. (Dutch processing removes some of the acidity from the cacao. This tends to result in denser, fudgier baked goods. So keep that in mind when baking if you prefer fudgy brownies.) Here's some additional information on Dutch process cocoa powder that I find helpful.
Choosing dried cherries to use in brownies
For this brownie recipe, I use dried, not fresh cherries. I cherries I prefer are simply identified as "dark cherries." But you can use any dried sweet cherries you like, such as these dark, sweet cherries. Just make sure not to buy tart cherries. I find they are too tangy for this recipe.
To soften the dried cherries to give them the right texture, I soak them in balsamic vinegar. The cherries will absorb a hint of the vinegar's acidic bite, but not too much as they only soak for a short time.
How to make gluten free vegan brownies
One final note about this cherry and chocolate brownies recipe, it's one that can easily be tailored to a plant-based lifestyle. The most important step is finding an outstanding vegan chocolate to use for the chocolate chunks. Once you have the right chocolate, just use a vegan butter substitute in place of the butter and use a plant-based egg substitute. Alternatively, you can replace the eggs with silken tofu. It just depends on the texture you prefer. (To use the tofu as a substitute for eggs, estimate one-quarter cup of pureed tofu for each egg.)
Lastly, make sure that your sugar is vegan-friendly, (in other words, a sugar that isn't processed with bone char).
RELATED: Looking for more vegan chocolate recipes? Try this Chocolate Mousse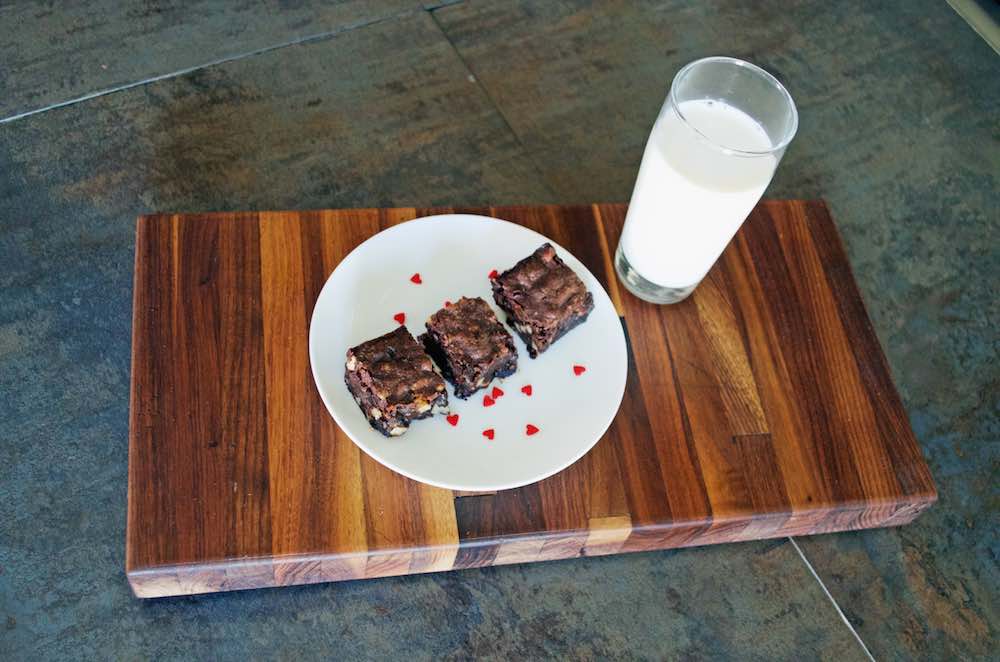 Why this is the sexiest brownie recipe
As you may have guessed since this recipe for brownies with cherries is from a cookbook called Eat Cake Naked, this is a baking recipe designed for seduction. Which means that it is layered with aphrodisiac ingredients.
For starters, there are tangy, dried cherries soaked in balsamic vinegar. The cherries help give the brownies moisture and an added chewy texture as well as their sweet tang. Best of all, they're historically aphrodisiacs. (And they're simply a sexy food if you ask me.)
Then there are the walnuts for crunch and to keep the brownies from tasting too sweet. Of course, walnuts are also among the world's greatest aphrodisiacs. (Tree nuts, including walnuts, are linked with improving male sex drive and energy.)
And do I even need to highlight the signature ingredient? Chocolate, as I'm sure you already know, is an aphrodisiac of ancient repute. But by using dark chocolate, this chocolate cherry brownies recipe increases the aphrodisiac benefits. That's because the darker the chocolate, the greater the antioxidant content. You can learn more about all the health potential of dark chocolate in my dictionary of aphrodisiac foods.
Will baking these sexy brownies for your partner start a fire of passion? Why don't you bake a batch and find out!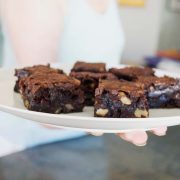 Super Sexy Balsamic Cherry Chocolate Brownies
Print Recipe
One glance at the ingredients and you might be tempted to shelve this recipe as too weird to try. Don't do it. If you like brownies, you need this recipe in your life. Seriously, it's one of the most seductive, toe curling, taste bud-pulsating recipes in the history of chocolate recipes. Do not shy away from the balsamic. It's a sweet vinegar with a caramel quality that brings complexity to this, and many, desserts. Don't be afraid of the garbanzo flour. Used here, it is simply an alternative to white flour with a few bonus health benefits--and it makes the brownies gluten-free, so double bonus. Although it may feel like you're putting together a crazy concoction, this combination of ingredients results in some of the moistest, rich brownies with a depth of chocolate flavor you just don't get from a typical recipe. There's no question about the fact that these are sexy brownies!
Ingredients
1/2

cup

dried dark cherries

1/4

cup

balsamic vinegar

1/2

cup

unsalted butter

1/2

cup

high-fat cocoa powder

1

tsp

vanilla

1

cup

roasted walnuts

chopped

1

cup

sugar

1/4

cup

garbanzo flour

(chickpea flour)

1/4

tsp

salt

2

lg eggs

5

oz

dark chocolate baking chunks

substitute with dark chocolate chips
Instructions
Preheat your oven to 325 degrees.

Roughly chop the dried cherries into halves or quarters. Put them in a small bowl and bathe them with the balsamic. Let them rest while you make the brownie batter.

In a small saucepan over medium heat, melt the butter. When the butter is melted, remove from the heat and whisk in the cocoa powder until you have a smooth river of chocolate goodness.

Stir in the vanilla and allow the mixture to cool slightly.

In a medium mixing bowl, combine the walnuts, sugar, flour and salt. Stir in the chocolate mixture.

Crack the eggs one at a time into a separate bowl and add them to the brownie batter. Stir until just combined.

Strain the balsamic from the cherries then fold the cherries, along with the chocolate chunks, into the batter.

Pour the mixture into a greased 8-inch x 8-inch pan.* Note: the batter will be thick.

Bake in the center of the oven for 30-35 minutes until the top is just set. Be careful not to overbake—these are ultra-ooey, gooey brownies.

10. To cut, dip your knife in hot water then cut through the brownies. This will help prevent sticking, as these brownies are super moist and luscious.
Notes
*If you're planning to serve the brownies at a party, instead of greasing, line the pan with parchment, making sure to leave it hanging over two opposite sides, as though you're making handles. (Because you are.) When the brownies have cooled, transfer the pan to the freezer for 10-15 minutes. Remove pan from the freezer and carefully lift the parchment, holding both sides as though you have two handles, and transfer the brownies to a cutting board. The time in the freezer will have helped the brownies firm up long enough for you to cut them neatly without totally freezing them.
A note on the provided nutrition information
The nutrition information provided has been estimated by an online nutrition calculator and is not a substitute for a professional nutritionist's advice.
Nutrition
Calories:
232
kcal
|
Carbohydrates:
25
g
|
Protein:
4
g
|
Fat:
14
g
|
Saturated Fat:
7
g
|
Polyunsaturated Fat:
4
g
|
Monounsaturated Fat:
3
g
|
Trans Fat:
0.2
g
|
Cholesterol:
36
mg
|
Sodium:
58
mg
|
Potassium:
159
mg
|
Fiber:
2
g
|
Sugar:
19
g
|
Vitamin A:
345
IU
|
Vitamin C:
0.1
mg
|
Calcium:
48
mg
|
Iron:
1
mg
Love the recipe? Get the whole cookbook! Eat Cake Naked is available for download from Amazon and all other major ebook retailers.


Pin this unforgettable chocolate and dried cherry brownies recipe: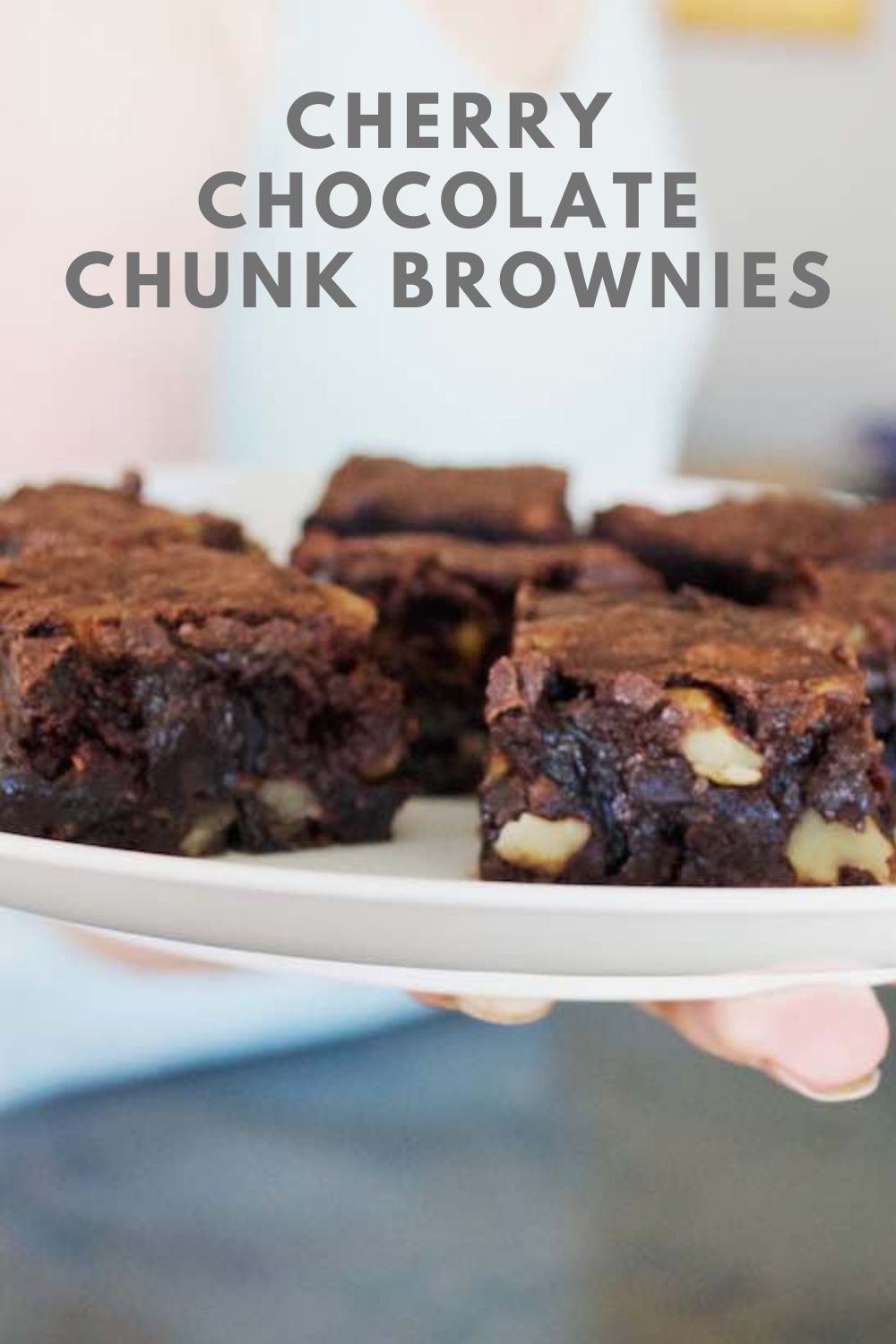 Latest posts by Amy Reiley
(see all)
Get on our mailing list
Subscribe and get our exclusive list of Six Great Sex-Boosting Snack Foods for FREE! Unsubscribe at any time.