Lavender Butter Cookies Recipe
Our articles may contain affiliate links. For more information, view our policies.
The butter cookie is like the blank canvas of the cookie world. You can keep it simple and pure. Or you can dress up your butter cookies recipe with more looks and flavors than you can probably even imagine.
We like this particular twist on the classic butter cookie from cookbook author Jill Silverman Hough because it adds an aphrodisiac element to this simple treat. In addition, it offers the opportunity for artistic expression, with its drizzle of pale, purple icing.
The use of lavender blossoms gives this butter cookie recipe an air of romance, which makes it a top contender for our favorite homemade Valentine's Day gift. (For another one of our favorite Valentine's treats, check out this recipe for homemade chocolate truffles.) But their floral element also makes them the cookie I want to bake to celebrate the first bud break of spring. And during the hot summer months, when the weather just feels too warm for hot chocolate pudding or double chocolate brownies, these cookies feel like a refreshing choice of treats.
The aphrodisiac power of lavender
Lavender is symbolic of romance and it is also an aphrodisiac of historic repute. Learn more about the aphrodisiac powers of lavender. In addition to a reputation as aphrodisiac, lavender is also noted for helping to improve sleep. And it also shows potential in reducing blood pressure. (See Jill's recipe notes for some of her other favorite culinary uses for dried lavender flowers. Just be sure you purchase culinary lavender
, meaning that it's lavender that has been expressly packaged for use in cooking.)
Some baking tips from this butter cookies recipe's creator
Jill Silverman Hough, author of 100 Perfect Pairings, comments on her lavender butter cookies recipe,  "These easy-to-make, easy-to-love cookies are inspired by a day of wine tasting that included a visit to the achingly-beautiful Matanzas Creek Winery and their bountiful lavender garden."
Jill advises, "After shaping the Lavender Butter Cookie dough into two logs, I usually freeze one of them. That way, a second batch is even easier to make—just thaw, slice, and bake."
Lavender Butter Cookies
Print Recipe
Ingredients
For the cookies:
3

cups

all-purpose flour

1

tbsp

dried lavender flowers

see note below

1/2

tsp

baking powder

1/2

tsp

salt

1

cup

2 sticks unsalted butter, softened

1

cup

sugar

1

large egg

1 1/2

tsp

pure vanilla extract
For the Royal Icing:
1

cup

confectioners' sugar

1

large egg white

see note below

1/4

tsp

lemon juice

Food coloring

optional
Instructions
For the cookies:
In a medium bowl, combine the flour, lavender, baking powder, and salt. Set aside.

In the bowl of a stand mixer using the paddle attachment or in a large bowl using a hand mixer, cream together the butter and sugar. Add the egg and vanilla, beating until smooth. With the mixer on low speed, add the flour mixture, stirring until just combined.

Turn the dough out onto a lightly floured surface and divide it in half. Shape each half into a log, about 1 3/4 inches in diameter and 8 inches long. Wrap the logs plastic and refrigerate for at least 1 hour. (You can refrigerate the logs as long as overnight, or freeze them for up to several months. Thaw, if necessary, before proceeding.) (For the cookies in the photo, I squared off the log, for square-ish cookies.)

Preheat the oven to 375°F. Line baking sheets with parchment.

Cut the logs into 3/8-inch slices. Arrange the slices on the prepared baking sheets, about 1/2-inch apart. Bake until just beginning to turn golden at the edges, 11 to 13 minutes. Place the baking sheets to a cooling rack and cool thoroughly before decorating with royal icing (recipe below), if you like. (For the cookies in the photo, I also sprinkled on some silver decorating dust.)
For the royal icing:
In the bowl of a stand mixer using the whisk attachment, a large bowl using a hand mixer, or a medium bowl using a whisk, combine the sugar, egg white, and lemon juice on slow speed, mixing until thick and smooth.

Color the icing as desired. Use a pastry bag or a resealable bag with a corner snipped off to drizzle the icing over the cookies.
Notes
A note on lavender: Dried lavender flowers are available at specialty food stores and in the bulk dried herbs and flowers section at many natural food stores. Besides using them in this recipe, you can sprinkle them into other baked goods and over roasting poultry. You can also mix them into a dried herb blend called herbes de Provence.
About the Royal Icing: This icing is purposefully thin enough to drizzle. If you want stiffer icing, use 1 1/2 to 2 cups of sugar. If you're concerned about using raw egg whites, substitute with the equivalent amount of dried egg whites and water.
Pin this Lavender Butter Cookies recipe: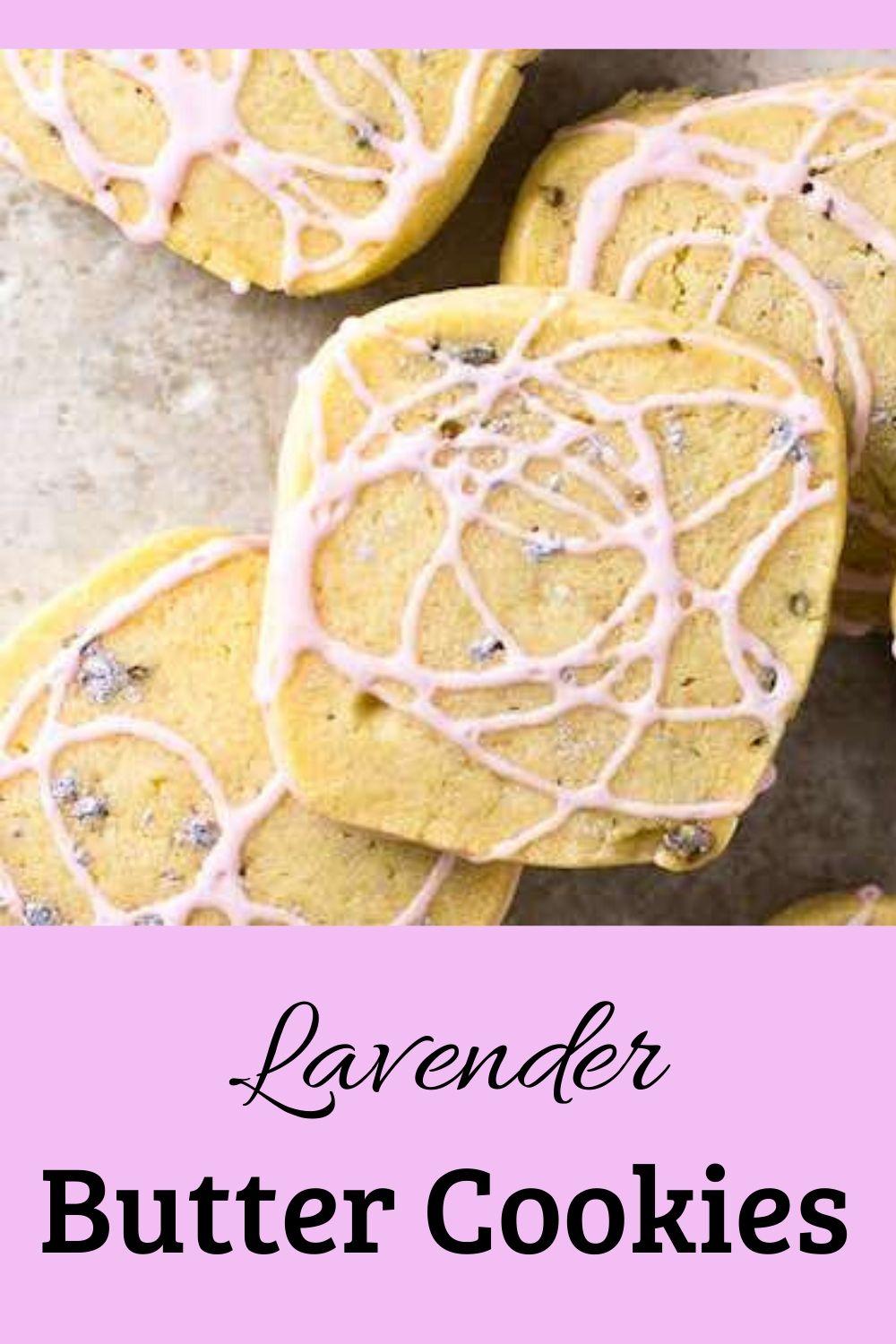 Butter Cookies photo by Jill Silverman Hough
Love Jill's Recipes? Get her latest book:
Latest posts by Amy Reiley
(see all)
FREE APHRODISIAC NEWSLETTER
Subscribe to our free aphrodisiac newsletter