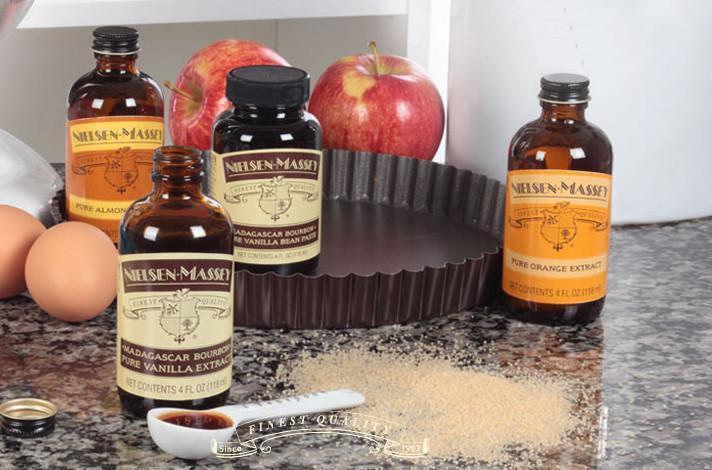 Nielsen-Massey Natural Flavorings Make Baking Better
Natural flavorings from real ingredients
We love Nielsen-Massey organic vanilla extracts. We have for years. And we've always loved flavoring Champagne with a drop of their rose water. (Get our recipe here.) But the vanilla specialists also have an entire line of flavored natural flavorings. We've tried several and we're impressed with how these extracts develop flavor of baked goods and sweets.
We love that the line of extracts is all-natural and the variety is broad. The natural flavorings include bottled essences of chocolate, coffee, almond, lemon, orange, peppermint, orange blossom water and rose water. (There are also organic versions available of the peppermint, lemon, almond and orange extracts).
And although you can get extracts in many of these flavors at your average grocery store, we're choosing to feature this brand's extracts because they're truly a cut above. Each of Nielsen-Massey's natural flavorings is made with premium botanicals and other high-grade ingredients. The almond extract, one of our favorites in the line, makes a great example. It's made from pure oil of bitter almond in a base of alcohol. (One thing that's important to note: all of Nielsen-Massey's natural flavorings use alcohol as their liquid base.)
Other favorites in this line of natural extracts include pure chocolate and coffee. These flavorings give intensity and richness to ice creams, brownies and aphrodisiac cocktails. Orange blossom and natural lemon extracts add a hint of citrus to both savory and sweet dishes. (We actually can't get enough of the lemon, which adds the fruit's brightness without an acidic bite.)
When to use natural extracts
Natural flavorings can be among a baker's best tools. They can lend a subtle supporting flavor to most baked goods. For example, this recipe for Chocolate Chocolate Chip Cookies uses both vanilla and almond extracts to elevate the complexity and intensity of the cookie's flavors.
But you don't have to follow a recipe to enjoy the flavors of Nielsen-Massey's extracts. Just pull out your favorite vanilla cake recipe and try layering the flavor with the essence of oranges. (Remember to start small when adding layers of flavor. Try half a teaspoon and see if the result is the robustness of flavoring you're looking for.) Add a hint of peppermint to your chocolate cake, turn your favorite chocolate buttercream into chocolate-coffee buttercream or maybe bring a touch of the exotic by adding rosewater to your gingerbread.
A bit of background on the maker of our favorite natural flavorings
Nielsen-Massey was founded in 1907 to create aromas for cleaning products. About 10 years later, they added the manufacturing of vanilla products to their repertoire. And then in the 2000's, they added this line of natural extracts in a variety of flavors. In other words, this is a brand with over 100 years of history in the business of aromatics and natural flavorings. They really know what they're doing.
FREE APHRODISIAC NEWSLETTER
Subscribe to our free aphrodisiac newsletter