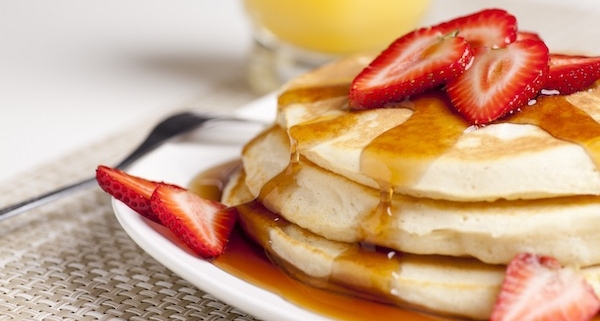 Strawberries 'n' Cream Buttermilk Pancakes for Two
Our articles may contain affiliate links. For more information, view our policies.
Aside from the fact this this is simply the best buttermilk pancakes recipe of all time, this is makes outstanding buttermilk pancakes for two. Whether you're making them for a brunch date at home or surprising your lover with breakfast in bed, these pancakes are a sure thing.
Why this is the best buttermilk pancake recipe
I love buttermilk pancakes in general but this recipe has a remarkably fluffy texture and just the right tang. And these fluffy buttermilk pancakes are exactly what I want someone serving me for breakfast in bed.
Chef Bradford Kent of Olio Pizzeria and Café created this recipe for my third cookbook, Romancing the Stove: the unabridged guide to aphrodisiac foods.Although Kent is known for his chewy, glutinous, thin-crust pizza doughs, he's a master of all baked goods, including buttermilk pancakes.
Why make pancakes with buttermilk?
Why does buttermilk make superior pancakes? The acidity in buttermilk gives the baking soda a bit of a jumpstart. This makes for the fluffiest pancakes. (And, as I touched in in my introduction, the flavor of buttermilk gives the pancakes a little added complexity of flavor.)
The trick to making fluffy pancakes
So why does this buttermilk pancake recipe call for baking soda and baking powder? Because if you used just baking soda, the flavor–a sort of metallic tang–would come through in the final pancakes. So to create a balance of texture and flavor, Kent's recipe uses a little of both.
Homemade buttermilk pancakes for breakfast, lunch or dinner
Although we've categorized this buttermilk pancake recipe under breakfast recipes for search purposes, the comforting flavors and textures of buttermilk pancakes from scratch works any time of day.
Whether you're craving pancakes at noon on Saturday or love the simplicity of serving flapjacks for an easy dinner idea on a Wednesday night, this easy recipe offers just what you're craving. I love making them for dinner. The addition of extra strawberries and maybe a side of bacon, (an aphrodisiac), make the meal stick to the ribs until morning.
Why these are pancakes for two
And if you're wondering if this buttermilk pancake recipe is the right dish for a romantic occasion, of course it is! It came from my aphrodisiac cookbook, after all. Imagine waking to the sight of your lover holding out a tray of warm pancakes, still crisp on the edges and steaming in the center.
So what makes these pancakes aphrodisiac? Obviously, the main ingredients in buttermilk pancakes would never be classified as aphrodisiac. In fact, except for a splash of vanilla, the pancakes ingredients aren't really aphrodisiac at all. With these pancakes, it's all in how you top them and how they're served.
It's easy to build a romantic breakfast in bed–or even dinner in bed–by adding a cup of hot coffee on the side. The contrast of the bitter, caffeinated brew against the sweet fluff of the pancakes is one of those flavor combinations that awakens the senses.
RELATED: Coffee – Aphrodisiac & Health Benefits
Consider adding a side of whipped cream, in which you can dip each bite of hotcake before hand feeding it to your lover. Then, of course, there's the strawberries. Crimson red symbols of romance, their aphrodisiac history is of legendary repute. Lastly, don't skimp on the maple syrup. Because believe it or not, this sticky, viscous elixir is also an aphrodisiac ingredient in the arsenal of love.
Don't miss any of my favorite pancake recipes
Sultry Strawberries 'N' Cream Buttermilk Pancakes for Two
Print Recipe
This is sure to become your go-to pancake recipe. You won't believe buttermilk pancakes this good are this easy. 
Ingredients
1

vanilla bean

split lengthwise

1

cup

whipping cream

2

tbsp

powdered sugar

sifted

1 1/2

cup

all-purpose flour

1/2

tsp

salt

2

tsp

baking powder

2

tsp

baking soda

3

tbsp

granulated sugar

pinch

cinnamon

2

lg eggs

3/4

cup

nonfat milk

3/4

cup

buttermilk

1

tsp

vanilla extract

1/4

cup

vegetable oil

1

cup

strawberries

thinly sliced

maple syrup
Instructions
Chill the bowl and whisk of an electric mixer.

Scrape the pulp from 1/2 the vanilla bean, reserving the rest for another time. Add it to the chilled bowl along with the whipping cream and powdered sugar. Whip until the cream forms soft peaks. Refrigerate until serving.

In a medium-size mixing bowl, combine flour, salt, baking powder, baking soda, sugar and cinnamon.

Whisk eggs in a large mixing bowl. Add in milk, buttermilk, vanilla and vegetable oil, mixing until thoroughly combine. Fold in the flour mixture and allow batter to rest for 10 minutes.

Heat a griddle or heavy skillet over medium heat until it is hot enough to make a few drops of water scatter before evaporating. Brush griddle with vegetable oil and ladle 1/4 c batter onto the skillet for each pancake.

Cook until they bubble on top, about 2 minutes. Flip and cook until golden.

For the sultry experience, feed pancakes to each other straight off the griddle, topping each (or each other) with strawberries, freshly whipped cream and a drizzle of maple syrup.
Pin this buttermilk pancake recipe: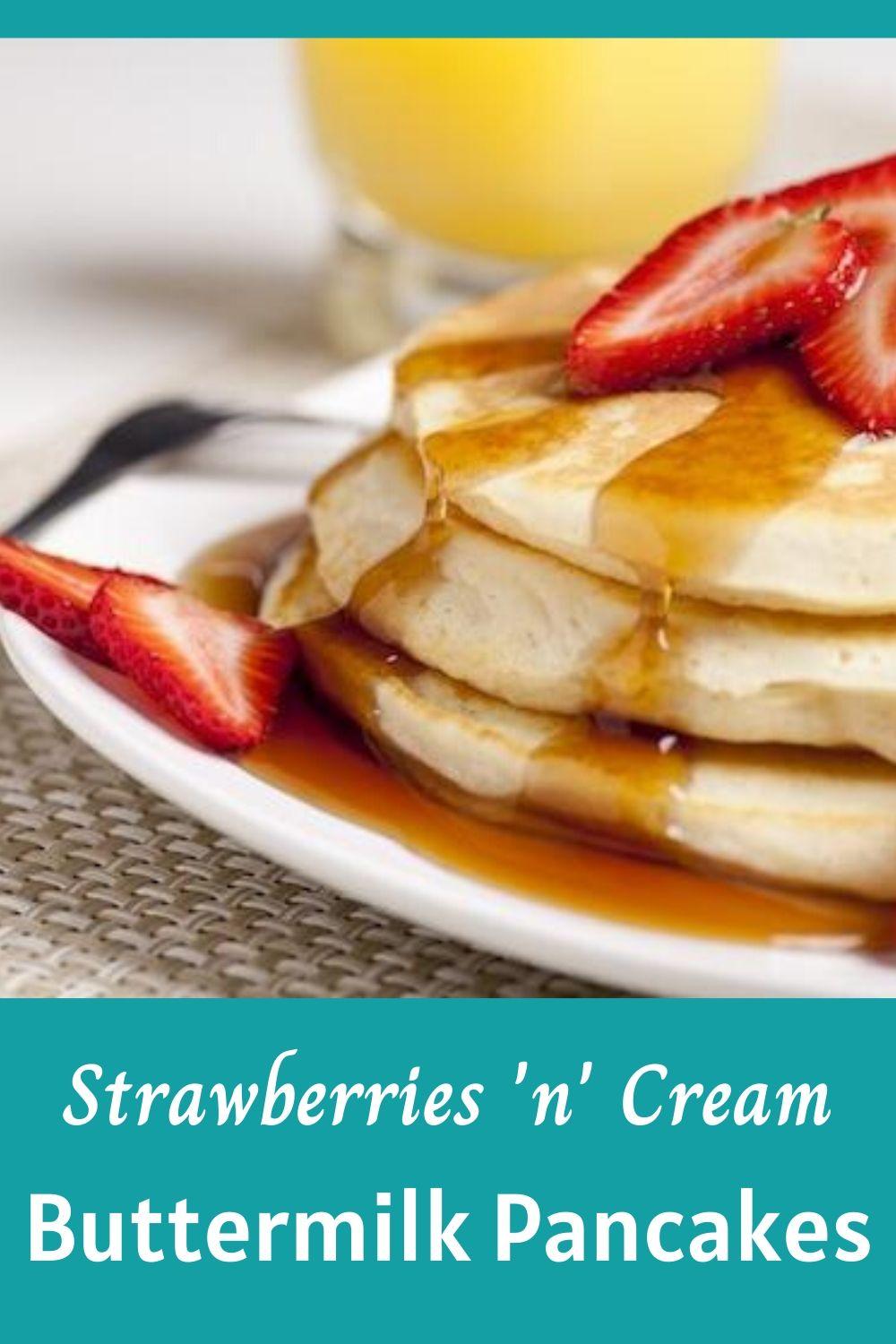 For more of my  aphrodisiac recipes, check out Romancing the Stove: the unabridged guide to aphrodisiac foods:
FREE APHRODISIAC NEWSLETTER
Subscribe to our free aphrodisiac newsletter