Our articles may contain affiliate links. For more information, view our policies.
A perfect little red heart, the aphrodisiac strawberry is an edible Valentine. Not surprisingly, strawberries have a long history as an aphrodisiac food. In ancient Rome, the strawberry was a symbol of Venus. And in the French countryside, there was once a tradition of serving newlyweds cold strawberry soup to help promote honeymoon romance. But are there actual strawberry benefits sexually? Oh yes, it turns out this fruit has the potential to push your sexual power to the next level.
Why strawberry is considered an aphrodisiac
Based on the amount of lore I could find linking strawberries and sex, you would think this is the most aphrodisiac fruit of them all. And who can dispute the sensuality of this member of the rose family? (In case you were wondering, raspberries and blackberries are also related to roses.)
In medieval Europe, strawberries were considered a symbol of good living. At the time, it was thought that the fruit had to be cooked to reap the benefits. And so it was boiled with spices to make a sort of jam.
At one point, it was decided that strawberries were surely aphrodisiacs because the crimson fruit wears its seeds on the outside. This might be my favorite reason for considering strawberries as aphrodisiac fruits.
But if you like that one, here's another great tale of strawberry lore for you:
I don't know how much truth there is in the matter but I recently heard a charming story about the use of wild strawberries. Apparently, there is a Bavarian practice of tying baskets of wild strawberries to the horns of cattle as an offering to elves. The elves, in return, ensure that the cows would soon bear healthy calves.
It's a bit of a ménage a trois from an aphrodisiac perspective, but then, who doesn't get turned on in the presence of wild strawberries?
But folklore is not the only reason we associate strawberries and sex. Among the many gifts of this pretty and lightly sweet fruit are nutritional benefits that may help keep the body in prime form for sex.
Strawberry benefits sexually
From a nutritional standpoint, there's plenty to love about strawberries. And there are many nutritional benefits to help define them as aphrodisiacs.
According to the USDA's Fooddata Central, a 100g serving of strawberries contains:
65% DV vitamin C
17% DV manganese
2g fiber
They also contain traces of several other nutrients beneficial to sexual health including potassium, magnesium, vitamin E and several B vitamins in an incredibly low-calorie package.
May improve blood flow
The hefty dose of vitamin C strawberries serve up may increase blood flow. (A one-cup serving of strawberries offers more than 100% of the daily value of this important vitamin.) Good blood flow not only helps to make for a healthy heart. Without good blood flow, sexual arousal and climax aren't possible.
RELATED: The Benefits of Cherries
By the way, vitamin C is also thought to promote the production of estrogen. And this isn't the only benefit strawberries provide for women's health. In fact, strawberries make our list of the 10 Best Foods for Women.
Supports libido and fertility
Some of the minerals found in strawberries are known to support a healthy sex drive, including magnesium and potassium. This means you can help support your libido while enjoying this sweet treat.
The fruit is also a source of folate. Although folate won't increase sexual desire, it is noted as one of the most important nutrients for couples trying to conceive. Strawberries also contain several antioxidants beyond vitamin C that are linked to heart health. And without a strong heart, sexual arousal and performance become difficult.
How to serve this aphrodisiac fruit
As far as I'm concerned, one of the most aphrodisiac qualities of strawberries is that these fruits are perfect shape and size for dipping in chocolate. This makes them ideal as a simple tool of seduction. To make aphrodisiac chocolate-covered strawberries, warm milk or cream to a simmer. Remove it from heat and gently fold in premium, dark chocolate. Serve it warm as a chocolate fondue.
One of my favorite ways to use strawberries is tossing them in balsamic vinegar, as they are used in this strawberry-topped almond cake recipe.
Strawberry shortcake is one of my favorite desserts featuring aphrodisiac strawberries. Serve with ample whipped cream behind a locked bedroom door.
Recipes
Warm Strawberry Crumb Cake
Greek Yogurt, Lemon and Chia Seed Biscuits with Strawberries
Easy Strawberry Chia Pudding
Classic French Fruit Tart
Almond Cake with Honey Balsamic Strawberries
North & South Bourbon Cocktail
Discover more of the world's greatest aphrodisiac foods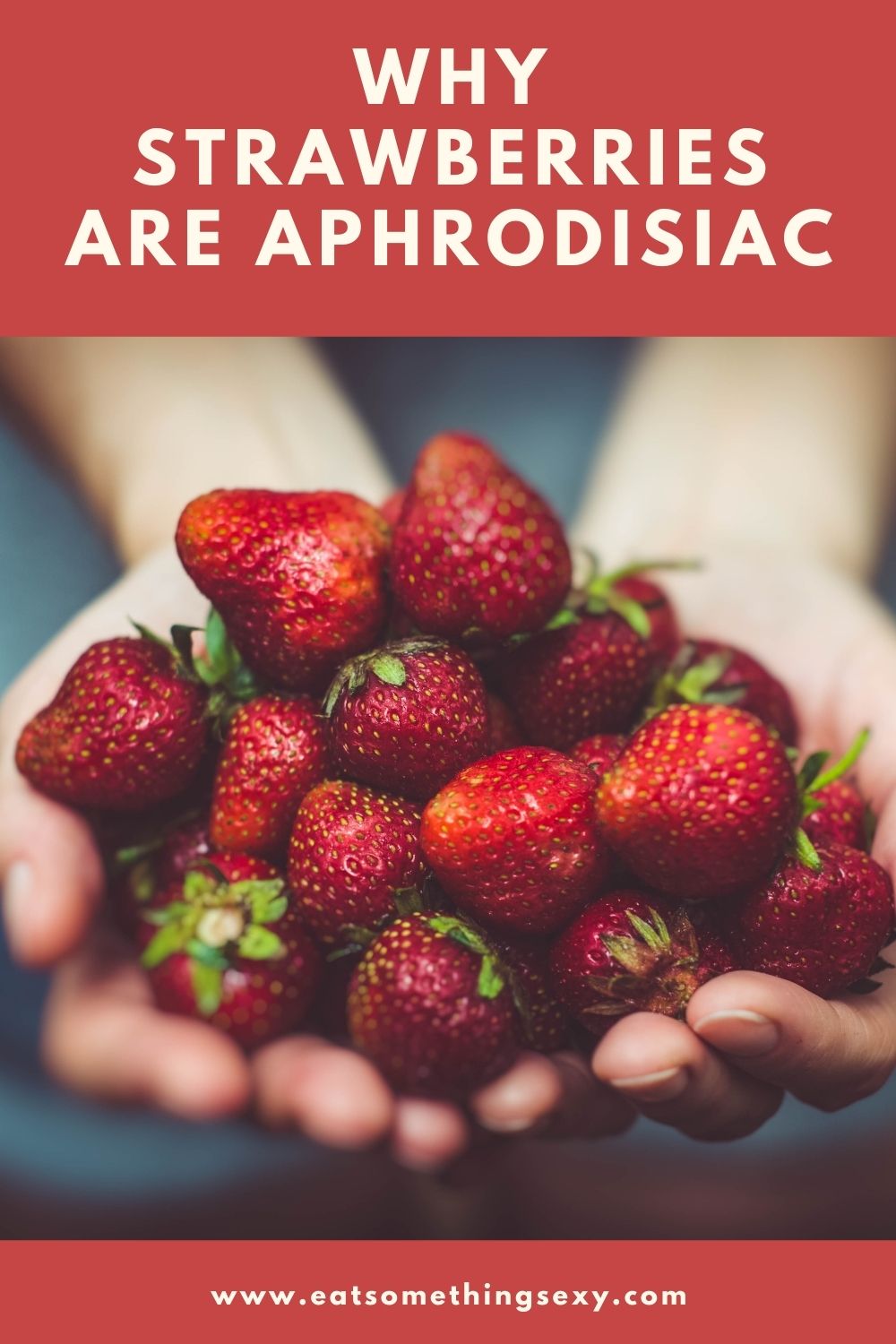 Disclaimer: Please note that the information provided in this article is intended for informational purposes only. It is important to consult your physician before making dietary changes. More information
Strawberry photo by Artur Rutkowski
This article was written in 2010 and most recently updated in May 2023.
Latest posts by Amy Reiley
(see all)
Get on our mailing list
Subscribe and get our exclusive list of Six Great Sex-Boosting Snack Foods for FREE! Unsubscribe at any time - privacy policy