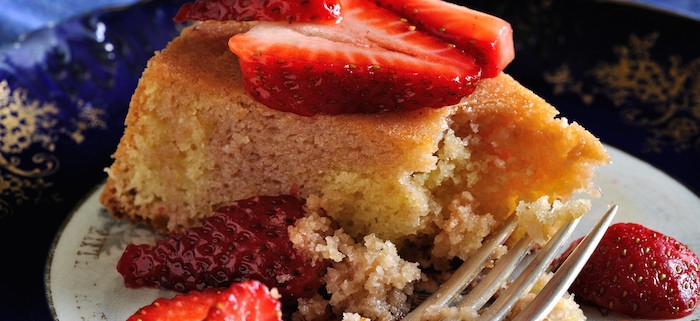 Homemade Almond Cake Recipe with Honey-Drenched Strawberries
Our articles may contain affiliate links. For more information, view our policies.
Want a dessert to finish a romantic dinner or picnic for two that's not too sweet, not too heavy? This almond cake, topped with aphrodisiac honey-drenched strawberries is light but satisfying, sweet but balanced and definitely right for a romantic occasion.
Why you're going to love this almond cake recipe
This mouthwatering almond cake recipe comes to us from Carla Snyder, author of One Pan, Two Plates: More Than 70 Complete Weeknight Meals for Two. Obviously, I couldn't resist featuring this strawberry cake recipe for its impressive lineup of aphrodisiac ingredients, (not just almonds but honey and strawberries). But Carla really upped the ante on sensual cakes with this one. In fact, she promises to make this cake your new best friend. Why?
Here's how Carla explains, "There are many reasons to become better acquainted with almond cake. First off, unlike your favorite cashmere scarf he's as deliciously adaptable in the heat of summer as in the throes of winter. I've paired him up with winter strawberries doctored up with balsamic and honey but any juicy fruit would do. He gets along with all your fruity friends."
And just to drive it home, she adds, "Almond Cake will seduce with his bedroom eyes and smooth Barry White baritone and say "Oh, baby, baby" at the very first bite making it almost impossible to stop at just one rich slice. Like many of our besties he can be a bit of a bad influence at times." Seriously? You need to get baking!
Why this is a recipe to serve on date night
As I mentioned in the introduction, this recipe is layered with aphrodisiac ingredients. From the strawberries to the honey that sweetens the cake, almost every flavoring comes from an ingredient that is historically considered an aphrodisiac food.
But it's the star of this cake recipe that plays the most significant aphrodisiac role in this one. I'm talking about the almonds. Almonds are among the most common nuts used in baking. They're considered more versatile than most nuts and play a starring role in baking because of their natural sweetness. According to What's Cooking America, the history of almonds in baking traces all the way to ancient Egypt.
And its no surprise that so many cultures have wanted to bake with almonds once you start learning about some of their more significant properties. Almonds are among the world's best-loved aphrodisiacs and even played a featuring role in my aphrodisiac cookbook, Fork Me, Spoon Me. Almonds also make our list of the 10 Best Foods for men's sexual health because of their impressive nutritional composition. So fire up the oven and enjoy this simple, delicious cake recipe and all the added benefits that come with it!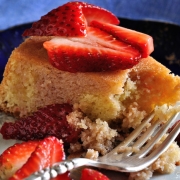 Aphrodisiac Almond Cake with Honey Balsamic Strawberries
Print Recipe
This Almond Cake is a taste of spring. You won't believe how balsamic will accentuate the flavor of peak-of-ripeness strawberries. And you'll love how their sweet tang balances with the cake's slightly earthy, mellow flavor. 
Ingredients
3/4

cup

sugar

1

8-oz can

almond paste

broken into pieces

1/2

cup

unsalted butter

softened, 1 stick

Zest of 1 orange

1

tsp

vanilla extract

3

large eggs

1/2

cup

all-purpose flour

1

tsp

baking powder

1/4

tsp

salt

2

cups

strawberries, sliced

2

tbsp

honey

2

tsp

balsamic vinegar

powdered sugar for dusting
Instructions
Preheat oven to 350 degrees.

Butter a 9-inch diameter cake pan with 2-inch-high sides.

Line the pan with a piece of parchment paper cut to fit and butter and flour the paper.

Pulse the sugar and almond paste together in a food processor until they are finely blended. Toss in butter, zest and vanilla and pulse again until smooth.

Turn on the processor and add the eggs one at a time.

Remove the lid and add the flour, baking powder and salt and pulse a few more times just until blended.

Scrape the batter into the prepared pan and smooth the top.

Bake the cake in the preheated oven until golden and a toothpick inserted into the center comes out clean, 45 to 50 minutes.

While the cake is baking, combine the strawberries, honey and balsamic. Set aside until ready to serve. (You can store this mixture, covered, in the refrigerator.)

Cool the pan on a rack for about 30 minutes, then loosen the sides with a knife, invert it onto a serving plate and peel off the parchment.

To serve, top each slice of cake with a scoop of berries and their juices. Dust with powdered sugar, (optional).
Latest posts by Amy Reiley
(see all)
Get on our mailing list
Subscribe and get our exclusive list of Six Great Sex-Boosting Snack Foods for FREE! Unsubscribe at any time - privacy policy