A Romantic Cognac and Elderflower Cocktail Recipe
Our articles may contain affiliate links. For more information, view our policies.
Floral cocktails always have a place on romantic occasions. This elderflower cocktail, made with splashes of aged rum and cognac is at once flirty and potent, a combination that can take date night from fun to fantastic. If you're ready to try your hand at some next-level mixology, this is the drink to serve your sweetheart.
How to make this cognac cocktail
Called The Floral Buzz, this complexly-flavored drink recipe was created by Palm Beach's LoLa 41 restaurant for something both feminine and masculine in the same glass. It's a little trickier than your average cocktail to make but it doesn't require any special technique.
The first thing you have to do is create the two syrups that will later be used to give this cognac cocktail a kiss of sweetness.
Honey syrup
To give the drink a bit of a Southern character along with the sweetness, you need honey syrup. If you've ever made a Bee's Knees cocktail, you probably have experience making honey syrup. (This syrup is also a key ingredient in Brown Derby and Penicillin cocktails.)
The key is to make sure you're using real honey. (Some products on grocery store shelves sold as honey are actually fake. Or rather they take a small amount of honey and mix it with cheaper sweet ingredients and pass it off as the liquid gold made by honeybees. Here's some information on how to spot fake honey.)
To make honey syrup simply heat equal parts honey and water in a small saucepan over high heat. Stir until the honey dissolves. Let the syrup cool to room temperature before transferring to an air-tight container. Store in the refrigerator for three to four weeks.
Chamomile syrup
You probably don't have chamomile syrup on hand. Luckily, it's easy to make and can be stored in an air-tight container in the refrigerator for two-three weeks. You simply make a normal simple syrup (equal parts sugar and water heated in a saucepan on high until the sugar dissolves). But then you steep chamomile flower tea bags in the syrup to infuse it with the delicate, slightly herbal flavor of the flower. If you need a recipe, Imbibe Magazine has one with straightforward instructions.
Additional ingredients
Now that you understand the two ingredients you must prep in advance, putting this cocktail together is simple. You just need to assemble the following ingredients:
Cognac – You might be wondering what's the best cognac to use in cocktails. Cognac is a specialty of western France made from white wine distilled and aged in oak barrels. Many fine cognacs are meant to be sipped. But cognac is also the base of several classic cocktails. For making cocktails you want to look for VS and VSOP, which are aged two years and four years respectively. Beyond these designations, you get into cognacs that have been aged ten or more years to develop the kind of complex flavors that should be served on their own to be appreciated.
Aged rum – Again you might be wondering what aged rum is best for mixing in cocktails. Aged rums have matured in oak barrels to achieve intense and complex flavors. For this drink I would recommend a lightly aged rum like you might use in a mojito. Look for rums that have been aged three or four years.
Elderflower liqueur – This lovely liqueur is made with white elderflowers to create a floral and fruity flavor. Popular brands include St. Germain and St. Elder but you can actually make your own if you're feeling adventurous.
Fresh lime and lemon juice – This one's easy! Just make sure you use freshly squeezed citrus.
The ingredients are stirred – no special equipment is needed. And although I wouldn't recommend turning it into a batch cocktail, I did find that you can mix two drinks at once with tasty results.
A note about ice
This drink is served in a rocks glass over ice. The ice you use can seriously impact the enjoyment of your cocktail. For this or any cocktail, I recommend making fresh ice to be used in your drink. Pulling ice out of your freezer that could have been made several days or several weeks earlier can actually ruin a drink if the ice has absorbed any "freezer" flavors. So whenever you plan to make cocktails, check that your ice is fresh or make fresh ice the same day.
In addition, I don't recommend using crushed ice in this drink. Crushed ice melts quickly and can dilute the flavors of a drink. It can be an appropriate choice in some instances but for this drink, you want a large piece of ice that keeps the cocktail cold but allows you to appreciate the complex and harmonious flavors of the floral sweetness of the elderflower liqueur and the voluptuousness of cognac.
Why this is a drink for a romantic evening
I always appreciate a drink that appeals to both sexes, which is part of the reason this is my latest pick for a romance-starting cocktail. In addition, every ingredient in the drink has some sort of link with sex. Since all alcohol is aphrodisiac, you know that you're playing with the inhibition-lowering effects of imbibing. But also worth mentioning is the fact that honey is considered one of the world's most potent aphrodisiacs. And chamomile is historically considered an aphrodisiac for men. Add to that the fact that citrus fruits rank among the top 10 foods for supporting a woman's libido and you've really got yourself a date night drink from which everyone can benefit!
Just keep in mind that this is a pretty boozy drink. So sip slowly as you gaze into one another's eyes and check in with yourself on how you're feeling before you prepare round two.
Other occasions to serve this cocktail
This is a pretty drink, which means it's great for events celebrating ladies, like Mother's Day or a bridal shower. It's a good (but boozy) brunch cocktail. And because you can make more than one cocktail at a time, it's one you might want to serve at a small, backyard party. Cheers!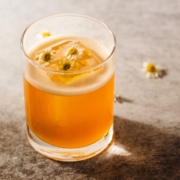 The Floral Buzz Elderflower Cocktail
Print Recipe
Looking to try something new on your next date night? This deliciously floral and citrusy cocktail is made with an interesting balance of cognac, rum and elderflower liqueur with honey and fresh citrus.
Ingredients
0.5

oz

honey syrup

see notes in introduction for how to make honey syrup

0.5

oz

chamomile syrup

see notes in introduction for how to make chamomile syrup

z

oz

cognac

1

oz

aged rum

1

oz

elderflower liquor

0.5

oz each

lime and lemon juice
Instructions
Prepare the honey syrup and chamomile syrup in advance. (See notes in the introduction on making these simple syrups.) Chill in the refrigerator until ready to use.

Combine all ingredients and stir to mix. Pour into a rocks glass over fresh ice to serve.
Notes
The honey and chamomile syrups should be made in advance and stored in airtight containers in the refrigerator. 
If you're making this cocktail for two, you can mix both drinks in one batch and divide it between two glasses. 
Make sure you use fresh ice to make this or any cocktail. Old ice can impart a stale, "freezer" taste that can ruin a great drink. 
Nutrition
Calories:
239
kcal
|
Carbohydrates:
28
g
|
Protein:
0.1
g
|
Fat:
0.03
g
|
Saturated Fat:
0.01
g
|
Sodium:
20
mg
|
Potassium:
23
mg
|
Fiber:
0.1
g
|
Sugar:
18
g
|
Vitamin A:
1
IU
|
Vitamin C:
6
mg
|
Calcium:
2
mg
|
Iron:
0.1
mg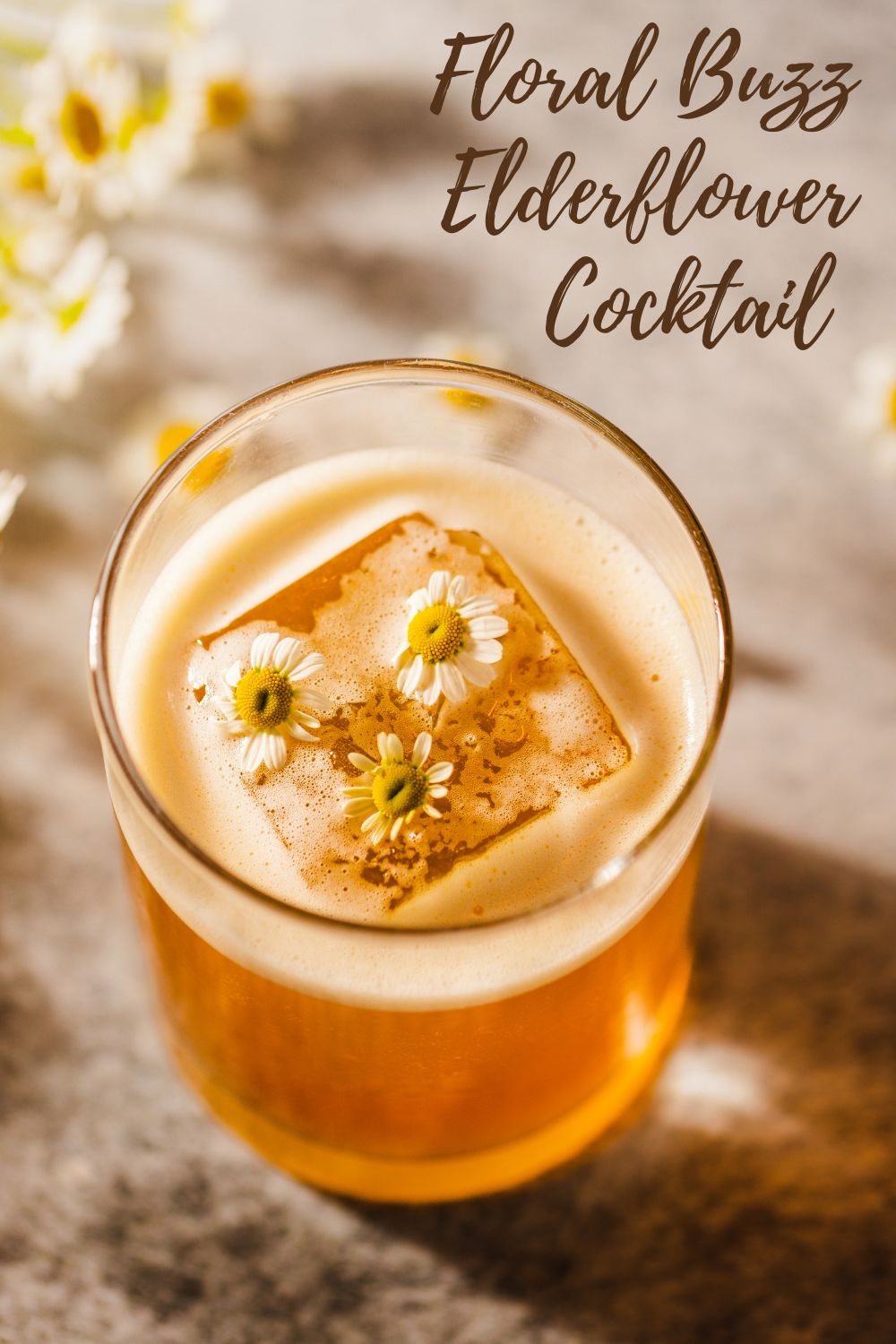 Floral Buzz cocktail photos by Ovi Mustea.
Latest posts by Amy Reiley
(see all)
Get on our mailing list
Subscribe and get our exclusive list of Six Great Sex-Boosting Snack Foods for FREE! Unsubscribe at any time.