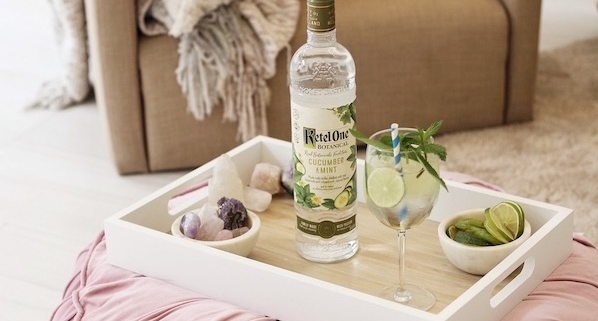 Friendsgiving Cocktail? Try This Low Carb Alcoholic Drink
Our articles may contain affiliate links. For more information, view our policies.
This year, most of us have no choice but to break with tradition. Our Holiday celebrations will be smaller. And perhaps we won't be seeing family or friends who live far away. But that doesn't mean we don't still need a Friendsgiving cocktail. And since you're probably already loading up on stuffing, potatoes and cranberry sauce, let's make it a low carb alcoholic drink.
True, Thanksgiving is a day of indulgence. But if you want to have seconds on dessert, enjoy a keto approved cocktail or just wake up feeling good the next morning, low carb alcohol is not a bad idea. So whether your family or Friendsgiving is in person celebrated through a screen, everyone can enjoy this not-so-guilt-inducing drink together. Yes, this Thanksgiving, it's the alcohol that brings us close.
Need more spirits-based support? Check out my list of high alcohol wines for family gatherings. 
A low carb vodka cocktail for a keto vodka drink
We are not huge proponents of a keto diet but we know some of our followers have found weight loss success with this way of eating. So for our keto family, we want to assure you that this cocktail is a keto drink recipe and for a very interesting reason.
Most base spirits like vodka, rum, tequila or gin are virtually carb-free and keto friendly alcohol. What you have to watch for on a keto diet–or any diet–is the sugars added to the drink. Either the spirit itself comes blended with fruit juice or cane sugar. Or you mix it into a cocktail recipe that's heavy on sweeteners, as are many popular cocktails.
However this drink is delicate and only lightly sweetened. Its primary flavor comes from a very special, blended vodka.
Want more easy low carb cocktails? Try my Saffron Fleurtation. 
Using Ketal One Botanical Cucumber and Mint
Called the Mystically Mint, this cocktail is not one of my invention. It was sent to me as an introduction to Ketel One Botanical. The vodka is a departure from traditionally flavored clear spirits. For Ketel's version, the base vodka is infused with natural botanicals after distillation. Yes, in essence, it's still a vodka infused with other flavors but one with no artificial flavors or added sugars. In other words, it's flavored but still zero carb.
Because the botanicals add a pure, fresh flavor, it needs little else to build a flavor profile. A splash of soda gives it a digestive fizz. And a faint sweetness comes from the addition of elderflower liqueur. (Note that according to My Fitness Pal, the .25 oz of liqueur adds about 2.5 carbs to a serving.) The drink is finished with citrus and fresh herbs to give it a simple, refreshing aroma and flavor. And these elements make it a fresh and easy-drinking accompaniment to a bold and decadent meal of turkey with gravy, stuffing and cranberries.
A low carb drink layered with aphrodisiac ingredients
Just in case your Friendsgiving celebration will be in person, or you're having a paired down Thanksgiving for two this year, I wanted to point out that this Ketel One Botanical recipe is actually layered with aphrodisiac ingredients.
Mystically Mint starts with Ketel's Botanical Cucumber and Mint. (In other words, the vodka itself is infused with two aphrodisiacs of historic repute, both cucumber and mint .) The aphrodisiac flavors are rounded out by a squeeze of fresh lime juice, an ingredient that makes our list of the Best Foods for Women. Lastly, this fresh and easy cocktail is garnished with even more mint and the aphrodisiac of basil. If this drink does it's job, your Friendsgiving may turn into a matchmaking affair. Cheers!
Mystically Mint Low Carb Alcoholic Drink
Print Recipe
Herbaceous, fresh and delicate, this mint-forward cocktail awakens the palate with its subtle yet sweet, earthy flavor.
Ingredients
1.5

oz

Ketel One Botanical Cucumber & Mint

.25

oz

Elderflower Liqueur

3

oz

soda water

3-4

slices

lime

1-2

sprigs mint

1-2

sprigs basil
Instructions
Combine first three ingredients in a wine glass over ice.
Pin this Ketal One Botanical cocktail recipe: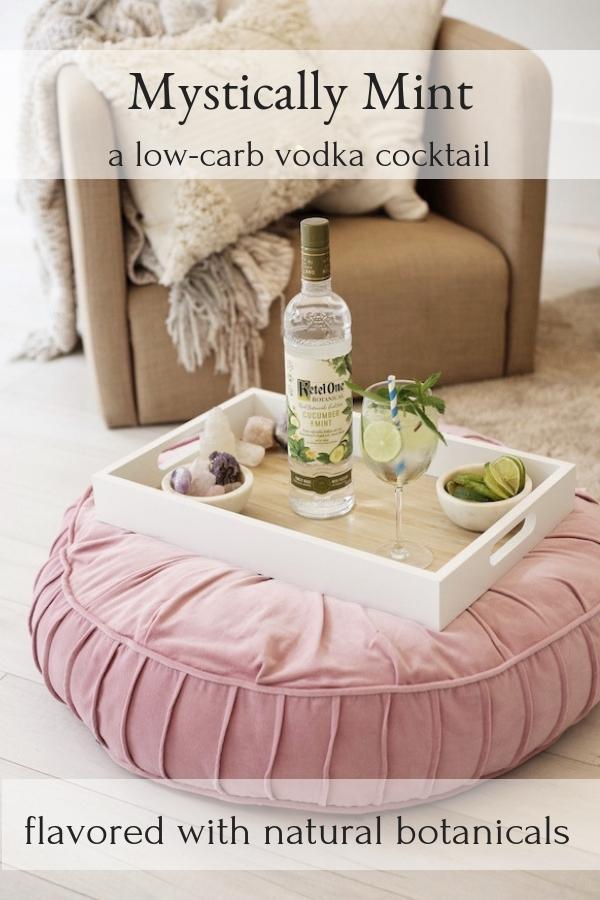 FREE APHRODISIAC NEWSLETTER
Subscribe to our free aphrodisiac newsletter