Our articles may contain affiliate links. For more information, view our policies.
Picnic season is upon us and this year I am looking for ways to change it up. True, the classic romantic picnic gestures like Champagne on ice and chocolate-dipped strawberries will never get old. But after making two dozen watermelon fairy "wands" for my daughter's birthday party, it struck me that kids shouldn't be the only ones who get the fun food. So I swapped out the princess cookie cutters for the hearts and began to experiment with this Chile Lime Watermelon Skewer recipe.
Why chile and lime work so well with fruit
Chile and watermelon are not an uncommon combination in Mexican and Southeast Asian cuisines. But we don't use this succulent combo nearly often enough in American cooking. My version for a simple snack uses just a hint of chile because I enjoy spice in small doses. If you're looking for more heat, adjust the amount of chile to your taste. Just be sure to balance it with the appropriate amount of salt and lime.
And about the lime. I consider lime to be the secret to making the recipe for these Chile Lime Watermelon Skewers come together. The acidity in lime makes a beautiful partner for many fruits. What it does is accentuate the fruit's natural sweetness. (This works well not just with watermelon but honeydew, apples, cucumber and many others of our favorite fruits.) Incidentally, lime is among our 10 Best Foods for Women, so it brings more to the recipe than an acidic bite!
How watermelon + chile = food for a romantic picnic
Of course, I couldn't talk about tongue-tingling sensations without mentioning in the obvious. This dish is fun for a picnic. It may offer flavors that appeal to party guests of all ages. But it is most definitely a very appropriate dish for romance.
That's because watermelon is considered one of the best aphrodisiacs for men. And chile? Well! Body heat-raising chile is among my all-time favorite aphrodisiac ingredients. And to add to the experience, there's the grapes. A burst of sweetness for the last bite, grapes offer texture and bright flavor. But you may be surprised to learn that grapes are also aphrodisiac. In other words, these skewers are foods of love from start to finish.
Chile-spiked watermelon offers more than just a a burst of sweetness and heat. These sweet love skewers are the kind of food for bringing some heat to a romantic picnic or summer dinner for two. If you're needing a jump start in the romance department, rev things up with some Chile Lime Watermelon Skewers.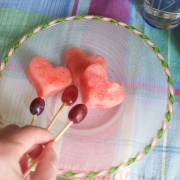 Chile Lime Watermelon Skewers with Lime
Print Recipe
These simple, summertime watermelon skewers offer a sweet presentation but pack an aphrodisiac punch. 
Ingredients
1/4

of a large watermelon

sliced into 3/4" rounds

1

tsp

kosher salt

1/4

tsp

chile powder

(if you like a lot of heat, you can try substituting with Aleppo pepper or Cayenne.)

1

lime

halved
Special equipment:
heart-shaped cookie cutter

approximately 2-inch size

bamboo skewers
Instructions
Cut out hearts from the watermelon, discarding the rind. Try to space them as closely as possible to use as much of the fruit as you can. The discards can be used in smoothies or fruit salad.

Skewer each heart from the bottom, being careful not to push the skewer all the way through the fruit.

Using a mortar and pestle, combine the chile and salt. (If you don't have a mortar and pestle, you can do this is a small bowl with a spoon, pressing the chile powder slightly to release its oils into the salt.)

Just before serving, sprinkle each heart with the chile mixture.

Squeeze 1/2 lime over each heart. Add additional lime to taste.
Pin this Chile Lime Watermelon Skewer recipe:
FREE APHRODISIAC NEWSLETTER
Subscribe to our free aphrodisiac newsletter