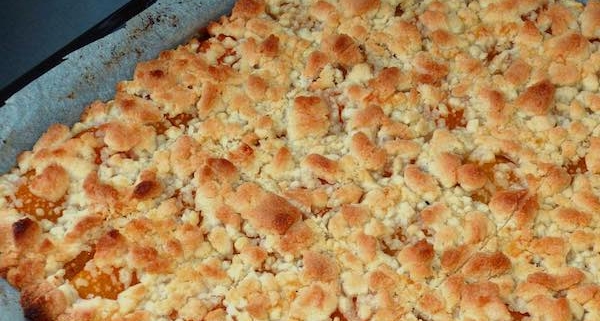 Warm Strawberry Crumb Cake Recipe
Our articles may contain affiliate links. For more information, view our policies.
The BEST cake recipe from California's strawberry capital
"Are these strawberries from Oxnard?" Asked the 12 year old as he dug into the strawberry crumb cake in Malibu in Mother's Day.
"Yes, they are. They were fresh picked this morning," I responded.
"Good, because the best strawberries are from Oxnard." And, with that we polished off the strawberry crumb cake from the quick and easy recipe below.
Discovering Oxnard, the strawberry capital
To truly appreciate the origins of this fresh strawberry cake recipe, you should get to know Oxnard, California.
Only 36 miles up the coast from Malibu is the oft-overlooked town of Oxnard in Ventura County, California. It's a little off the beaten path but a visit will offer the rewards of miles of uncrowned beaches and fantastic restaurants. (The Annex will be your new favorite food hall with both established restaurants and upstarts in a cool incubator setting.)
Family-friendly yet sophisticated, the city of Oxnard is a mix of farmers and entrepreneurs. It's a place that's guaranteed to surprise…in an good, bite-that-berry way.
If you visit Oxnard, I recommend staying at the Embassy Suites Mandalay Bay. This hotel is not the origin of this incredible cake recipe, it feels like a Hawaiian resort dropped next to the Oxnard beach. And as you can imagine, the hotel's chefs know strawberries. And dining here in the right season can be strawberry paradise.
But even if you can't get to Oxnard, you can create strawberry memories with this Strawberry Crumb Cake recipe from the hotel's chef Michelle Kenney.
TO TRY: No Bake Cheesecake with Strawberry and Basil
Tips for making this strawberry crumble cake
This crumb cake, sometimes called a crumble cake, is one of the easier made-from-scratch cakes you'll probably ever try to bake.
A simple, yellow cake is topped with ripe berries and a brown sugar crumb topping. No turning cakes out of the pan or frostings to contend with. This crumb cake doesn't even call for a sweet vanilla glaze like many coffee cake or crumble cake recipes. It doesn't need it!
The fresh strawberries, layered on top of the cake batter, reduce to a soft, thick syrupy consistency as the cake bakes, making any additional topping unnecessary. The fruit layer also helps give the cake moisture, as does the addition of buttermilk to the batter.
If you're a fan of strawberry shortcake, (and who isn't), you are going to love this sweet and tangy cake recipe. It offers many similarities to traditional shortcake like the sweetness of the fruit and the tang of the buttermilk. Only it's reimagined as a cake with the crunch of a crumb top and the simplicity of serving by the slice.
Special equipment
This cake requires little in the way of special equipment. You're going to want to use an electric mixer. If you don't have one already, check out this beloved Kitchenaid model. If you love baking, this stand mixer is worth the investment.
You also want to make sure you have a 9 x 13 inch pan before you start assembling the ingredients.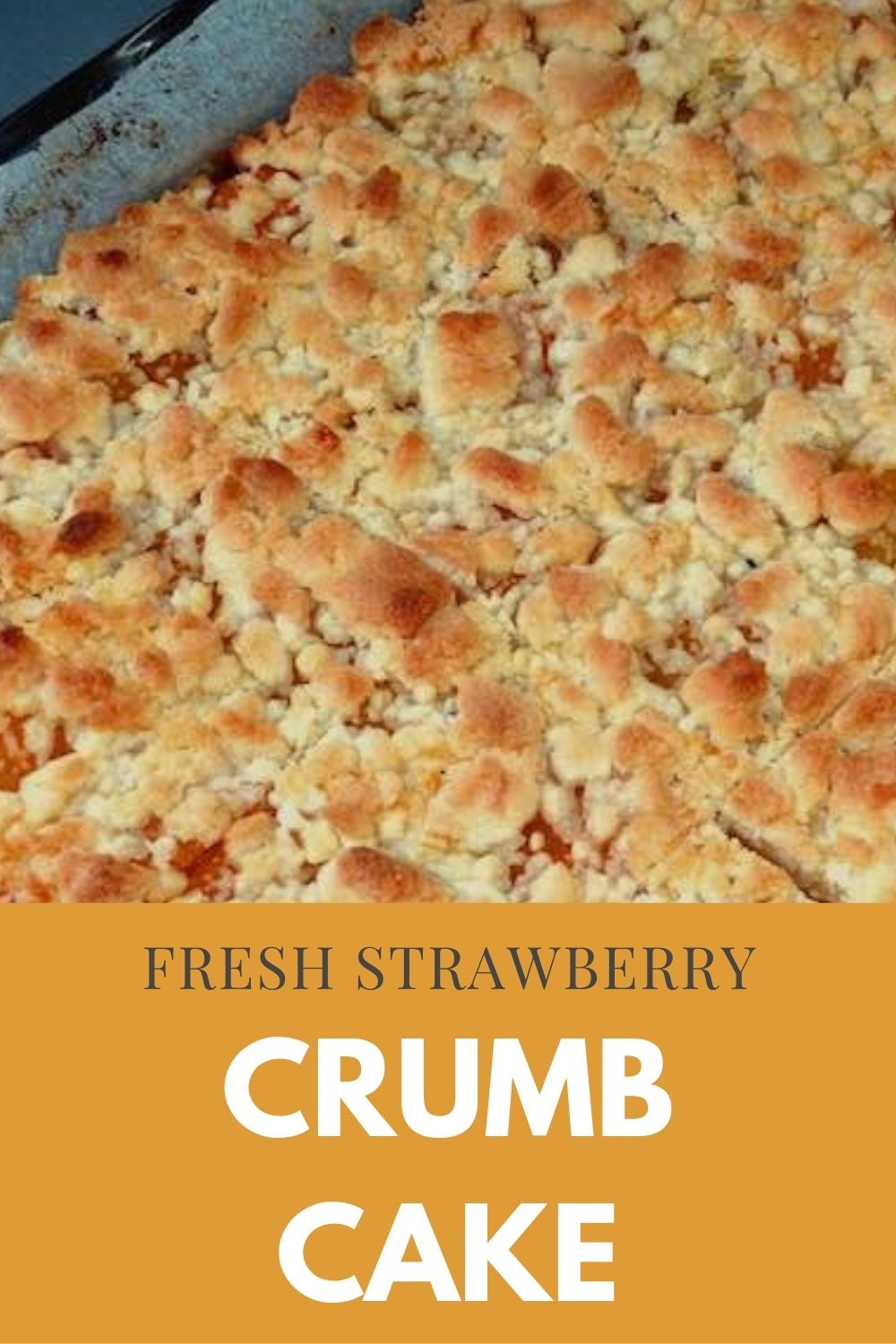 Why strawberry cake is a food of romance
Of course, if you've spent any time on this site, you already know that strawberries have a long and salacious history as aphrodisiac.
Their brilliant color is as intensely red as any great lover's heart. But strawberries, whether they come from Oxnard or other parts, are not just about the good looks. These little fruits of Venus are also filled with nutrients to support sexual health. In fact, strawberries make our list of the 10 Best Foods for Women's Sexual Health.
It's almost enough to make you feel good about eating that second slice of crumb cake. Because trust me, you're going to want it!
TO TRY: Strawberries n Cream Buttermilk Pancakes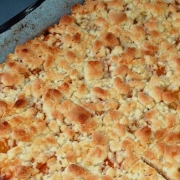 Warm Strawberry Crumb Cake
Print Recipe
This mouthwatering variation on crumb cake comes from Chef Michelle Kenney from Southern California's strawberry capital, Oxnard. Serve it warm topped with vanilla ice cream for a decadent combination of flavors and textures. 
Ingredients
FILLING
3

pounds

strawberries

hulled and halved (8 cups)

1/2

cup

sugar

2

tablespoons

freshly squeezed lemon juice

2 1/2

tablespoons

cornstarch dissolved in 2 1/2 tablespoons of water

1

vanilla bean

or 1 tablespoon of Vanilla
CRUMB TOPPING
1/2

cup

lightly packed light brown sugar

1/2

cup

plus 2 tablespoons all-purpose flour

4

tablespoons

butter

cubed and chilled
CAKE
2 1/4

cups

all-purpose flour

1

tablespoon

baking powder

1

stick butter

softened

1 1/4

cups

sugar

3

large eggs

1 1/2

teaspoons

pure vanilla extract

3/4

cup

buttermilk
Instructions
Make the Filling:
Preheat the oven to 350.

In a large bowl, toss the strawberries with the sugar, lemon juice, cornstarch slurry and vanilla seeds and let stand until the berries release some of their juices, about 30 minutes while you make the cake batter.

Pour the fruit filling into a 9-by-13-inch baking dish set on a sturdy baking sheet.
Make the Crumb Topping:
In a medium bowl, mix all of the ingredients with your fingers until a coarse meal forms; press into small clumps.
Make the Cake:
In a medium bowl, whisk the flour with the baking powder and salt.

In a large bowl, using a handheld electric mixer, beat the butter with the sugar at medium-high speed until light and fluffy, about 3 minutes.

Add the eggs, one at a time, beating well between additions.

Beat in the vanilla extract and scrape down the bowl.

Add the dry ingredients to the batter in 3 additions, alternating with the buttermilk.

Pour the batter evenly into your prepared baking dish and spoon the fruit on top, spreading it to the edge.

Sprinkle with the crumb topping.

Bake in the center of the oven for 1 hour and 15 minutes, until the fruit is bubbling, the crumb topping is golden and a toothpick inserted in the center of the cake comes out with a few moist crumbs attached.

Transfer to a rack to cool slightly.

Serve the crumb cake warm. (Optional: top with vanilla ice cream.)

Store leftover cake in the refrigerator overnight.
Notes
Note:The fruit filling can also be made with a combination of blackberries, raspberries and blueberries.
Check out all of our dessert recipes
FREE APHRODISIAC NEWSLETTER
Subscribe to our free aphrodisiac newsletter