It's not too late to find a way to honor mom this Mother's Day!
I am a Mother but don't really expect much at Mother's Day….that's OK. We are in a weird time and between financial struggles and anxiety, sometimes it's hard to focus.
But, take a breath and think about what your mother or mother figure would like this year. My mother in Ohio likes wine. She is not alone, of course, but I was not impressed by her wine choices and, being in the business, I was determined to change this.
Wine gifts for Mother's Day
Shannon Ridge Family of Wines to the rescue. These well made wines from Lake and Napa Counties are widely available and in a range of price points. Something for everyone. But, the best deals are on the website and at the winery. I am sending mom and my sisters cases of wine because, frankly, it's the gift they can enjoy for months….or at least weeks. By themselves or with friends. Check out www.shannonridge.com for fantastic deals and follow the winery on facebook for a slew of fun videos (sheep and cowboys also highlighted!) that bring this ranch to life even if you can't quite get there.
Get even more wine recommendations with our Wine of the Week
Why mom will want to know about Breathless Sparkling Wines
Breathless Sparkling Wines from Healdsburg in California's Sonoma County, is seeking nominations for Sparkling Moms from across the country to virtually celebrate Mother's Day. Nominations are welcomed online at the winery website.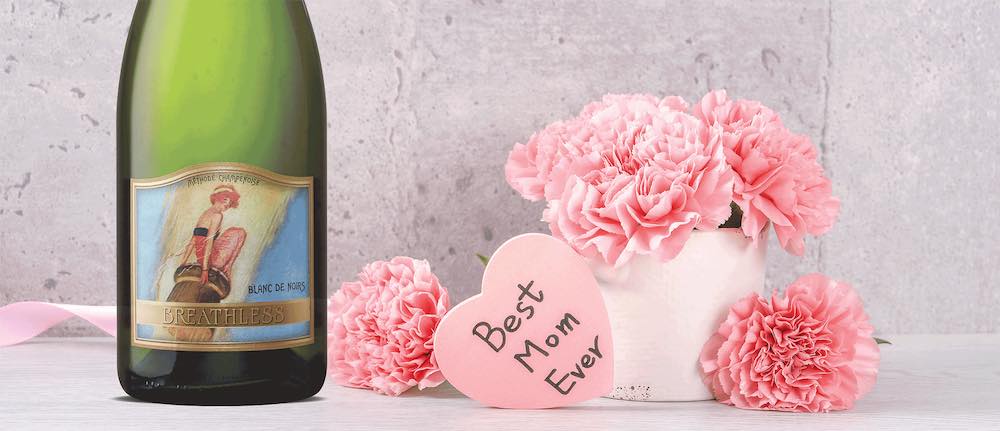 Breathless Wines was founded by sisters Sharon Cohn, Rebecca Faust and Cynthia Faust, in memory of their late mother who shared an unparalleled passion for life and special celebratory moments. Sadly, and tragically similar to so many losses of our current time, their mother Martha Jane was lost due to the rare, genetic respiratory condition Alpha-1–therefore the name Breathless.
"Breathless is all about family and friends celebrating life," said Sharon Cohn, "The fun, the adventure and taking no breath for granted. As our mother taught us, and so fitting for Mother's Day, we should all be grateful and strive to live a heartfelt life."
The three sisters, who are also all mothers, created an elegant winery experience with wines made by winemaker Penny Gadd-Coster in the méthode champenoise method, which results in delicious, premium sparkling wines.
"Spending time with our mom, was always a sparkling moment," Cohn remembers, "She was a teacher, and she loved outdoor activities, led our Camp Fire Girls group, coached our soccer and softball teams, but most of all gave her heart in all that she did. She lived to create breathless experiences for all and loved to share them."
"I can't wait to see the Sparkling Mom nominations! Mothers give so much to us all," Cohn added, "They are so precious and fill up our hearts, so that we each can go out into the world and pass it on. It will be our honor at Breathless Wines, to celebrate Sparkling Moms."
More wines from women to women
Mother-daughter team of Rickey Trombetta Stancliff and Erica Stancliff have access to some of the best vineyards in the Russian River Valley and Erica is routinely one of the top winemakers to watch. Gorgeous wines and the website has Mother's Day specials.
Kristin Garemani is a friend from when our kids were in elementary school and there is nothing this talented woman can not do, including producing world class wines and getting them in every notable restaurant in Los Angeles and in 40 states!
Moms love handcrafted goods – even if they're crafted by someone they don't know
One interesting aspect of our challenging times is that some people have either rediscovered their inner crafter or have developed new skills. Personally, I have been doing art projects with one of my favorite artists, Carol Watanabe. Her bright and colorful paintings would definitely make mom smile. Find her gallery at www.artfully.com.
At Dragonfly Farm the array of flowers, honey, plants, jams, cheeses, jewelry and other handcrafted items available to ship is staggering. They have even put together their own Mother's Day suggestions. All local, almost all made my women, there is definitely something on the site for everyone, including wine.
Wine Country Botanicals is a complete line of bath and body products as well essential oils and candles, all derived from what is good and natural in the Napa and Sonoma wine countries. Gorgeous gift sets for Mother's Day and this woman-owned company continually give back to the community.
For more products Mom–and YOU will love, check out all of our product reviews
FREE APHRODISIAC NEWSLETTER
Subscribe to our free aphrodisiac newsletter